by Dr. Matthew Warnock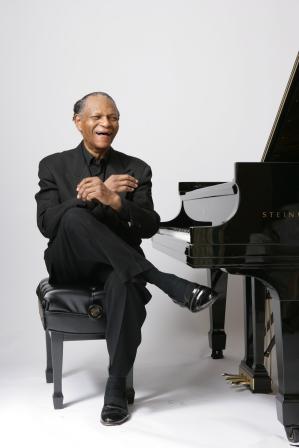 The year 1960 found two of jazz's rising stars in a moment of flux. After finding world-wide recognition for his contribution to the classic Miles Davis quintets of the late 1950s, and experimenting with different lineups for his own group, saxophonist John Coltrane was in search of a new quartet to help propel his music into a new and ground-breaking direction. At the same time, pianist McCoy Tyner, then a member of Benny Golson and Art Farmer's famous Jazztet, was also looking for a new group of musicians to help him explore the post Kind of Blue music that was drawing his attention as a composer and improviser.
When these two jazz giants came together, alongside bassist Jimmy Garrison and drummer Elvin Jones, both legends in their own right, the results were other worldly. Over the next five years these four musicians would change the way people thought about jazz, about improvisation and about music itself. Opening what was to become the first chapter in the long and successful career of one of jazz's brightest stars, pianist McCoy Tyner.
Known simply as "The Quartet," these four musicians recorded some of the most enduring and game-changing jazz albums of the 20th century. Exploring the new modal sounds that had been brought to light in Miles Davis' tune "So What," the Coltrane Quartet pushed the limits of chord substitution, reharmonization and modal harmony on such albums as My Favorite Things, Crescent, Live at the Village Vanguard and the album which many consider to be the groups magnum opus, A Love Supreme.
Throughout these recordings, and the extensive touring the group embarked on between 1960 and 1965, Tyner began to quietly revolutionize the way people thought about, played and heard the piano in a jazz context. His extensive use of fourth voicings, modal planning, lightning-fast chops and heightened sense of communication within the group opened the doors for the later explorations by pianists such as Chick Corea, Keith Jarrett and Brad Mehldau.
Though Tyner was open to experimentation within the context of the quartet, and the modern-modal music they were exploring, when Coltrane began expanding the group by adding extra percussionists, while at the same time pushing the boundaries of modal jazz to the point where it began to evolve into free jazz, Tyner felt it was the right time to leave the ensemble and strike out on his own. In 1965 he left The Quartet and embarked on one of the most successful solo careers in jazz history.
Teaming up with many of the eras top players, including Joe Henderson, Ron Carter, Lee Morgan, Joe Chambers and Billy Cobham, Tyner's solo albums during his post-Coltrane years have consistently met with acclaim from critics and fans alike. Beginning with his highly influential album The Real McCoy (Blue Note 1967), Tyner continued to develop his own personal approach to jazz composition and improvisation. An approach that would lead him to experiment with many styles of music, most notably the music of Africa, on such albums as his 1972 release Sahara, which features Tyner playing a Koto, as well as piano, flute and percussion. Since leaving the Coltrane quartet in 1965, Tyner has consistently produced new recordings of his music at a rate of almost one album per year from 1967 to the present day. A remarkable feat that continued with his 2008 release Guitars.
Tyner's second release for the McCoy Tyner Music Label, Guitars features a wide array of today's finest pickers performing alongside Tyner's trio of Ron Carter, bass, and Jack DeJohnette, drums. The guitarists that Tyner has chosen to perform with on this release represent a variety of musical styles and approaches. Featuring modern jazzers John Scofield and Bill Frisell, avant-garde picker Marc Ribot, banjoist Bela Fleck and slide guitar virtuoso Derek Trucks, the album showcases Tyner's diverse music tastes, as well as his ability to blend perfectly with musicians from different backgrounds and musical styles. The album marks Tyner's first major collaboration with the guitar, and upon hearing the results the only question that lingers is "when will he do it again?"
Tyner recently sat down with Guitar International magazine's Good Life section to reflect on his long and successful career, give his thoughts on the current state of jazz, and discuss his latest album Guitars.
*****
Matt Warnock: Historically, you have not recorded with guitarists as part of your ensemble. Why did your latest release, Guitars,  feel like the right time to bring that instrument into your compositions and ensemble?
McCoy Tyner: Well,  it was an idea that I discussed with the producer of the album, and we felt that since I hadn't done a lot with guitars before this would be a good opportunity. They all have something different to bring to the table which made the album really unique, I feel.
Matt: The guitarists you chose for your new album reflect a wide variety of backgrounds and musical approaches. Did playing alongside guitarists as distinct as John Scofield and Derek Trucks, as well as others, cause you to approach the music from different angles in response to their musical diversity?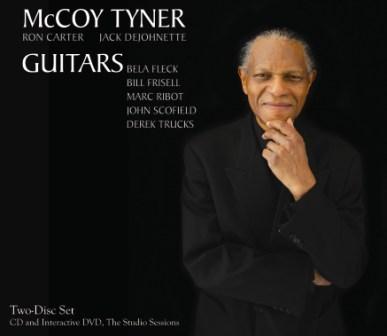 McCoy: No, I don't think I changed my approach, but I made sure that my ears and mind were open enough to allow my style to meet with theirs somewhere in the middle. I allowed the guitar players to choose some of my music, or theirs, that they felt would mesh well with my musical style, and I think that helped to bridge the gap.
Matt: When playing with a second harmonic instrument (guitar) on your new album, did you make any adjustments in your comping and soloing to fit the guitar/piano format?
McCoy: It's all about listening. You have to listen to what someone is doing and help them get to where they want to go, musically speaking. I play a supporting role if someone else is soloing, and a guitarist will do the same for me while I am soloing.
Matt: What was the inspiration behind offering the behind-the-scenes portion of the Guitars DVD?
McCoy: Well, I think it was nice to be able to see how a record is put together in a studio. After listening to a recording, someone might ask, "How was this all put together?" Here you get to see some of the process.
Matt: Now that you have done a recording with guitarists, do you have plans to do other similar projects with other instruments such as different singers, saxophonist or trombonists for example?
McCoy: I would like to do something like that. I really do enjoy accompanying people – it's a challenge and a joy when you get it right. I look forward to doing more of that and I'll just try to keep my mind open to whatever comes my way.
Matt: Can you talk about your first musical experience with the John Coltrane Quartet? Did it immediately have a musical spark to it, or did it take some time to feel each other out before things began to really gel?
McCoy: Well, John used to come over my house. We had mutual friends. I remember when he was working on different chordal progressions, like "Giant Steps," he would come over to my house and show me what he was doing. I was really young at the time, but I think he knew even then that he wanted me to be in his band eventually. I would try to internalize the concepts he was working on, and by the time he hired me for his band, I was ready.
Matt: During the time you spent with Coltrane you were exploring various pentatonic scales, advanced harmonic substitution and advanced rhythmic concepts. Did these concepts develop from a study of the music from a theoretical standpoint, or were you hearing these sounds in your head and then leaving it up to the academics to figure out what labels they fit under?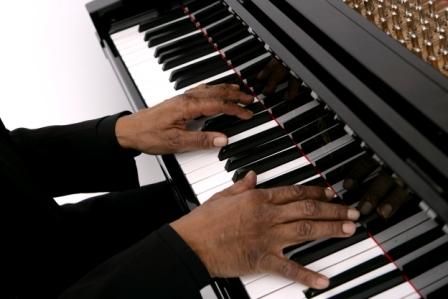 McCoy: I think John chose Elvin, Jimmy and I because when combined, the way we played naturally created the sound he envisioned. It was more about the overall sound and less about the theory. It was about listening and playing together.
Matt: When you joined Trane's quartet you were already an accomplished musician in your own right. What did you feel Coltrane took from you as far as musical inspiration is concerned?
McCoy: I think we all inspired each other. John was the leader of the group, but he was a very humble person. Being in that band was an incredible experience.
Matt: How did you approach comping with Elvin Jones? Did you focus on locking in with what he was doing rhythmically or did you try and find counter ideas to compliment his style or was it a combination of both?
McCoy: Elvin was a force. He used to play so loud – sometimes I would just drop out and let him go with John. With Elvin, you had to play loud or else you weren't going to be heard. He was such a keen listener too – just a great, great drummer.
Matt: How do you feel that playing in Coltrane's quartet changed your approach to music, both as a composer and as an improviser?
McCoy: John was like a big brother to me. He was such a kind and humble person. His music was so strong, melodically, harmonically, spiritually, it taught me so much.
Matt: After playing with Coltrane during one of his most productive and creative periods, as well as being one of the most famous and important groups in jazz history, how difficult was it for you to move on to play with new musicians and develop your own identity apart from his quartet?
McCoy: Well, I think it was a natural step to start recording my own music. I was with John by the time Bob Thiele approached me about recording for Impulse, and John was very supportive of that. Because I had been recording already, by the time I left John's band, it was a smooth transition for me.
John Coltrane Quartet – My Favorite Things

Matt: On your album, Trident, you play the harpsichord and celeste, which were rarely used outside of the classical genre, and even until today are rarely heard. What was the inspiration behind bringing these two instruments to your music at the time of this recording?
McCoy: Using those instruments just allowed me to express myself in a different way. Sometimes it's nice to try different instruments because they have a different sound to offer and therefore your approach changes a little bit. But, I always come back to the piano. The piano is like an orchestra – I'm very fortunate that I chose it as my instrument.
Matt: In the late '80s and early '90s, you recorded three solo piano albums for the Blue Note label. Why did that time feel right for you as the moment in your career to produce a solo collection, and what were some of the musical challenges and benefits you found playing solo as compared to playing in an ensemble? Were there things you wanted to accomplish that you felt you couldn't do as a member of someone else's band?
McCoy: Well, playing solo is difficult because you have to keep the momentum yourself. You have to continue to create and develop, so it forces you to stretch in a variety of ways.
Matt: Your improvisations have a very organic and natural feel to them and have been this way right from your earliest recordings. How much of what you play when you are soloing is thought through on the spot and how much is just letting go and having the music flow through you?
McCoy: I try to play what comes naturally at the moment and let it happen.
Matt: What is your favorite album that you've played on and what makes it stand out to you compared to the others in your catalogue?
McCoy: It's hard to say. I try not to look back too much, but sometimes it's nice to reflect. One album I enjoyed making was The Real McCoy. I think that one came out well.
Matt: You have been at the top of the jazz world for almost fifty years as both a leader and a sideman. How do you see jazz's role in society changing over that time and where do you see it headed in the near future?
McCoy: Well, I think that as long as young people are playing jazz and learning about this music, its future is secure. I've been playing quite a bit with some young people lately. Over the last few years I've done some concerts with a young people and I know there are plenty of others out there who play at a very high level.
Matt: Sonny Rollins has said that he feels an hour on the bandstand is worth a month in the practice room. How much of your musical development would you say was formed in the practice room and how much would you say was formed on the bandstand?
McCoy: With all the travelling and performing I've been doing, it's hard to find time to practice! But seriously, I probably did most of my practicing when I was younger. I remember coming home from school – I couldn't wait to get to the piano so I could play and practice. I really love the piano and I feel very fortunate that I am able to play and travel all over the world as my career.
Matt: As a performer you have appeared in small jazz clubs, concert halls and festival stages across the world. Do you have a venue preference when you are performing? Do you like the intimacy of a small club or the energy from a large festival crowd, or do you find all of these venues have something unique to offer your music?
McCoy: Every performance is different, but I try to approach them in the same way and give it my all.
McCoy Tyner – Guitars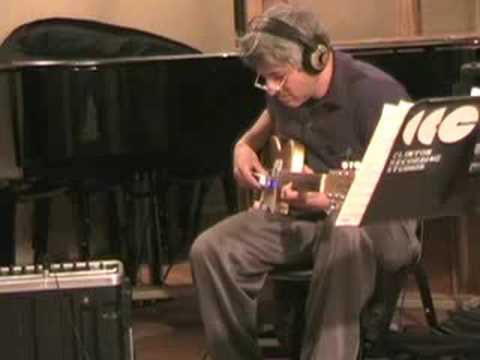 *****
Related Sites
McCoy Tyner
John Coltrane
McCoy Tyner Guitars (CD/DVD) on Amazon