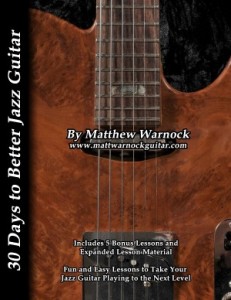 Learning to play jazz guitar can seem tough, to say the least. But, author and guitarist Matt Warnock has put together 30 lessons that are not only fun to work through, but that will get you on the road to playing better jazz guitar in no time. Topics include improvisation, chord voicings, ear training, learning tunes, chord soloing and much more.
You can purchase "30 Days" for the low price of $14.99 US (less than 50 cents per lesson and 50% off the list price of $29.99. So grab your copy now!).
Click to read more about "30 Days to Better Jazz Guitar"
When buying the 30 Days to Better Jazz Guitar Ebook you get:
Printable PDF format
All 30 Original Lessons From the Acclaimed Online Series of Articles
Over 20 Pages of Expanded and Bonus Material
5 Bonus Lessons Not Previously Available
Enough learning material to keep you busy in the practice room for months, if not years, on end
All for less than 50 Cents Per Lesson!
Click to Read a review of "30 Days to Jazz Guitar"
Click to Buy "30 Days to Better Jazz Guitar eBook" for $14.99!
"30 Days to Jazz Guitar" Ebook                                      
******
About Guitar International Ebooks
All ebooks come as PDF files and can be easily read on any computer, tablet or ereader.
When purchasing any eBook, payments can be made through Paypal with either a money transfer, Debit Card or Credit Card, or if you don't have a Paypal account you can sign in as a guest and use your debit or credit card to make things quick and easy.
Due to the nature of the item, eBook purchases are not eligible for return or refund under any circumstances.
Once your payment is processed, instantly, you will receive a link to download the ebook. It's that easy!