By: Rick Landers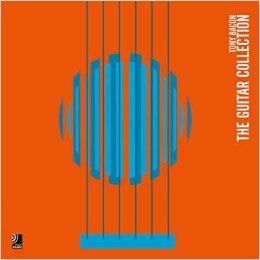 Leave it to author and guitar aficianado, Tony Bacon, to come up with a very cool book on vintage guitars with a 3D-ish orange and turquoise cover textured with a guitar sound hole and six strings that readers can strum.
One nice add would have been to embed some electronics so they were also a tuner, but then anyone who wants more from Tony's tome might be considered greedy.
As a small-time vintage guitar collector, I combed through The Guitar Collection with a fever, looking for digests and images of some of my old acoustics and other guitars I've owned over the past few decades.
Bacon never disappoints. His research, his selection of images and the artists he highlights with the guitars is impeccable. Past masters are paid tribute and by targeting their choices of guitars will help many musicians, who try to get the sound to cover their unique sounds.
Broken down into four chapters, The Guitar Collection features flattops, hollow bodies, solid bodies and a very cool Guitar Index that allows readers an easy way to find their guitars of choice and locate the pages where information on them can be found. The section is followed by an Artist Index where guitarists from Duane Allman to Frank Zappa are alphabetically arrayed with pages noted where they are mentioned.
Finally, Chapter Four – Information – is an alphabetical section of Recommended Albums with album covers shown, that include, such masterful albums as: The Art of Segovia [Andre Segovia]; Conceieto [Jim Hall]; Blow by Blow [Jeff Beck]; Happy Sad [Tim Buckley]; The Gospel of the Blues [Sister Rosetta Tharpe]; The Incredible Jazz Guitar of Wes Montgomery [Wes Montgomery] and more.
And the sections of the various styles of guitars, is a treasure trove of legendary acoustics and electrics. Bacon takes us back to the early Stauffer style guitar, the five-course guitar, the Harp guitar and others that form the backbone for modern day acoustics and electrics.
Some of the imagery is not only stunning, but are spot perfect, when telling the story of the guitar. A double-fold color photo of folk singer, Joan Baez, and her abalone inlaid Martin marks the importance of folk music and its hand-me-down artists that carry on some of the finest musical traditions.
If you're into resonator guitars, there's a quick glimpse of National guitars with a brief history and photos of some iconic players, including Mark Knopfler, Son House and Jerry Douglas. The aluminum resonators of the Nationals led the way to enlarging the sound of guitars that had been stationed in the background, and brought them to the forefront. Then later, the invention of the pickup would be added to acoustics to help fill local union halls, honky tonks and country fairs with a sound once unknown.
The Guitar Collection is presented in a manner that offers readers an illustrative history of the guitar, its evolutionary development and its standing in the eras of country, folk, jazz, the blues, flamenco, rock and pop.
For Beatles fans whom tend to think in terms of Rickenbacker, Gretch, Epiphone and Hofner, Bacon doesn't fail to mention George Harrison's use of a Jose Rameriz Estudio on "And I Love Her", in the Fab Four's film, A Hard Days Night. And he highlights the importance of Gibson's J-160e acoustic-electrics in the Beatles legacy of pop and rock music. But, alas, Harrison's colorful "Rocky" Stratocaster's not on view and most would expect to see it displayed in such a collection.
Some unusual axes are discussed including, the '60s Coral Sitar, the bizarrely cubist 1995 Manzer Pikasso II; a 1955 Stratosphere Twin and a 1920's Dyer Symphony Harp Guitar 8.
Some guitars that one might expect are absent, but anyone trying to pull together such a comprehensive grouping must limit their more expansive interests – Bacon must have had a grueling time deciding what to keep and what to save for another day.
Something that makes this book so special are the highlighted guitars that are important milestone guitars that you never see in other compilations or collections –  in this manner, Tony opens up more doors for us to enter in the evolutionary history of the guitar.
Carlos Santana, Eric Clapton, Danny Gatton and most of the top guitarists of our time are featured, as well as several more double-page images of Alex Lifeson, Tim Buckley, Dan Auerbach, Crosby, Nash and Young, Neil Young and Willy Nelson, The Beatles, Dimebag Darrel and more.
Tony Bacon continues to build his legacy of guitar books that inform, entertain and keep us up at night to thumb through and enjoy. The Guitar Collection does that and more, by adding to his book a sonic education, by inserting a collectible vinyl album of tracks by many of our favorite guitarists including: Brian May [Queen]; David Gilmour [Pink Floyd]; Tony Iommi [Black Sabbath], Alex Lifeson [Rush]; Paul Rogers [Bad Company], as well as a download code for our digital devices.
Again, Bacon hits one out of the park with, The Guitar Collection,  a visual, textual and aural cornucopia of guitar information that helps broaden and deepen our understanding and appreciation for the most important musical instrument of our time. Five Stars!
Title: The Guitar Collection
Author: Tony Bacon
Pages: 191
Text: English/German
Publisher: Ear Books
ISBN: 978-3-943573-11-4