By: Rick Landers
Images courtesy: Dr. Neil Ratner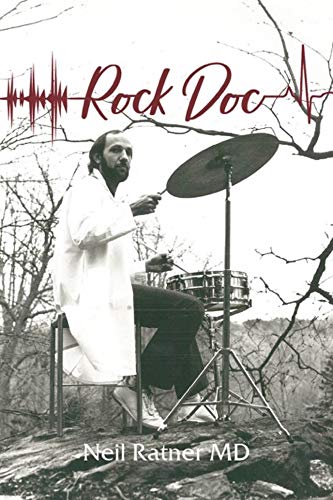 In many ways, Dr. Neil Ratner's life reflects that long and winding road, leading to one heart. Like many, as a young man he dreamed the dream of a life immersed in rock 'n' roll, a music that grabs us, pulling us in…sometimes to its very soul.
For some it's a need or desire of fame and fortune; or sex, drugs and rock 'n' roll, but for many it's simply, a love of "the beat".
At heart, Ratner's a drummer, or maybe more pointedly, a percussionist, with an interest in instruments one taps, beats or bangs, many from different cultures.
After a life working with such greats as Edgar Winter and White Trash, Emerson, Lake and Palmer, Pink Floyd, T-Rex, Three Dog Night and Michael Jackson, Neil's heart still surges to the beat of his collection of international gear. Whether it's a djembe, a snare, a tambourine or a big bass drum, Neil still thumps away in the quiet haunts of Woodstock, New York.
A drummer, a roadie, a tour manager, sometimes intertwined, Neil found himself working the backline of the world of rock and roll, but with some of the best, if not the top musicians in the world. But, in an emotional twist of fate he found himself driven  to leave the music business behind. He would find himself in Mexico, studying to become Dr. Neil Ratner, eventually specializing in anesthesiology.
It was a significant pivot, yet he was able to create a life that returned him to work alongside those who could get lighters and later, cellphones lit, fists pumping and thousands of fans swaying to the music or simply singing along with legendary hit songs.
Ratner learned the ropes of rock 'n' roll logistics and sound systems early on and showed an aptitude that reflected a precision and attention to detail that would serve him well. Yet, his life would also carry him to a point where he floundered in darker scenarios, where he lost his way. And it was in prison where he found himself spiritually lifted, where he had time to reconsider his life's direction and recommit himself to his core values and thrive, finding his true north.
Dr. Ratner's new book, Rock Doc is a romp, taking us to the inner world of rock and pop, the thrills and the spills, as well as the vagaries of fate, where the highs live alongside the lows, where juggling and balancing life can take its toll.  Rock Doc navigates through all of that and more, yet in the end, it's about redemption, giving back, and love.
Today, Neil lives a life in the town of Woodstock where he serves on its Ethics Board, and reaches half-way around the world to support and promote charitable causes in Africa and elsewhere. And he remains a devoted husband to his wife, Leann, the love of his life. And, of course, you can't take the beat out of the drummer, so he drums.
Guitar International rarely uses the word enchanted when it comes to interviews. Yet, we found Ratner personally and intellectually charming. Fun, interesting and sometimes intriguing come to mind, and our interview was all that and more.
We found Neil candid and informative, entertaining and clever, genuine and thoughtful.  He laughs often and is self-effacing, while toning things down when matters warrant serious discussion. And in the end, he's both philosophical and reverent about his good fortune, given his current life where he and Leann work together to help many of the poorest and disenfranchised people in the world.
******
Rick Landers: I found your book not only interesting and informative, but also entertaining. You're really a good writer and I found that, rather than it being like a typical pedestrian autobiography, it was more of a romp of a story, if that makes sense. Although, there were some heavy downsides or low points, obviously.
Neil Ratner: I never really attempted to write anything before, and as such, I wasn't sure if I was going to be any good at it or not. I'm pleasantly surprised when I hear comments like yours. [Laughs]
Rick: It's a fun read. From your early days, your dream was to be a career professional drummer, but at a certain point you were inspired to shift to a career in medicine. I know you talked about this in your book.
But this is an unusual circumstance. A lot of really good musicians find themselves at some pivot point, where they need to make that kind of decision. How about telling us about your first dream of being a drummer, the change that took place, and looking back, how you feel about becoming a doctor, rather than making the decision to become a professional rock drummer?
Neil Ratner: Basically, you're right. As a kid, especially growing up – I'm going to be 70 – in the '50s and '60s, you know, rock and roll was just happening and it was such an exciting time. And I was drawn to the drums at a very early age for reasons unbeknownst to me.
I guess I always had rhythms going on in my head. So, it always appealed to me to be a drummer and, as I say in the book, I started out in the high school band and orchestra. Then I had my little bands on the side and as time went on, it seemed more and more possible that that might happen.
But, as fate would have it and you know the music business, Rick. It's not an easy business. It was not an easy business then. It's not an easy business to get into now, although now with the Internet, the ability of people to do things on their own, I guess it is somewhat easier, although I don't think it's easier to reach those plateaus.
Those plateaus of stardom are still way off in the distance for everybody, quite honestly. At any rate, I got to a point at the end of high school where I had a really good band and it looked like we were going to get some offers. We made some demos – you know how it goes. 
Rick: Yep.
Neil Ratner: Shit happens. I had this other dream as a kid, again for reasons unbeknownst to me of becoming a doctor, and coming from kind of an upper middle-class background, certainly my parents were much more geared towards me going to college and becoming a physician than becoming a rock and roll drummer! 
Rick: Sure, of course [Laughs].
Neil Ratner: I had to make the switch and say, "Okay, for the moment, I'll give up being a drummer, although I'm not going to give up the drums. Let me go to college and be pre-med and start to study and see what develops. And what developed was, of course, I immediately got into a band. I started playing at various functions and clubs and whatever. After a time, my interest in school was kind of waning [Both laugh] with my interest in music being rekindled in a really big way.
And then an interesting thing happened to me. In the summer between my sophomore and junior year, I took a sublet apartment in New York City and I got into a training program where, within the two months, I could get a license as an operating room technician.
Back in the day and even today getting into medical schools was and is not an easy thing. I felt that maybe that would give me an advantage. Although I still wanted to be a rock and roll drummer.
I was seriously looking at, how am I going to go to medical school? And how am I going to pursue that dream of becoming a doctor? So, I took an apartment. It was the summer of 1969. The apartment was on 13th Street between 1st and 2nd Avenues in New York City.
Anybody who knows New York City knows that that's the East Village. The East Village back in those days was quite the place with the Fillmore down the street, Oh Calcutta at the Anderson theater, the electric Circus you know, hippies all over, the smell of pot everywhere [Both chuckle]. It was a very conducive atmosphere for music. 
Rick: Well, I've got to tell you I used to go to the Grande Ballroom in Detroit, which is similar to the Fillmore.
Neil Ratner: Oh, absolutely! The Grande was one of the early venues of rock and roll. 
So anyway, I take this apartment and very shortly after I started living there, I hear music coming from an upstairs apartment. Being a musician, it interests me. I hear guys practicing on guitars. I can't tell. So I walk upstairs and knock on the door and I introduced myself. Lo and behold, it's the apartment of Liz and Rick Derringer.
Rick and I became instant friends and, of course, living next door was his brother Randy, and next door to that was Randy Hobbs. 
Rick: Oh really? 
Neil Ratner: These guys had all been in the McCoys. 
Rick: Yeah, "Hang on, Sloopy."
Neil Ratner: Yes, but at the time when I met them, the McCoys were finished, and Rick had started to work with Johnny Winter. So there was Rick, and Randy Hobbs, and Rick's brother, Randy, who didn't make it very long.
They became Johnny Winters' band and they were called Johnny Winter And. So Rick and I became friendly. I was in a little band that summer of friends from home in Long Island, and I had Rick come to a gig and he saw me play and he realized that I could play the drums.
We became fast friends, hung out a lot during that summer, and when it was time for me to go back to school, I said, "Rick, man, you saw I could play drums. Get me a gig as a drummer [Both laugh]. 
Lo and behold, he called me six months to a year later, not with a gig as a drummer, but by that point, he was well established with Johnny Winter. Of course, Johnny had a brother named Edgar. 
Rick: Of course, yeah. 
Neil Ratner: He had just formed his first real band to go out there and try and make it. It was made up of a bunch of friends and it was called, Edgar Winter's White Trash, featuring Jerry LaCroix.
Rick: Yeah, White Trash, I saw them. 
Neil Ratner: With another friend of his, Jerry Lacroix. 
Rick: Yeah, I know White Trash. "Dying to Live" is a great song.
Neil Ratner: "Dying to Live" is a fabulous song. I love that song: so filled with paradox, you know what I mean?
Rick: Yeah! [Both laugh]
Neil Ratner: And that's what the world is. You can't appreciate sadness without joy, etcetera. At any rate, Edgar had just formed a band and I was sure Rick was going to ask me to be the drummer. But of course, he asked me to be the road manager, which was not something I really wanted to be.
But you know, he said, "Come on, Neil. You'll get in the business. You'll meet people. You never know, So, that was the beginning of my foray into the rock and roll business. 
Rick: And then you decided to become a doctor. What was the driving force besides wanting to be one? Was there a point where something happened and you went, "I really need to change and focus on the doctor thing."
Neil Ratner: Yeah, absolutely. I spent five to six years working in the business side of the business, starting out as road manager, then a tour manager, then a special assistant to a major manager.
Eventually, I had an all-in-one production company. We did, sound, lighting, everything a band needed on the road.. I did Pink Floyd's Dark Side of the Moon tour. I did the LP Brain Salad Surgery tour and various other things. I was starting to get tired mentally and beat up physically.
Rick: I bet. The logistics side of it must have been horrific – pulling everything together. 
Neil Ratner: Try and imagine the Dark Side of the Moon tour – all of that equipment and special effects and everything in a time when there are no cell phones. There are no computers. Going on the road with lots of people and lots of equipment was quite a trip back in those days.
Rick: Yeah. Did you ever get in the studio with Pink Floyd? 
Neil Ratner: You know, the only time that I was actually invited to go into the studio with Pink Floyd – it's kind of a funny story.
The way that I got involved with Pink Floyd is I became real good friends with Peter Watts. He was their chief sound technician and really an incredible genius when it came to sound technology. Peter and I were good friends and he had helped me create my company. He knew some technical people in London that had a company that was splitting apart.
The one guy who was going to keep all the equipment was looking for a new partner. His name was Jim Morris, and he and I eventually formed Circus Talents, which Peter helped put together. Then, of course, when the Dark Side of the Moon tour came about, they tried to do it themselves and found they didn't have enough equipment.
Their production wasn't quite what they wanted it to be. So, as Peter developed a bigger production, he said, "Come on. You guys are coming along with me and you'll co-produce the tour and we'll use your equipment and we'll see how it goes."
Rick: What a great band. 
Neil Ratner: Yeah, it was a great band. At any rate, the only time I got into the studio with them was prior to that when they were recording the Dark Side of the Moon album. I was good friends with Peter, and his wife Puddie who, had been a college girlfriend of mine, which is how I met Peter in the first place.
They said, "Why don't you come down to the studio? The Floyd is finishing up this new album called Dark Side of the Moon. Roger Waters has these flashcards and he's going to get people to read answers to the questions that he has on the cards, and maybe it'll make the album. We don't know, but it should be a fun time."
So, I was really psyched to go and I ended up in a London hospital with kidney stones.
Rick: Oh! As fate would have it.
Neil Ratner: As fate would have it, of course, if people listen to the Dark Side of the Moon album, they'll hear Peter's hysterical laughing, Puddie's comments, "Cruisin' for a bruisin'" and all kinds of other things. That was the one time I was invited to the studio, and I never quite got there. 
Rick: In '74, they were working on a different album. I was at Abbey Road with Roy Harper, if you know Roy Harper.
Neil Ratner:  Oh, yeah. Sure. 
Rick: Pink Floyd were next door in studio 2. I think we were in 3. Then we all went downstairs and ate in the galley. Pink Floyd were behind us having Chinese takeout and champagne. 
Neil Ratner: No kidding [Both laugh]. Great combination!
Rick: It was hilarious. And Harper was a pretty amazing folk singer.
Neil Ratner: Yeah, he was a great singer that a lot of people don't know about, actually. 
Rick: Yeah, I know, and I lived in England and worked for Virgin Records at the time. But I knew of John Martyn and saw him a couple times and a number of others. What I didn't realize is that Nick Drake lived in the same county I did, if you knew Nick Drake.
Neil Ratner: Sure, yeah. Did you get friendly with Nick Drake?
Rick: Not with Nick Drake. I didn't even know he was there. I didn't actually hear about him until about three years ago.
Neil Ratner: So, getting back to your question. I had done all this stuff including all these big productions.
I was getting intellectually bored and physically beat up from all the drugs and the lifestyle and whatever, and I ended up again with another bout of kidney stones. I don't know. I was watching TV. It was late at night and a movie came on. It was this old American movie called "Not as a Stranger." It's a movie about interns and residents and how they, become doctors and strive and I don't know. I don't know if it was the drugs or my mental state or whatever [Both laugh].
It just hit me, and I started crying and I started to re-evaluate my life and every aspect of it and I said, "You know what? I'm done. I'm not going to be the drummer. I've done everything that I really set out to do and accomplish in the business end of the business. Now it's time to go back and fulfill my other dream." 
I was a big believer in the fact that you could do many things in life if you truly believed in yourself and you were willing to work hard enough for it. So, I knew it would be an incredibly long road. I had to go back to college. I didn't have very many college credits. And colleges didn't want to take me in their pre-med programs.
They didn't think I was serious. My education was too strange for them. There were all kinds of things going on in my mind, but I was determined when I came back. I was fortunate: got into a university but I did not get into an American medical school. 
Rick: Yeah, Mexico, right?
Neil Ratner: There were foreign medical schools. I took the long road and 10 years later, hung up a shingle.
Rick: Any regrets?
Neil Ratner: No. Rick, I've had this incredible life, man! I wrote a book. I wanted to share all these great stories and experiences. Over the years, I've become the "Rock Doc". 
Rick: I saw the picture on your book. You're there with a snare drum and I think a cymbal in your seat. Do you have this drum kit now? 
Neil Ratner: No, I don't have a drum kit, but I do have a house full of drums [Rick laughs]. When I moved up here to Woodstock about 15 years ago, my wife had been a professional dancer. She's got a story too playboy bunny, Vegas showgirl. But, she was into African dancing, so I'm very into African drumming. And I'm a player of sorts. I've got a whole collection here of djembes and dunduns and other African drums.
Rick: Cool, you know, I love Mali music. 
Neil Ratner: Mali music: I learned in the Guinea tradition. 
I'm not sure if it's the same. But, I've got to tell you, man, I was a drummer. I was sure it couldn't be that difficult. And it was unbelievably difficult.  The rhythms were just so off and so unlike anything I had ever done. It was a real trip and it was great. It expanded my drumming knowledge, but that's about all the drumming I do.
Rick: Yeah, I'm supposed to interview Jack Ashford from the Funk Brothers. Are you familiar? 
Neil Ratner: Nice! Yeah. 
Rick: Yeah. He's like the tambourine guy and I didn't know tambourine was so complex.
Neil Ratner: You watch a good tambourine player like Elton John's 'percussionist. Ray Cooper and watch how he plays the tambourine and you realize it's a serious art. It's a special instrument. 
Rick: After reading about it, I went and I got a bunch of antique tambourines from like the 1920s. 
Neil Ratner: No kidding [Both laugh]!
Rick: Yeah, kinda funny, but I collect vintage guitars. I guess I don't just collect them. I play guitar, so I've got about 14 old guitars from the '20s, '30s and '40s – Gibsons and Martins and stuff. So, let's see where we were…you moved into a world of sex, drugs, and rock and roll (or pop, I suppose, with Michael Jackson) and it's often on the fulcrum or the edge of risk.
And sometimes you teetered over to the wrong side, obviously, as you state in your book in a couple places. Do you find a life in music and a life in medicine both fueled by the same kind of cauldron of emotional needs? 
Neil Ratner: That's an interesting question. 
In many ways, the pressure was similar in terms of getting a band on the stage every night and putting a patient to sleep and waking a patient up. Don't forget, I was an anesthesiologist. I think in terms of your question, it would probably be answered differently depending on the type of physician. 
An anesthesiologist lives in a world full of pressure, we're kind of like airplane pilots where it was very intense during takeoff and landing. In other words, I think I say in the book, " "Hours of boredom with moments of Terror," [Both laugh]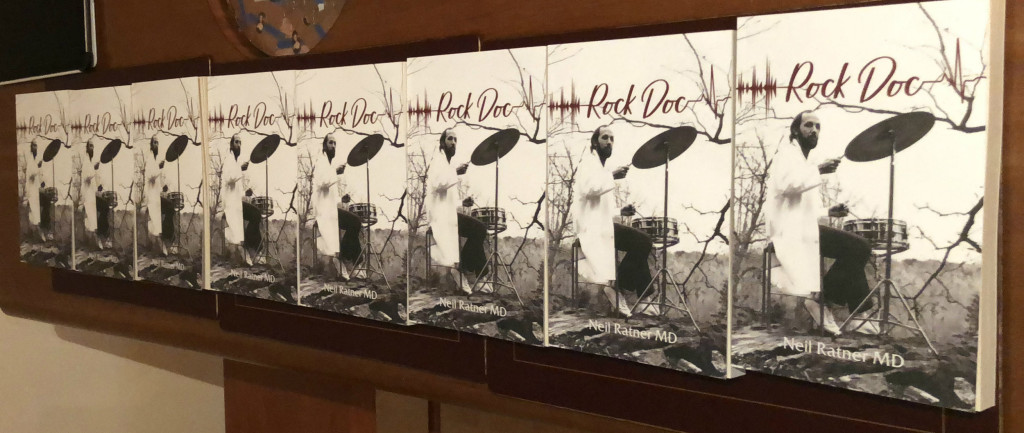 Rick: Were you in stressful situations? I would assume your medical work is and certain situations that I saw in the book. Did you eventually become sort of the eye of the storm where you're the calm person and just handling stuff?
Neil Ratner: Yes, no question about it. I mean, to a certain extent, if you're on the road and your company is in charge of everything, you better keep your cool because if you start to freak out at every little thing that happens, then you're not going to be very good at your gig.
So yes, that was something that I had to learn to do. Same thing in the operating room – during times of crisis you better be calm, because bad things happen quickly in anesthesia. And if you're not quick to correct them, they can go downhill extremely fast.
At a rock and roll show, it's the same thing. I remember one Emerson, Lake & Palmer gig. I think we were running all kinds of phase linear amplifiers. That was our power. And we had some sort of a crazy power surge that blew like 10 of them, which is all we had. Then to do the gig, we had to get a generator.
You know – high-pressure situations happen, I suppose in every kind of field, but yes, there were similarities there between trying to run a tour on the road and trying to create a successful anesthetic experience during an operation. 
Rick: Yeah. It's interesting. A friend of mine teaches and talks about fear and anger. He said what happens when people get really excited and angry, what happens is the blood from their brain goes to their limbs, so you don't think as well. So, it sounds to me like you kind of recognized that and you were able to stay calm.
Neil Ratner: Interesting. It's something that I did have to learn, and I did have to teach myself. There was one other time in my life where I certainly had to use that same experience of staying calm.
As you said, I've had good and bad things happen to me, and I did spend a little bit of time as a guest of the federal government.
Long story, had to do with my fertility practice. People will have to read about it. I'm not going to go into it, but believe me; when you're dropped in a federal prison [Laughs], you better stay calm.
You better use those same talents, [Both laugh] because you're in a very interesting, unusual situation that you need to be very aware of your surroundings. 
Rick: When you were with ELP and Edgar Winter's White Trash, what were some of the toughest challenges besides what you say in your book: getting the money and making sure the sound system was right? [
Neil Ratner:  Well, one of the toughest challenges of being a road manager or a tour manager, you know, with these groups, is dealing with the emotional problems [Both laugh] and situations that each of the band members may or may not have.
Rick: So, you're a facilitator/mediator? [Both laugh]
Neil Ratner: Certainly, a facilitator, a psychologist. Now this is not meant to be sexist in any way, shape, form or manner, but many times the other thing that you had to deal with, which got to be very difficult, were the wives and the girlfriends. 
Particularly in the situation with a band like Emerson, Lake & Palmer where you had three stars. 
If the wife or the girlfriend and their husband or boyfriend isn't getting the attention he deserves, you're gonna hear about it. It's going to be your job to make sure they don't rile up their husband or boyfriend and create a terrible problem within the band.
That was important, and then just the interpersonal relationships among band members. That can be difficult to deal with oh, you know. You've dealt with musicians your whole life [Laughs].
Rick:  We're an interesting breed. 
Neil Ratner: Yeah, interesting breed and you get strange combinations! 
Rick:  But there's an old joke that guitar players say that the reason they have a drummer is because that's the guy who goes and gets the beer.
So, as a drummer/doctor, the joke takes on kind of an interesting twist when you get to the medical needs of Michael. I would think that – and I don't want delve into this too much – I just want to ask.
I think there was not only a balancing act between prescribing medicine to tend to your patient because that's what he ultimately was, as well as a friend over time, while at the same time working not to enable him.
So, did you find that there's always a balancing act with that and did you find yourself reflecting on where you needed to draw the line between those two?  Where did you need to draw the line between those two? 
Neil Ratner: One hundred percent it was a balancing act. It was a difficult line to draw.
Rick: I bet. Yeah.
Neil Ratner: But, as far as I was concerned, I was the doctor. I was the expert. Therefore, I had to control whatever situation I put myself in medically, with any patient, be it Michael or anyone else.
You take the Hippocratic Oath. That's a serious thing – a serious part of medical school. And one of the most important parts of it is, "I will do no harm."
So, you're always thinking about that balancing act of, "Well, how am I going to help him and am I going to harm him in any way by doing this. It was a difficult situation to me, because he was a friend. He was obviously in trouble and it was very obvious to me that other doctors were not thinking out-of-the-box. 
Rick: I think I found that the key to why you stayed as long as you did was to protect him from others. 
Neil Ratner: Well, to protect him from others and to protect him from himself. 
He was his own worst enemy. He created his own problems, yeah. He had lots of facilitators who jumped in on the magic, so to speak. That's another thing. A lot of times when you get around stars, especially a really big star, you get so caught up in their magic that you lose your ethical, moral, every other consideration that you would make if you weren't in a situation like that.
Rick: Yeah, you lose your grounding, I would think. 
Neil Ratner: Totally. Totally. It's very important that you stay grounded and you treat that person like anybody else.
Rick: I'd think you'd also want to always keep in mind, "If I need to walk away, I need to walk away." 
Neil Ratner: I would have walked away at any point where I felt anything untoward was happening or if I felt I was harming him in any way, or if I saw anything that I was uncomfortable with.
I didn't need to be there other than to try and help a friend and do a good job at what I was trying to do. I had been in the rock and roll business. I was not taken out by that magic, you know, and that's why I controlled the treatments. I controlled when, where, how, fully monitored, totally under my control and not Michael's, and if he didn't like it, too bad. Then I'll leave. You can go get somebody else. I don't care. I'm trying to help you here. 
Rick: Yeah, and I would think the most frustrating is a patient – and I don't mean him – but a patient in general, where there are some things you don't control, when they don't comply with what you want them to do, and they're not in your sight 24 hours a day. 
Neil Ratner: No, they're not and you could only do what you can do when you're with them. That's for sure. In the end though, I'll say this. I felt I did the best I could under the circumstances.
I created a one-of-a-kind treatment for a one-of-a-kind individual and for the eight years and maybe 25 times that I did it with him, I think it was successful for what we were trying to accomplish. 
Rick: I want to get into is your charity work in Africa, and I want to talk about the sustainability concept that you talked about in your book. There are a number of other things and it all has to do with, good solid grounded values that we've talked about and looking back on your life and what's your biggest blessing and I'm sure you're going to say your wife, but I want to get that in there, and then how you feel now.
Neil Ratner: She'll appreciate that one.
Rick: We were talking about the idea of tending to your patient, at least in the sense with Michael Jackson, while at the same time trying not to enable your patient. And I think I was asking, did you find yourself reflecting on where that line needed to be drawn by you? I recall that you said almost on a daily basis, right?
Neil Ratner: Well, not necessarily on a daily basis, but basically, Michael was my friend. I was his doctor – one of his doctors – obviously, he had many doctors.
I just tried to give him the best possible advice that I could, but again, the kind of treatments that I was giving him were very serious business,. I was an expert as you know from the book.  I started focusing on anesthesiology when Propofol didn't exist. When it first was approved for use in the US, I was one of the first to grab it. I used it extensively for years and years and years through thousands of cases before I ever met Michael. So I knew what I was doing.
As I said to you before, it was somewhat out-of-the-box, and because of that, I had to be in total control. I don't give a shit if he was Michael Jackson or fucking Donald Trump or the Pope. It doesn't really matter, and I made that clear to him: "Listen, this is serious business. This is not a joke. I'll do it because I think it can help you temporarily." I was always looking for a way to transition him.
If you remember in the book, at one point I got him a Chinese herbalist. We tried that. These treatments were never meant to be a permanent or daily thing.
For me, it was just when it was absolutely necessary to get him on stage, That's why over the eight years, it was infrequent, not frequent. When I had to care for him in that way, it was under my terms, period. If he didn't like it, tough shit. Walk away. I don't care.
That's how I drew the line. I used my expertise to decide what I felt I was comfortable with and that's where I drew the line. If you don't like it, go somewhere else.  You need me more than I need you, man. I don't give a shit that you're Michael Jackson. This is something different.
Rick: Yeah, exactly. I don't know when you were doing this, but there was a study in 1987 – and I don't know how good or how extensive the study was – by the International Conference of Symphony and Opera Musicians. It found that 27% of those interviewed admitted that they used beta blockers, and that's what that is, right?
Neil Ratner: No.
Rick: It's not? Wow. Let me see what this says here.
Neil Ratner: No, no, I believe the story about beta blockers. I'll explain it to you.
Rick: But, it says beta blockers such as propanolol for musical…
Neil Ratner: Propanolol not Propofol
Rick: Okay.
Neil Ratner: You know why they use beta blockers? Do you know the theory behind that or medicine behind that? I'll tell you very quickly.
We have a sympathetic and a parasympathetic nervous system. They are complementary to each other, fight or flight. The sympathetic nervous system is adrenaline. So, when you get excited, your heart goes faster, your blood pressure goes up, and the parasympathetic system is the opposite. When people have to perform or go for public speaking, a lot of times they get very nervous.
So, you can take a small dose of a beta blocker. There are alpha and beta receptors in the nervous system. The beta receptors are what make you nervous feeling and your heart go fast and all that shit. So, you can take a mild beta blocker before you have to go out and perform. It will keep you where you need to be without affecting anything else.
Rick: Ah, okay.
Neil Ratner: That's what beta blockers do. What I'm talking about it's something totally different. I'm talking about sleep therapy that I did for Michael.
And that was Propofol.
Rick: Okay, because the other medicine actually causes insomnia.
Neil Ratner: It can.  It could also cause a little bit of impotence and various other things, but not in very small doses just for performance anxiety. Great drug for performance anxiety.
Rick: That was my mistake, but thank you.
Neil Ratner: No problem [Both laugh]. I like to educate, you know?
Rick: Good, good. 
Neil Ratner: And I think it's important for people to know that I'm a real doctor,.
Rick: Exactly, that's good. I suppose there's also the dynamic of how much do you do as a doctor, or how much you should do to manage your patients since patients have a certain responsibility that you can't control, right? Do you use the carrot or the stick approach or both approaches? How do you know what to use to try to motivate a patient to be compliant?
Neil Ratner: You know, as an anesthesiologist, you're not really in that world.
Rick: That's true.
Neil Ratner: Because you're taking control of that patient. What you need to do is make that patient comfortable with the fact that you're now going to be in control for whatever length of time the operation, the treatment.
It's a whole different kind of medicine, a whole different kind of doctor. It's interesting when you think about it. As an anesthesiologist, I didn't treat disease in the course of my job. My job was to facilitate what the surgeon did. I had a very unique perspective on it, because my perspective was – Okay, I had been in the rock and roll business, right?
Rick: Right.
Neil Ratner: I had done my share of drugs. I was in the rehab, the whole deal. And I was very knowledgeable on all of those kinds of street drugs. I knew by personal experience: sex, drugs and rock and roll.
Rick: Sure.
Neil Ratner: I say this as a joke to people, but it's not really a joke Anesthesiologist's were afraid to go alone into a doctor's office because the drugs that were available back in those days were not really conducive to office anesthesia, but I had had much more personal experience with most of those drugs then than many of these other guys had.
I knew the drugs available to me as an anesthesiologist would be similar or could produce similar effects. My theory was that if I used the right drugs and I mixed them correctly, why can't I give a patient a unique experience in the operating room apart from whatever the surgeon is doing?
Rick: Sure, sure.
Neil Ratner: The other thing I introduced that was new at the time – I brought a Sony Walkman in and would play spiritually uplifting, non-worded music. The entire time of the operation, the patient would have the headphones on. I would bring them in with a creative visualization, where I'd speak to them the night before and explain to them: pick a special place, blah blah blah.
I would work that whole thing to create a set and setting: the right environment, the right feeling, so that, again, the anesthetic experience was more than just drugs that made you nauseous and allowed the surgeon to work. I was very successful in doing it that way. My approach was very unique, very different.
Rick: So the music – was that chosen by you or your patients? Was it something like Enya?
Neil Ratner: You know, it was interesting, I would usually choose the music unless the patient had a special request. But I had certain requirements for the music. Again, non-worded, spiritually uplifting. New Age kind of stuff before New Age existed: certain classical pieces, certain rock pieces, but they had to be of a certain type. Words get in the way.
I wanted things that helped to produce positive emotions. I didn't want patients to listen to the words. I wanted them to feel the music. And, of course, they're only feeling it until they go to sleep.
But, a lot of these procedures were under what's called conscious sedation, which meant that they weren't really unconscious. They were in this sort of in-between space. Again, although they might not consciously remember the music, there's some part of the unconscious brain that's recording the experience. if it's a pleasant experience, it's better for you [Both laugh].
Rick: I used to call that 'dreality' – partial dream, partial reality.
Neil Ratner: 'Dreality': I like that! [Both laugh] I may use that.
Rick: That was back in the '70s I came up with that.
Neil Ratner: I like it!
Rick: Use it! Use it [Both laugh]! That brings up an interesting point about the music, because I know you talked about Michael Jackson and his song "Smile." You knew that was originally Charlie Chaplin?
Neil Ratner: I knew that was the Charlie Chaplin song, and Michael and I had talked about it because he used it. I think when we first talked about it, when I first went on tour – on the History tour. It was shortly after Princess Diana had died. And you know I've got that chapter in the book about Michael and Princess Di, although they only met once…
Rick: They talked a lot, yeah.
Neil Ratner: They had late-night phone conversations and all that stuff. Before the first show, Michael said to me, "Make sure you're out in front," like in the audience, "because I want you to see how it starts." He didn't tell me what it was. It started with a tribute to Princess Di, and I think that was the first song. So afterward, Michael and I talked about it. He loved Charlie Chaplin. That happened to be one of his favorite songs and he related it to Di, and so he used it that way.
Rick: When I was digging into that song, I didn't realize. I thought Charlie Chaplin wrote the lyrics, as well, but he made the melody. In 1954, two guys added words to it, apparently.
Neil Ratner: That's interesting. I didn't know that. That's very interesting. But, I'll tell you something that I'll never forget. You know Charlie Chaplin was shunned by the Academy for his Communist leanings and what not?
Rick: Yes.
Neil Ratner: But then, I don't remember when it was – maybe it was in the '60s or something – they invited him back. He was very, very old. They invited him back. I'll never forget watching that because he came out to that song. It's like burned in my mind: that, and the Michael time, being every night there on tour for awhile.
Rick: He was brilliant.
Neil Ratner: Oh, yeah. Was he ever.
Rick: Let's move a little bit, or a lot, to what I find to be very commendable work that you've done in Africa. You mentioned the word 'sustainable' with the work. I think somebody brought up the question, "Was your work sustainable?" and from there it gave you the idea that it should be sustainable, right?
Neil Ratner: Correct, that's exactly right. Basically, what happened was in the '90s, my wife and I decided to go to Africa. She had had this dream of going on safari from the Tarzan movies when she was a kid or whatever. We booked a small safari with one of these companies.
I had some experiences previously. I had been in rehab. I'm sure I talked about this somewhere along the way. When I got out of rehab, I met a man who I started working with who's sort of like a modern-day shaman. Charles Lawrence is his name. I've mentioned him in various parts of the book. He turned me on to Native American culture, indigenous culture. I became a pipe carrier.
Rick: Hmm, wow!
Neil Ratner: I studied ritual and ceremony, just learned to fill that space – you know how they say you've got to fill the space that the drugs took, the emptiness and whatever. At any rate, I got really into all of that. So, when we went to Africa, I had the desire to go to a real village, an indigenous village, not one of these tourist villages – a real village.
There were about 10 or 15 of us on the safari. I spoke to the guide. She said, "I know one, but you've got to convince the other people," blah blah blah. I convinced everybody we should go. We had to drive. It was hours from the camp. It was in Samburu land, in the northeastern portion of Kenya, near the Somali border.
Rick: Yeah, I've been to Kenya.
Neil Ratner: She took us to this incredible native village. It was like being in National Geographic: primitive with huts made of mud and dung. Among other things, they showed us how they shot the arrow in the calf and used blood as their main food source. They had 25 different ways of preparing it,
So we're getting ready to leave. We got in the vans and I saw the chief carrying this kid and having a conversation with the guide. It looked like they were arguing. I had made the arrangements. I felt like I needed to get involved.
Long story short: the kid was sick. They knew I was a doctor, because that's the only way they allowed us to come, because the guide had said, "Famous New York doctor. Don't bother him. Maybe he'll come back and help the village. Don't bother him."
But, of course, there was a sick kid and I was a doctor. Basically, he wanted me to look at the kid. Without thinking, I agreed, not realizing that I had no tools. I'm just standing there in the middle of the desert in Northern Africa. But having gone to medical school in Mexico, I learned about the tools of my body: my eyes, my ears, my hands. I realized maybe, maybe I could make some kind of a diagnosis. Fortunately, I could.
We go back and I had all these antibiotics. I took out all the antibiotics that I brought, made a huge pile of powder, figured out milligrams per kilogram, what the kid weighed. My wife sat there and we portioned out doses in little packs of paper. Went back the next day. I gave him the medicine and I that told them what I thought the diagnosis was and hoped for the best. Six months later, the chief sent me his spear, which was a huge, big deal.
That's really what started me on the charity route although I've sort of taken a break right now while I'm working on the book.
But, it's not over. It's something that is my intention to actively go back to and use whatever celebrity I can get as a jumping-off point to create something even bigger and more sustainable and more important.
At any rate, I had a friend in the city: a very famous infectious disease doctor named Kevin Cahill, I had to go to him and tell him the story. I was really proud of the story. He's a tough Irish guy – he's treated Popes and Presidents and everything else. And he just looks at me and says, "Ahh, what do you think you did? If you went back there tomorrow, did you change anything? The kid's probably sick again! Did you do anything sustainable? Without sustainability, these things never last!"
I split from his office with my tail between my legs thinking, "Oh, shit. Was that just a vanity project? Did I make myself feel good?"
Rick: Yes and no: you did what you thought was right.
Neil Ratner: I did the only thing I knew how to do at the time. But, he made me aware that there was more that I could do, and maybe that I should do.
Rick: He planted the seed.
Neil Ratner: Totally. Then I said, "You know what? We're going back. We're going to see if we can create something sustainable out of what I did there."
And we did. We went back and on my own dime, we were successful: Got a government nurse involved. There's a picture there of me treating kids in the little schoolhouse.
Rick: Right, I saw that.
Neil Ratner: So, we were successful, and that started me. I got to know a lot of people in Kenya and we love Kenya. I tell this story in the book. I come home one day and can I see my wife watching TV. What is she watching? The rubble of the American Embassy in Nairobi. I'm shocked and horrified. It wasn't long before the phone rang and some very famous friends of ours, Iain and Oria Douglas-Hamilton – check them out. They're incredible people.
Rick: Okay, will do.
Neil Ratner: Iain Douglas-Hamilton, was a doctoral student at Oxford studying elephants in the '60s. He realized if we don't know their migration routes, we'll never save them. So, he was the first guy to start collaring elephants. He's like the grandfather of the elephant conservation movement. He's still alive, probably in his late 70s or early 80s.
At any rate, they became good friends. They called, "You must help." They hooked me up with an African charity. I helped put together a mission of mercy: I got the anesthesiologists. They got international reconstructive surgeons. We went back a couple of months later. The acute injuries had been taken care of, but over 300 people had injuries that were not properly taken care of – injuries that can really hurt people emotionally.
Rick: Like the boy with the jaw n your book, right?
Neil Ratner: The boy with the jaw, right. Or how about the guy with the ear?
Rick: Oh, yeah! That's pretty amazing! He just wanted to put his glasses on, right?
Neil Ratner: Right, right. Just the incredible stuff like that that never got fixed: that was our mission, to go and fix it. It was really the first al-Qaeda situation.
We operated on 300 people in the course of two weeks. It was an amazing experience. We donated a quarter million dollars worth of equipment because we brought everything. I solicited everybody. I jumped up people's asses like you wouldn't believe [Both laugh], try to make them feel as guilty and bad as possible.
Rick: Hey, it worked.
Neil Ratner: Yes, it did.
Rick: This reminds me of my next door neighbor. He's with a foundation called the Numi Foundation. They build water infrastructure systems so people have clean water.
He says they don't parachute in and leave. They make sure the water supply is clean and sustainable and they train people who are indigenous to the country. Now I think they're working in a village in India. The whole idea of having clean water, which we don't think about here in the states, but apparently is horrendous.
Neil Ratner: It's the world's biggest problem. Much disease is caused by dirty water. You wouldn't believe the statistics. It's funny you should mention that, because in recent years I've been looking at various things and I do a fair amount of travel. My wife and I went to Peru. We did Machu Picchu for a week. We did a week on the Amazon on a boat.
Rick: Nice.
Neil:Ratner Which was even cooler, quite honestly.
Rick: A friend of mine did that. She said she was almost attacked by a monkey. She was afraid she was going to have her face torn off.
Neil Ratner: Monkeys can be vicious. Trust me [Both laugh]. I was looking to see if there was something I could get involved in. One of the things that I looked into was water. I looked into all of that and know a lot about it. It never happened, but it's a huge problem and there are some really nice solutions and organizations like your friend's. It's a huge problem that the world is going to have to address whether they want to or not.
But getting back to my charity story. I moved to Woodstock, New York, after I was in jail and stopped being a doctor and I didn't know what I wanted to do. I read an article in the local paper about a local baker who had been to South Africa and was very moved by the HIV crisis and wanted to do something, but he didn't know what to do. By that point, I had spent an enormous amount of time in South Africa.
After Kenya, my wife and I became safari junkies and we just wanted to go on safari wherever we could. We started to go to Botswana and Zimbabwe. Then we found South Africa, and South Africa has a lot to offer. When I started going on the road with Michael, I met more people in South Africa, including Nelson Mandela.
I first went to South Africa on tour with Michael during the History tour, and I said to him, "Mandela's one of my heroes. Can you just make sure I at least get a picture or shake his hand?" [In Michael's voice] "Oh, don't worry about it. You'll get it."
Sure enough,he was president when we were down there. Mandela and his entourage came in to the dressing room after the show and when the president stopped to shake my hand he said "Oh, I didn't know Michael had a doctor!" [Both laugh ] Later on Michael called me down to take the photos with him. So that was like unbelievable to begin with, then a couple of years later after we had done the charity tour, partly for the Mandela Children's Fund, as a birthday present.
Michael called me and said, "Man, I got a present for you!" "What do you mean?" "No, I've got a present for you." "Don't give me no birthday present, Michael." "No, no, man. I've got to give you a birthday present. I got a birthday present." For Michael to say that – don't forget, when I met him, he was a Jehovah's Witness.
He didn't celebrate birthdays. I talked about it in the book. I got on his ass about that, particularly when he had kids.
Rick: That's right. You talked about Christmas.
Neil Ratner: " You've got kids now Christmas and Birthdays are important." And I talked to Michael like I'm talking to you.
Rick: Uh huh, that's funny.
Neil Ratner: He was my friend. I didn't really care. He hated when I cursed, coming from a family with a father who started in the trucking business. I have a truck driver's mouth.
Two years later I got to go back and really spend time with Mandela. That's the pictures you see. That was when we went back on the charity tour. He heard about what I did in Kenya and he said to me, "Come back and do something here."
Fast forward to two years later, and I meet this guy and he wants to do something in South Africa. I'm itching to get back into the charity world, so we decide to do something, not knowing really what to do. We never had started a charity.
I had done all my stuff very independently. We started to research. At first we thought we would make some better bread. And we thought that was ridiculous: we should create bakeries, little micro-bakeries. We came up with a plan. We heard about a contest that the Dutch government was running called Business and Development: Make Poverty Your Business. What a great slogan, right?
Rick: Yeah.
Neil Ratner: Make Poverty Your Business. Because the whole point here is in the charity world, there ain't enough to go around. Everybody's got their hand out. There is not enough to go around, so the best thing you can do is to teach people to be self-sufficient in some kind of a significant way.
Rick: Yeah, teach them how to fish. The old adage.
Neil Ratner: We co-opted that. "Give them a loaf of bread, you feed them for a week. Teach them how to bake the bread and you feed the village forever."
Rick: Exactly.
Neil Ratner: That was our plan. I worked my ass off coming up with five-year projections and all the forms for the Dutch government. Lo and behold, we were the only American company that entered the contest. We took second place.
Rick: Wow!
Neil Ratner: We went to Holland and we got a little notoriety, and more importantly we got a little money. We got a little money we raised a little money. We still didn't have enough money. I thought we could raise some money in South Africa.
I called my friend there who is like Mandela's adopted son. I wanted him to get involved and help us. He called me back a couple of days later and said, "I spoke to the old man for you." "What do you mean? What are you talking about?"
I knew who he was talking about. "I want to help you. I'm going to send you five of his books for a fundraiser. He'll endorse them any way you want. He likes what you're doing and wants to help you." And we did. We ran a fundraiser. We had the Mandela books and we raised enough money to create the first bakery.
Rick: Wow, terrific! 
Neil Ratner: We did, and we decided to put the first bakery in the craziest place ever. When my partner had gone to South Africa, getting back to HIV, he had gone to a program for single moms with HIV and their kids. That's where he baked bread. It was a famous program called Nkosi's Haven. There's a whole story about it in a book called We Are All the Same, written by an ABC TV correspondent and it was actually nominated for a Pulitzer Prize.
It's the story of this white woman who adopts a black, township, HIV kid. It's about her struggles and their struggles and the fact that she, almost single-handedly, fought the South African school system to get him into school.
Up until that point, HIV kids couldn't go to school. She was successful. When he died, she created a program in his honor; that's where my partner had baked bread. We ended up giving them the first bakery as the first sustainable business. 
Rick: Good for you.
Neil Ratner: Then we went on to do two more bakeries. We did one in the townships around Cape Town, which was crazy. But the most difficult one I did alone. I split from him and then I did one in, arguably, the most dangerous neighborhood in the Western Hemisphere, which was right outside of Port-au-Prince, Haiti.
Rick: Really?
Neil Ratner: Yes, with no sanitation, no running water, essentially no electricity, and we came up with solutions. Then I got involved in the book and that's where charity stands with me at the moment.
INTERNATIONAL COMMUNITY BAKERIES
Rick: Okay, good stuff. Let's circle back a bit. Having been a performer or manager for some legendary rock and blues groups, managing International tours, overcoming addiction, and working with and being a friend to one of the greatest performers of all time, you find yourself in federal prison. How did that experience change you, and were there any revelations? Or did you find that you just needed to get back to the basics – good, solid, grounded values? Did you find that you had lost the idea that you needed to draw the line maybe firmer than you had in the past?
Neil Ratner: Certainly the first thing I would say about it is the experience humbled me and the experience took me off my high horse. The experience made me realize that I was no different or more special than anyone else.
So, it took me back to basic human values, ethics, morals. Absolutely should have drawn the line. Absolutely. Knew what I was doing was wrong. Did it anyway, figured everybody did it so that it wouldn't be my problem, and I couldn't have been more wrong. It gave me a chance to reflect. It gave me a chance to read.
When do you have the time to just sit and read books? I was working too, because I was in a work camp, but I still had a lot of time to read, and a lot of time to be reflective.
Rather than isolate myself, I interacted with the people around me. Let me say this: I was in the minority. This was not a prison filled with white-collar criminals. The majority of the people were black and Hispanic. It was a sad situation because many, many of them should never have been there.
If they were white, if they had had a couple of bucks, they never would have been there. They just got caught in this ridiculous situation of what their lives were. The only way out was the way that they felt that they had to choose. Some of them, you're talking about a couple of joints or something: five years, 10 years. How shall I put it? – it gave me pause to think about a lot of things, to think about what our society is like, that we put all these people in jail.
Rick: That reminds me. Do you remember John Sinclair?
Neil Ratner: Yes, I do.
Rick: He got 10 years for giving two joints to two undercover cops.
Neil Ratner: Oh, I know. Terrible.
Rick: I went to the John Sinclair concert where John Lennon played back in '71.
Neil Ratner: Was that in Toronto?
Rick: No, that was at the University of Michigan.
Neil Ratner: Right, right. "Free John Sinclair."
So prison was kind of a trip. I had a couple of experiences in prison that blew my mind: getting to play the drums.
Rick: Really?
Neil Ratner: So, I finally get to the work camp. I'm freaked out because I think I'm going to this low-security place and when I pull up, it's a real prison with big towers. It looks like something out of a James Cagney movie.
Rick: Not the country club.
Neil Ratner: No, not the country club. I didn't realize you had to go through a medium-security prison to get down to the low-security camp. Everybody goes through that. But eventually I got to the camp. One night, I'm sitting around and I hear music. It's going to be one of those 'I hear music' stories.
Rick: [Laughs] It wasn't Rick Derringer, was it? 
Neil Ratner: It wasn't Rick Derringer, but I'm following the sound, and I get to this door that says 'Authorized Inmates Only'.
I hear there's a band inside, so I say, "Screw this. I'm authorized. I'm going in." I get in and it's a little room and there's a big Latin band in there. There are a couple of guitar players, a bass player, a drummer, a couple of percussion players:
I couldn't believe it! The place was packed and the guys can play! I'm sitting there and there's a cowbell or some shit on the floor, so I pick it up and start playing [Both laugh]. I decide, I've got to be a part of this. I waited until the room cleared out and I see this one guy who seems to be the leader. I start talking to him, and one thing leads to another. He says to come back next week, and then he realizes – I let him know – I can speak Spanish from my time in Mexico.
One thing led to another and I was in the band. We did a gig for the prison population on Labor Day, so I got my ultimate dream of being in a band playing in front of the public [Both laugh]. That was one prison experience.
The other one: I was in the camp for a while and a friend comes up to me. He says, "You know there's a sweat lodge here."
Rick: A sweat lodge?
Neil Ratner: I said, "What are you talking about? It's fucking jail, man!" He says, "No, no. I'm telling you there's a native religious group here. There's a sweat lodge. I want to go talk to the chief. Do you want to do it with me?"
Rick: Wow.
Neil Ratner: I said, "Are you kidding?" I told you I had been involved with my friend Charles in all kinds of Native American stuff and spirituality, but I never did sweat lodge. Sure enough, he talks to the chief and there is a Native American group there. And the reason there is that … I don't know when it is. I talk about it in the book. Some year, in prison, religious freedom was treated as a privilege. It was challenged and they won the challenge. I think the Supreme Court ruled that religious freedom is a right in a prison.
Rick: Yes.
Neil Ratner: No matter what your religion is, you're allowed to practice it if you're sincere and you're really a part of that religion.
Rick: What if you're a Rastafarian?
Neil Ratner: [Both laugh] That's a good question! I'm sure they let you practice without the weed. At any rate, they have this little area, and on Saturdays – Very authentic. The Inipi and the fires and whole deal. I did it for 10 weeks and it was unbelievable. To go to prison and to get that experience was just beyond the beyond, between that and playing in the band.
I'm not saying anybody should go to prison, but I was able to make it into something that was important and significant for me that had lasting effects.
Rick: That's good. Something that's sustainable.
Neil Ratner: Something that's sustainable, that's right [Both laugh].
Rick: This next question, you better get right. Are you ready? When you look back on your life oh, what has been the biggest blessing and why? You better talk about your wife [Laughs].
Neil Ratner: I was going to say, truthfully, the 42 years with Leann.
Rick: You're a smart man.
Neil Ratner: Finding a soulmate, having somebody that you can share your life with. Life is only fun if you can share these experiences with somebody else. If you can sit at night and talk about them and laugh about them and remember them with somebody. To be able to find that person early on and be able to spend so much time and so much of your life and have so many of the experiences together is truly a blessing.
Rick: Yeah. I told a friend of mine a few weeks ago, "You don't remember days a lot, but you do remember moments and you remember special moments." So, I hope you got a lot of special moments that you and your wife remember together.
Neil Ratner: There are a lot of special moments in the book. One of the most special moments that I'll tell you about relative to my wife and I: my wife grew up very poor. She left home when she was 16 years old from Cleveland, Ohio. She had a shitty childhood, a crazy mother, real father left, stepfather was nice but she grew up in Little Italy in Cleveland. At 16, she took the Greyhound bus to New York City and started working for Arthur Murray. (Dance Studio)
Rick: Wow.
Neil Ratner: She lifted herself up. She became a Playboy Bunny in New Orleans. Was Bunny Mother of the New York Bunny Club, a Vegas showgirl, and all this stuff. She gets to meet Nelson Mandela when we go back to South Africa, when Michael's giving me the birthday present. We went back and got to spend the afternoon with Mandela, his wife, Michael, the kids: that's where those pictures in the book all came from. And, she's just blown away.
We go back to the room and she's crying. I say, "What's the matter? Why are you crying?" She said, "I felt like Cinderella. I never thought my life could turn out this way. I never thought that I could have an experience like this, know people like this, be like this."
Rick: That's sweet.
Neil Ratner: And, you know, that was one of those moments.
Rick: That's touching.
Neil Ratner: Yeah, that was one of those moments. We've been very fortunate and blessed to have quite a few of them.
Rick: Good for you, good for you. (Pauses) Michael passed away almost 10 years ago.
Neil Ratner: June 25.
Rick: That's right. July 25th is your anniversary.
Neil Ratner: That's correct
Rick: I paid attention! So he passed away nearly 10 years ago: what special moments light up those memories making them so special for you? Or are there just too many of them?
Neil Ratner: Yes, there are too many of them to mention, but I'll mention a few.
Being with Michael in Africa. Michael loved Africa. Michael wanted to live in Africa. He was a different person when we were in Africa. I got to spend time with him both on tour and when he went back privately to give Mandela the money and stuff like that. It was special to be with Michael in Africa. People may not consider him a black man, but if you saw him in Africa, you'd know he was a black man.
Rick: He wanted to build a house on the hill right in South Africa.
Neil Ratner: Right behind Sun City, yep. Absolutely. And I think he would have. I honestly think he would have. So, that was a special time.
Another special time – you might remember this one from the book – this was a trip, man. We go out to California, the Beverly Hills Hotel. He's supposed to do some shoots and stuff. I said I'd hang with him and work with him a little bit. All the shoots get canceled. It's right after 9/11 and he says, "Let's go to Neverland for the weekend."
I was with Leann and she hadn't been to Neverland. I had already been there a couple of times. She hadn't been so it was like the greatest thing ever. Again, that was another special moment for Leann, going to Neverland. Just Michael, Leann, me and the kids: the whole weekend.
So he had to go in the studio. We were there Thursday night and he had to go in the studio on Friday. We'll go to Neverland on Saturday, but he says we're going to dinner on Friday night. He said to be ready and get dressed nice. 
Michael never told me to get dressed nice, so what do you mean, get dressed nice? Typical Michael, we're in the Beverly Hills Hotel and he's late. He might have said 6:00 and it's now 7:00, 7:30. I'm calling security. They say they're hung up, but will be there.
I get disgusted and we take off the nice clothes and are getting ready to leave, and security calls to meet us downstairs. We meet him actually in the hall. We go on a special elevator and the Beverly Hills Hotel has a special garage a couple of floors under the normal garage. And there are two of the most unbelievable Daimler limousines – Mercedes Daimlers like the Queen uses.
He says, "Rat, you and Leann, that one's for you." "That's great. Where are we going?" "Uh-uh." He runs to the other one with the kids. We get in the car. I ask the driver, who's an ex-cop, one of his security, where we're going.
"I don't know where we're going. Just following," he says.
We're driving behind the Beverly Hills Hotel in the Hollywood Hills and we pull up to a nondescript house – a nice house, but no big deal. I don't know where we are. Nobody knows where we are. He pulls up like two minutes before. I see him and the kids run in the house and we're just walking to the door.
The doors open and we can see a blonde lady standing at the door waiting to greet us. Still, don't know where the hell we are. We walk up to this lady and she looks very familiar; now that I'm close to her. She puts out her hand and says, "Hi, I'm Angie Dickinson."
Rick: Oh, really?
Rick: Was she married to Burt Bacharach?
Neil Ratner: No, not at that time. This was in 2000 and something, 2001 maybe.
Yeah, because it was right after 9/11, so it was 2001. We go in the house and it's a nice house. I see pictures on the wall and I see Michael talking to this tall guy who I do recognize and then I realize where we are We're in Gregory Peck's house. Michael's talking to Gregory Peck.
Rick: Amazing [Both laugh].
Neil Ratner: Needless to say, it was an unbelievable dinner, very down-home. Unbelievable conversation. What I didn't know until after the fact was that Gregory was like a father to Michael.
Rick: Oh, really?
Neil Ratner: Yeah, they had this very special relationship. Michael would go to him for advice. Before we left that night, he and Gregory went into a bedroom together alone. But, I'm telling you, sitting across from Atticus Finch…
Rick: Yeah, To Kill a Mockingbird! Cool.
Neil Ratner: Or Captain Ahab or whatever!
Rick: Oh, yeah!
Neil Ratner: So, that was another very special Michael moment. Just some of the time that I spent with him like the first time I went to Neverland. He said, "No, I want to give you the tour." He took me on a private tour of Neverland.
Rick: That's amazing. It's special.
Neil Ratner: That kind of stuff. And just, I miss his friendship. And his "hee hee hee hee" voice. He was a cool guy. I liked him. We had fun together.
Rick: So he called you 'Rat' and you mentioned that you weren't particularly fond of that at first. Over the years and looking back at it, do you find it endearing now?
Neil Ratner: I'm cool [Both laugh]. I'm cool. Of course, it's an endearing name. Let me say this: part of my discomfort with that name came a little bit later after the whole prison thing.
Rick: Okay. [Both laugh]. Of course!
Neil Ratner: Because I turned state's witness, I was a rat. It had different connotations for me later on. When I think of Michael calling me that, it's fine.
Rick: Yeah, it's just an abbreviation.
Neil Ratner: I'm cool with it, but like I said, he never used first names. You were either your last name or he came up with a nickname for you.
Rick: Now that the book is done, what is there to do in Woodstock? I understand that Dylan lives there. I think Marshall Crenshaw. Do you know Elliott Landy, by chance, the guy who's image of Dylan is on the Nashville Skyline album cover?
Neil Ratner: Actually, I have met Elliott Landy a few times.
What is there to do? Woodstock is the most famous little town in America. You can go anywhere in the world and tell people we're from Woodstock, they'll know what you're talking about.
Rick: You don't want too many people to know it's a nice place, right? Otherwise you'll get a horde of people moving there.
Neil Ratner: And, of course, the festival wasn't here anyway.
Rick: Yeah, that's right. Yasgur's farm, right?
Neil Ratner: Yasgur's farm which is Bethel Woods now, which is a good 45-50 miles from here, the Catskills. We benefited from it, so that's okay. I'm sure the town will benefit this summer. A lot of people will come here because it's the 50th anniversary. But you know what there is to do here?
Rick: What?
Neil Ratner: There are music venues like you're in New York City.
On almost any night, you can see some reasonably good talent. on the weekends, you can see big-name, major talent. There's Levon Helm's old place. I've seen Graham Nash there. I've seen various people, all kinds of people. There are a couple of other iconic clubs that also run great entertainment.
We've got a great radio station. I ski and my work is on a computer behind the desk in a beautiful office overlooking the country, so what could be bad?
Rick: That's nice. Do you have many buskers in town or is that even legal in town?
Neil Ratner: Yeah, sort of. Not that many. But there are a couple [Both laugh].
I'll tell you one last funny story about Woodstock.
A number of years ago, once I finished my probation in New York state, although I'm a convicted felon, I can still vote. I registered as an Independent. My wife is a registered Democrat and periodically, one of the Democratic town board members would come to get signatures or whatever. That's what happens in small towns.
One day the guy shows up and I'm in my office, and I hear him say to my wife, "Where's Neil Ratner?" And I figured, what the hell does this guy want? [Laughs]
So, I go talk to him. He says, "You're registered Independent, aren't you?" I said, "Yeah." He said, "You know we have a position on the Woodstock Ethics Board. Would you be interested?"
So, I thought to myself, "This guy doesn't know shit about me." [Both laugh] How could he possibly ask me that question? So I said, "Yeah, sure. I'll be on the Ethics Board." He said, "Oh, great! I'll send you an application." 
Then I felt bad about it after he left and thought maybe I should have said something.
Rick: Yeah, but you might be the perfect guy to be on the Ethics Board, too.
Neil Ratner: You're exactly right, Rick. When I thought about it, I told myself, "You know what? I'm either the perfect guy or the worst guy. I'm going to go through with this."
So, I decided to go through with it. I filled out the application. They called me for an interview. It was between me and some other guy. I go down and I have to interview in front of the mayor and the whole town Council. And the mayor starts off, blah blah blah, bullshit. "You're an anesthesiologist?" Right. He said, "What do you know about Propofol?"
And I said, "Aw, fuck. They did their research." Now they know who I am. He must have seen me turn white or something because he looked at me and said, "No, no. I've had Propofol a couple of times and now my hair's falling out!" [Both laugh] So, I gave him an answer. They asked me a couple of questions. I stopped them and said, "Wait a second. Does anybody know who I am? Did anybody Google my name? Did anybody look me up?"
And they all looked dumbfounded with their fingers up their ass. So, I told them my story. They appreciated it, including the charity stuff that I had done. And, of course, they knew my partner who had the local bakery here that was well known. Lo and behold, two days later, they call me up, "You've been unanimously selected," and I've been on the Ethics Board ever since.
Rick: That ties things together very nicely. I was a Program Manager for the Ethics Program for the Department of Defense's Office of the Inspector General.
Neil Ratner: You know, I saw that actually because I looked you up [Both laugh]!
I really appreciate giving back to the town. It's a real town where people care about each other. And I feel very good about that!
So, rock and roll, that's what I do in Woodstock [Both laugh].