By: Robert Cavuoto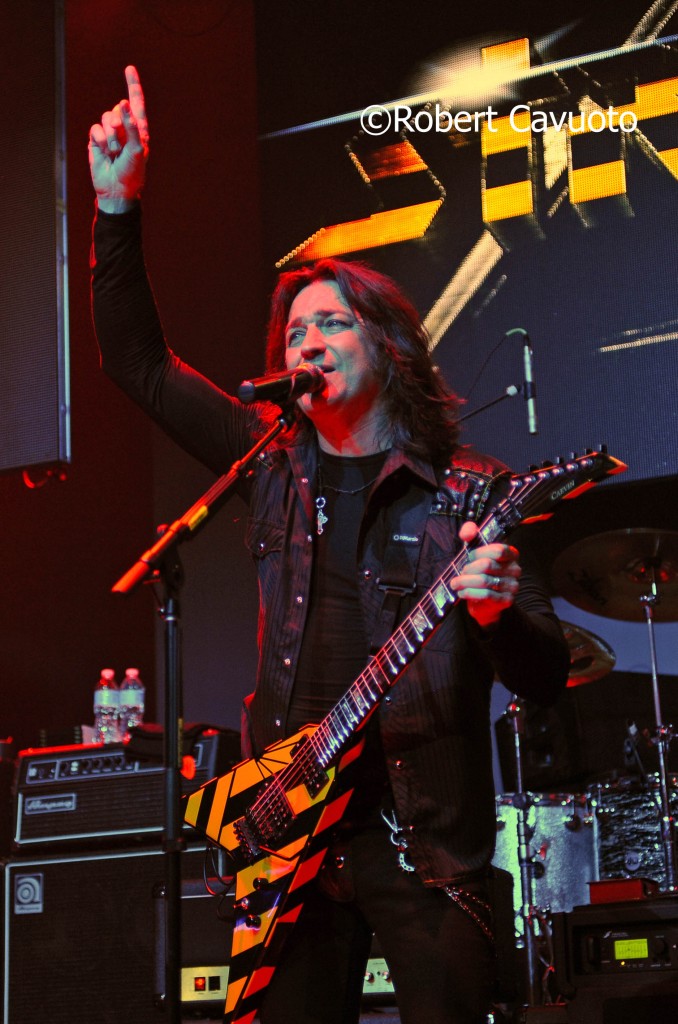 Michael Sweet, frontman and guitarist for the multi-platinum Christian rock band, Stryper, released an autobiography this past May entitled, Honestly: My Life and Stryper Revealed.
The book chronicles the trials and tribulation of his amazing 30-year career, an interesting story of the rise and fall and rise again of his Christian metal band and the people who surrounded him.
Selling over 10 million albums worldwide with Stryper, Michael also has a successful solo career and even joined legendary classic rock band, Boston, in 2007 for a four year stint, as their guitarist and co-vocalist.
Though not your typical autobiography of embellished memories from days of drugs and drunken assess, his book takes a more positive look at life and how he handled or mishandled his time in Styper.
There was concerted effort to provide an open and honest look at his life and career, without slamming or minimize other people's involvement.
Where other autobiographies primary focus is to "dish the dirt", Michael takes an approach of sharing in his successes and accepting his failures.
Sweet's book is creatively executed without the blaming game route or pointing fingers, while still being highly engaging and intensely interesting
I had a candid conversation with Michael about his new book while he sat on tour with Stryper heading to a show. No questions were ignored and, just like his book, the answers are honest and from his unquie perspective. We also talked about his side band with George Lynch called – Sweet Lynch!
******
Robert Cavuoto: The book feels, to the reader, like a cathartic journey. Does it feel that way to you?
Michael Sweet: Oh yeah, that's really why I wrote the book. I felt like I want to move forward and in order to do so I needed to lay it all on the line. I wasn't looking to make a lot of money, as I haven't sold that many books to make a dime. It was therapeutic for me and answers everybody's questions. To kill all birds with one stone.
I danced that fine line of trying to be brutally open and honest, yet not hurt people. A lot of the mistakes you make in life you, unfortunately, have to learn the hard way. There is no need to hurt and offend people and I tried not to do that. So many autobiography throw people under the bus nowadays.
Robert: What do you want your fans to take away from the book?
Michael Sweet: I hope that they can learn something from it that they might be going through and be inspired by it to learn from my mistakes. The goal was to inspire and encourage people.
Robert: Did you keep a diary? The details in the book, especially from the early days are quite vivid.
Michael Sweet: I did early on and lost it on the road. Somebody I'm sure has it and enjoying it and may even publish it someday. [Laughing].
Maybe none of the stories will line up with the stories in my book.  I did this book from memory, as I have a pretty good memory of things.  I made a comment about Nikki Sixx's book recently and what I was trying to say was, although I had some drinks over the years, my memories are not pulled from a drug infested time. I have a memory of what when down. It wasn't too difficult to remember everything.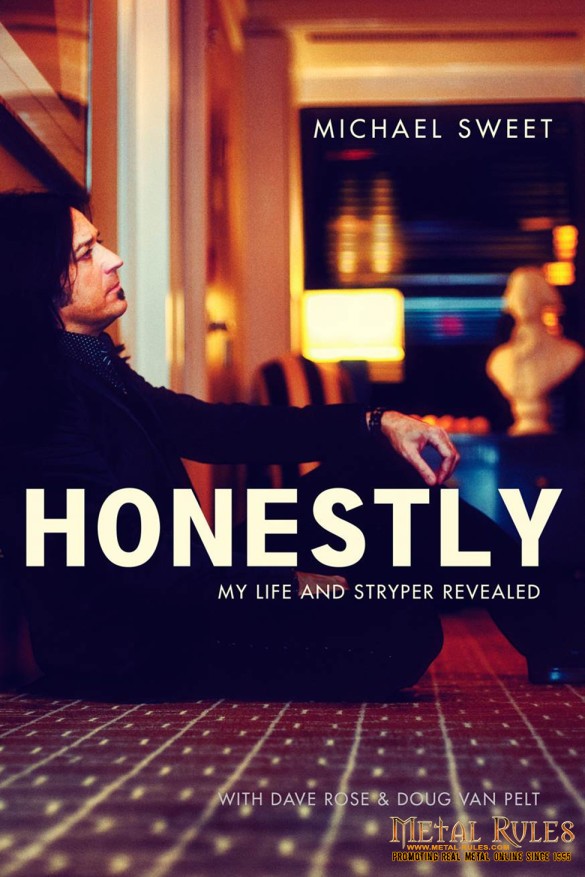 Robert: I remember reading Nikki's comment and your response. You really took the high road!
Michael Sweet: As I was saying it in the interview, I was like "Oh, boy!"
People can believe whatever they want about me. I'm not about tension and saying stuff just to get in the press. I'm not into that. I just say what's on my mind and in my heart; I'm very open and honest.
Robert: Don't you feel by definition, a rock band is dysfunctional?
Michael Sweet: They are, when you put 4, 5, or 6 individuals in a band and they're all very unique with strong personalities, you are going to have difference of opinions which leads to dysfunction.
People are going to disagree and they are going to butt heads. After 30 years of that, they are going to butt heads a little harder. That's the reality; it might shock people to hear that because we are Christina band. We're regular folk too and we have the struggles just like everyone else has.
Robert: What does your family think of the book?
Michael Sweet: I sort of know to a degree, and in some ways I don't. I spoke to my Mom and she is not real happy about it and doesn't feel that my perspective coincides with her perspective.
You know what, of course it doesn't. Everyone has a different view of how things when down and this is how I saw it, over the publishing dealing, leaving the band, and management issues.
I'm sure that things will work out with my Mom, if they already haven't, at least I hope. My brother Robert, hasn't read the book, he has been getting bits and pieces from different people and basing things on that.
I said "Robert, you really need to read the book for yourself."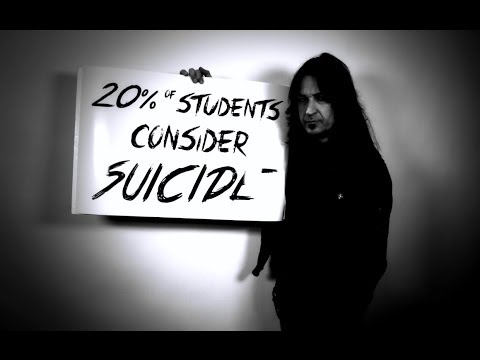 Robert: What about the rest of the band?
Michael Sweet: I haven't talked to them about it. It's just how this band is, walking around in sort of denial and not talking about things sometimes. Because of that we don't really know what each other is thinking and feeling. I'm sure eventually I will find out.
Robert: I'm always amazed musicians can lose sight of their finances and end up in ruin; your story is not so dissimilar.
Michael Sweet: Most musicians, not all, are irresponsible and immature with finances. They don't know their money from a hole in the wall. All they want to do is rock and play guitar.
That's basically all I cared about when I was younger, performing and writing songs. As I got older and questioned finances, that's when things changed for me.
Now, I'm very up on my finances. I'm smart, frugal, and responsible with my money now. I learned the hard way and really have come a long way.
Robert: What has been your biggest learning with Stryper?
Michael Sweet: Finances were a big one, as I also mentioned in the book. The finances would have to run a certain way in order for me to come back. We had to come up with a new way or I'm not rejoining. That's was the big turning point for the band.
Robert: If you were struggling, what were Robert, Oz, and Tim doing during the bad times?
Michael Sweet: It's certainly not easy for anyone. It wasn't a luxurious lifestyle. Keep in mind, I split up all the publishing rights to all the base songs that brought in a lot of royalties. I think that they have done okay. I would hope so.
Robert: There are a lot of surprising moments in your new book. One that really jumps out is the scene of you being a ranger driving around in a jeep.
Michael Sweet: How that came to be was I left the band in 1992 and took some time off. I slowly started get back into music with writing some solo stuff.  Then in 1995 we moved from the west coast to the east coast and I basically took more time off.  I would have never gone out searching for that type of job of being a cranberry farmer or a ranger, because it was family business it was my first opportunity.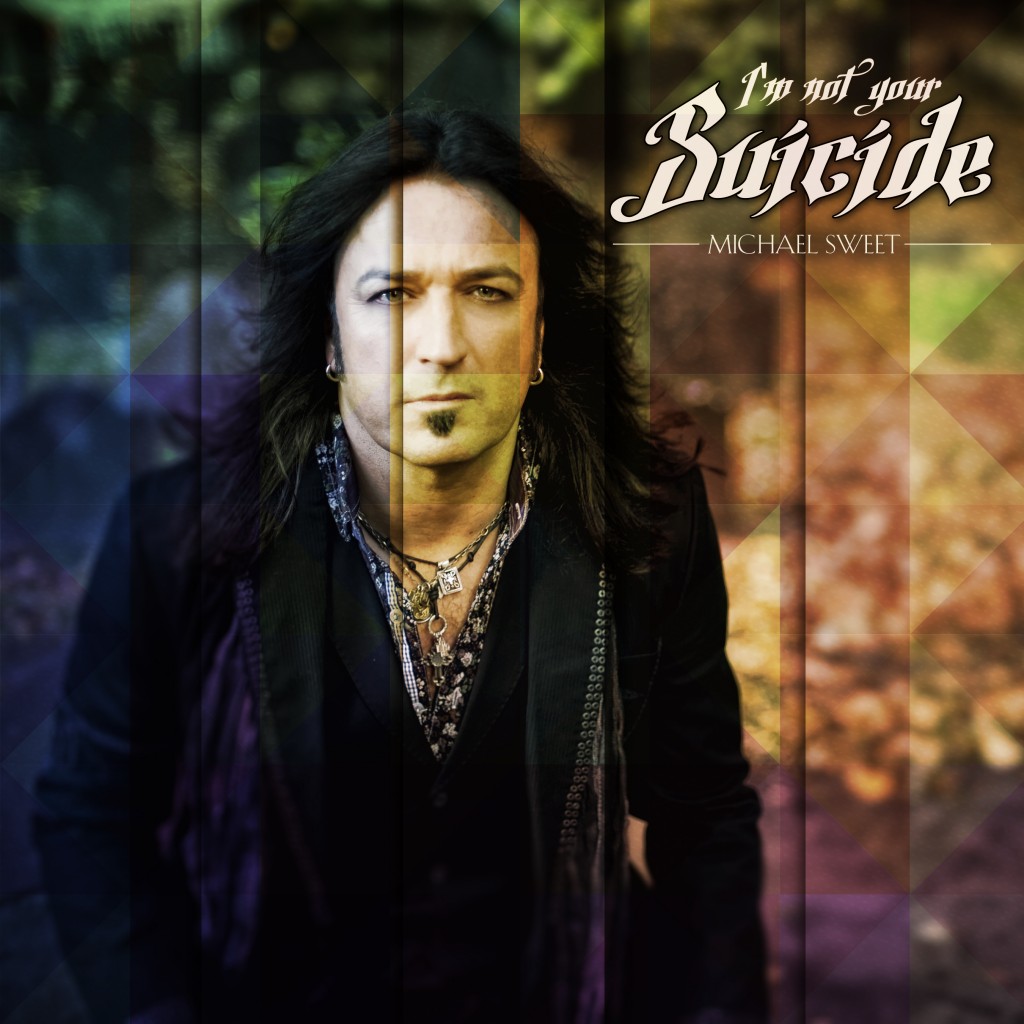 Robert: What do you miss the most about those early days of Stryper?
Michael Sweet: I miss the innocence. We had this attitude that we didn't care, but in a good way. We didn't focus on negativity. We only cared about the good stuff.
Robert: Other than Boston, were there ever any other big name acts that asked you to join or audition for when you left Stryper?
Michael Sweet: When we out with Styx, I was talking with JY and he mentioned when they were looking for a singer I was on their top 10 list. I was never asked to audition, but was on the list. I took that as a pretty high compliment, as I've always dug Styx.
I'm a bit reclusive, I don't give my number or email out to a lot of people. When I get home I go into hiding, so maybe that's part of the reason why I didn't get asked by more people or maybe I'm not good enough.
I'm still singing and I'm going to be 51, so I consider myself a kid still, who knows maybe you will see me sing with someone else in the near future. Can you guess my #1 band that I would like to sing for?
Robert: Van Halen!
Michael Sweet: How did you know that! [Laughing] I grew up on Van Halen. I would say that Van Halen was the most influential band in my life, musically.
Robert: If I ever get an interview with Eddie Van Halen, I'll mention you to him. [Laughing]
Michael Sweet: He'll probably say, "Who's that?" [Laughing]
Robert: Tell me about you collaboration with George Lynch on your new project. I have to tell you I think it sounds like a great combination.
Michael Sweet: It looks like we are going to go with the name Sweet Lynch!
We were debating that for a while and the label was pushing it for it. It was the brainchild of Serafino Perugino at Frontier Records. He asked me to basically sing on this record and then I suggested producing it.
I co-wrote the songs with George. I called Brian Tichy and James Lomenzo to put the band together. You'll start to hear about it in September with the first single and video. It's an incredible combination of classic '70s and '80s. You will hear some flavors of Journey, Bad Company, Dokken, Van Halen, and Stryper.
I love this CD. I'm super excited for people to hear this CD. I'm so proud of it.
James and Brian are amazing musicians. They tore it up. The drums and bass are just as impressive as the guitars. Everybody really delivered.
Robert: Brian is also an amazing guitar player, as well as a drummer.
Michael Sweet: Yeah, he's okay! [Laughing] The musicianship level on this is top notch. It sounds as if we were all in the stuff playing together and were not.
Basically, George wrote some riffs about a minute to a minute and a half long. I wrote lyrics and melodies then arranged them. I cut and pasted them together in the studio. Then Brian and James came out and tracked the drums and bass, as well as some rhythm stuff. We then sent it to George to add the guitars
Robert: Will there be a tour, its sounds like a great show.
Michael Sweet: We are one million percent sure there will be a tour. I'm thinking we will be touring with the T&N guys; they are working on a new name. I'm also going to do some solo dates too.
Robert: So, George will be doing double duty in both bands.
Michael Sweet: Yeah, he is busy, if not more busy, than I am. I think George and I deserve the [name] hardest working men in rock 'n roll.