By: Robert Cavuoto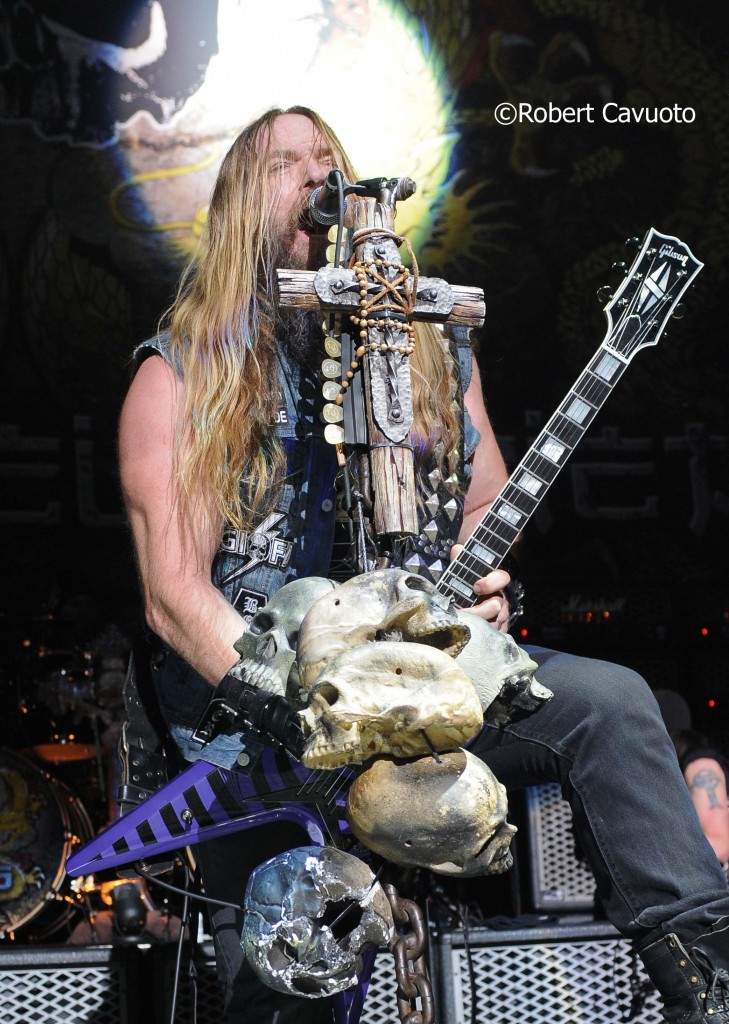 Since their late nineties inception, Black Label Society, an explosive creation of guitar legend Zakk Wylde, has been at the forefront of their genre.
The group's taste for hard riffs and blazing solos has resulted in a slew of hugely successful albums and a reputation as one of the most powerful live bands of their generation.
In April fans can expect the bands next CD, Catacombs of the Black Vatican to be released.  It will be  the first all new CD since The Order of the Black [2009], which debuted at #4 on the Billboard Top 200 chart.
Black Label Society continues to enthrall fans around the globe, and Catacombs of the Black Vatican will be another incredible piece in the band's catalog.
I was able to catch up with Zakk at press run in NYC to talk about the new CD just prior to a 13-city Canadian tour featuring intimate versions of some of the band's most popular songs, as well as songs from Wylde's best-selling solo album Book of Shadows.
******
Robert Cavuoto: How are you today?
Zakk Wylde: I'm just trying and remain sexy at all times while out here in NYC for the Black Label Blitzkrieg of Doom Press Schedule. It's all good.
Robert: I'm looking forward to your next release, Catacombs of the Black Vatican, what can BLS fans expect?
Zakk Wylde: I think this is probably our finest dance record to date. I think it's the combination of dance and jazzercise. I'm confident that you'll burn the most calories and lose the most weight with this new Black Label offer.
Robert: But does it have a good beat?
Zakk Wylde: Yes, a very good beat. It's a toe-tapper; let's put it that way. [Laughter]
Robert: I wouldn't expect anything less!
Zakk Wylde: As far as what makes this one different than any other ones. it's like the last nine records except that it's got different song titles. I always think its funny, you know.
What's the difference between Led Zeppelin's Houses of the Holy and Led Zeppelin IV? It's just a new batch of cool Led Zeppelin songs. With this one and Order of the Black, it's just back to doing riffs again, instead of the mellow stuff like on Unblackened.
Even though it was four years between records, I'm not sitting around the house stockpiling riffs. Usually in the morning when I pick up the guitar, I'll make some Valhalla Java. I'm always the first one up now, because I'm not drinking anymore. I'll pick up the acoustic guitar and run scales. If I'm going to write anything, it would be like Bob Seger-esque or Sweet Melissa or Neil Young, because that's what the instrument dictates. Strumming those Creedence-type stuff.
I'll have a bunch of song ideas, acoustic song ideas. When we got home after the Gigantour, I was like, "Barb, how much time before the fellows come back?" She's like, "Well, you've got about 25 days and the guys will be here." I'm like, "Well, I've got 25 days to write a record." You just go out to the garage and just start writing riffs.
Robert: Not only did you write quickly you also seem to record it pretty quickly too?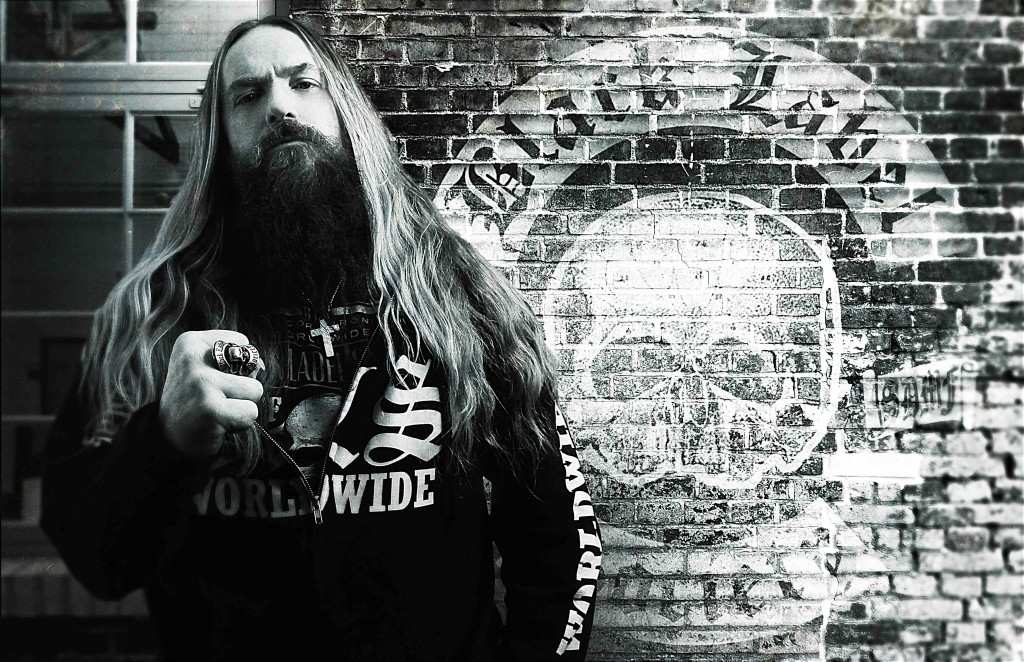 Zakk Wylde: It definitely goes quick. Everything's set up by the time J.D., Chad and Adam, our engineer extraordinaire, get here. The drums haven't moved since we did the Order record. There's no need to move them. You know how they sound; they sound slammin'.
My amps are set up and the crayon box of sound is already set up. I know with the clean guitars, I'm going to do this. For the heavy guitars, we know we'll use this. The amp sounds great, just plug it in and just go.
We don't have to keep tweeking the sound. The only thing I did was just get upgrades and plugins for Pro Tools on the rest of the studio.
We don't need to practice this stuff. We'll probably play it twice, and pick the best version. As far as tracking the tunes, it's been done in a matter of days. I may say, "Keep the guys out here for two weeks, just in case I write the next "Freebird".
I wrote two songs right near the end, before Chad and J.D. split. J.D. is always involved with the mixing. I can always use him as a sounding board. Adam will then burn me a disc, so I'll sit out in the truck and crank it to think up so melodies and lyrics. If the music inspires you to sing something over it, then, obviously, I'll start writing the lyrics.
Robert: How many songs did you write, and how many will make it onto the CD?
Zakk Wylde: We did 15 songs; 11 are on the CD, and then there's 4 bonus tracks. When I get home –after we get done watching some football –we're going to record and track the other ones. You know like I did "Ain't No Sunshine" where it's just me without the band and stuff like that? Just as bonus tracks, so we'll have a batch.
I'm always looking forward to recording, because I love it. After that, we've got a batch of stuff going on. We've got the book run coming up with me and Dario going to Canada, the Royal Canadian chapter. Then after that, I do The Hendrix Experience. I'm looking forward to it.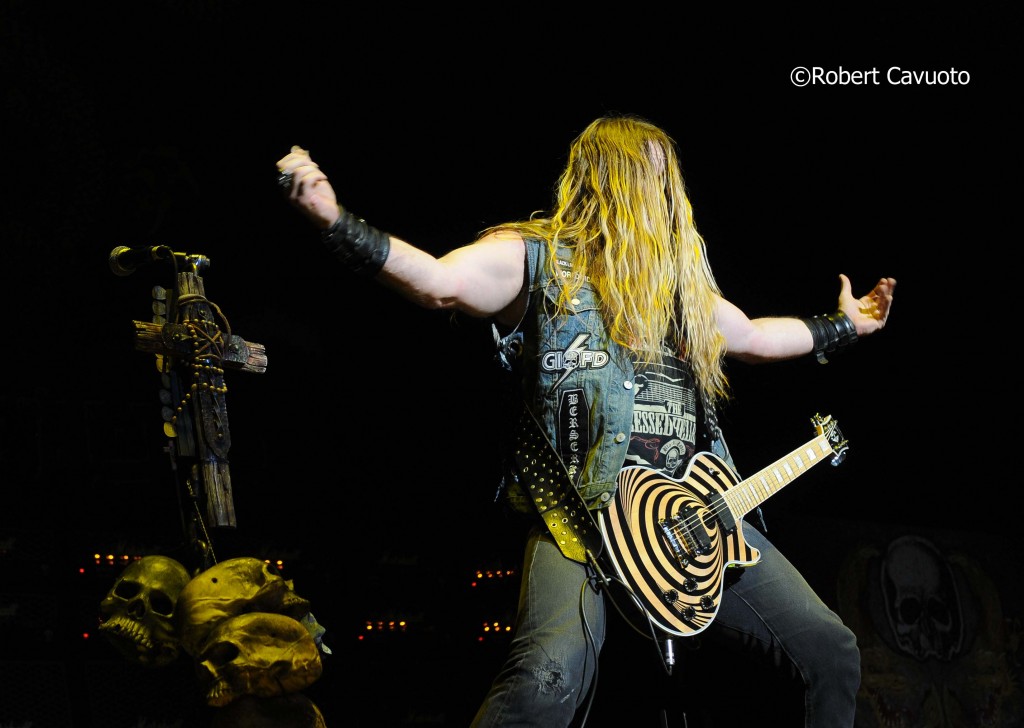 Robert: Did Dario make it on this album?
Zakk Wylde: No, it was already done before we got Dario out here.
Robert: How is Nick doing? Was it an amicable split?
Zakk Wylde: The Evil Twin? He's firing up his own thing. I was going to have Nick come out and jam on the record and he was like, "Zakk, I'm knees-deep in the stuff I'm working with these guys and I can't do it. I really want to commit myself to this to see whether I sink or swim. I just need to do it for myself." I said, "Ah, Nick, I love you; you've always got a home here. So go knock it out. That's where we're at with Nick. He's just working his ass off right now. It's all good, man.
Robert: Tell me the importance of finding your own voice from Ozzy to Pride & Glory to Black Label Society and how it has evolved?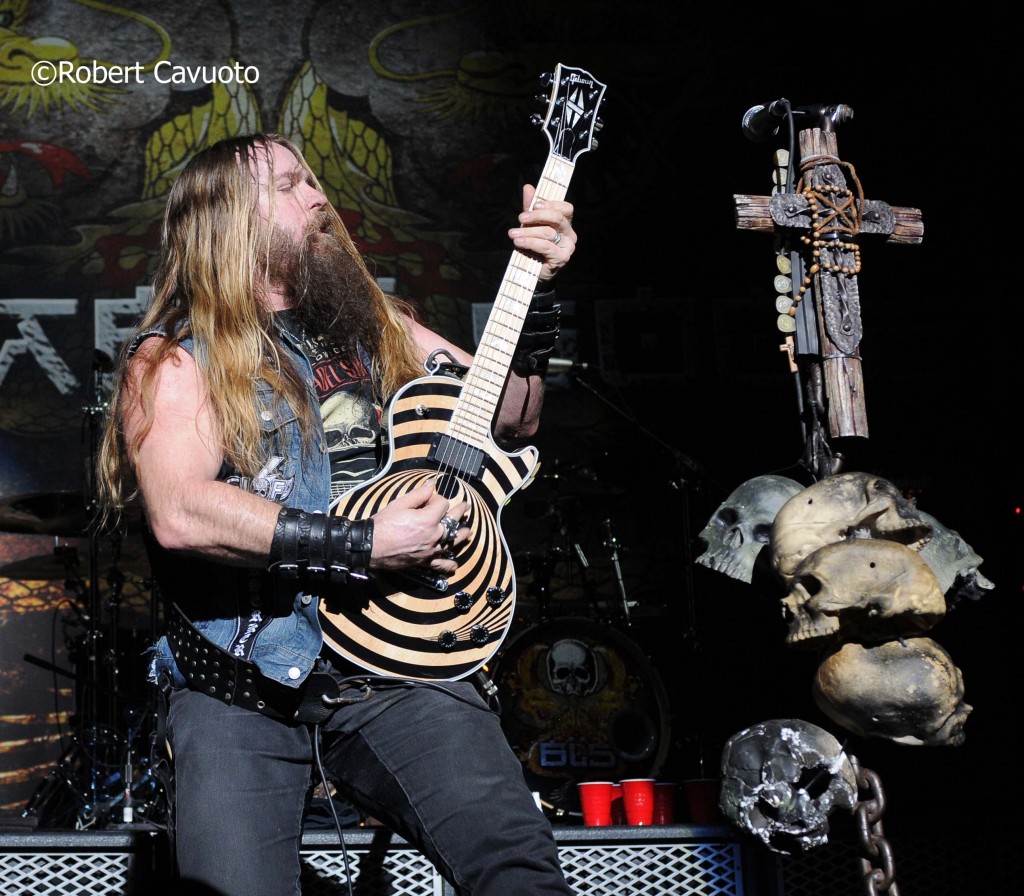 Zakk Wylde: One thing I did do on the first record was to cross off everything that I shouldn't do.
We're talking about the impact of other players on you. Even if you're not inspired by Eddie Van Halen, you're still influenced by him. You could make a conscious effort not to sound like Eddie Van Halen or Yngwie, but they're still influencing you.
That's the reason why I didn't do harmonic minor scales or sweep picking. I wrote a grocery list, for my first record. "No sweep picking, no harmonic minor scales, no tapping." Also no three notes a string. I love Al Di Meola, but just can't do it. Especially because Yngwie just blew the place up. When Yngwie came out, it was like lights out, game over. It was like you gotta be kidding me, man. You have no choice but to have to do something different. I just got on with pentatonic scales.
Frank Marino was a huge influence on me and so is John McLaughlin. Since everyone's doing three notes a string, I'll just do two notes a string. I'll pick them off. For me to go, "Well, what can I do so I don't sound like the other guys?
Robert: Between your debut with Ozzy and now with Black Label, you've had a lot of changes in your life, how do you manage rock n' roll lifestyle and family life?
Zakk Wylde: I don't think it's any different if I was doing construction or driving a truck for a living. You make it work. That's all. You just do. It doesn't matter what comes in front of you. You always figure out a way to make it work. That's life, man.
Robert: I also read that Jake E. Lee said that he helped pave the way for your style of music and you're playing with Ozzy. What's your take on that?
Zakk Wylde: I love Jake. I'm so happy that he's out playing again. It was such a waste of talent when Jake stopped playing. It's like that's what he does; that's part of who he is. Without a doubt – the aggression in Jake's playing. And it's blues based and everything like that, but with chops. I always say it's the house that Rhoads built, that's Ozzy's guitar player. It has its sound. The template is those first two records. You take it from there and Bark at the Moon is awesome, then Jake's stuff on The Ultimate Sin. And then when I came in, the template of that Ozzy sound had already been established.
Robert: I think Jake had a tough job coming in after Randy Rhoads.
Zakk Wylde: Without a doubt, but the cool thing about Jake is he didn't sound like Randy. That's what made Jake special.