Press Release
Source: PRS Guitars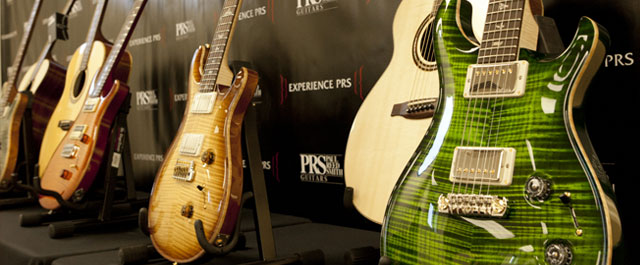 Experience PRS, now in its seventh year, has become a significant part of MI calendars and PRS history. Each year, PRS opens its doors and creates an exciting and interactive schedule, including free-flowing factory tours, interactive guitar making (hosted by the PRS Private Stock team), artist clinics, recording demonstrations, and evening concerts.
But, this event has become more than an open house for PRS fans to have a "backstage pass" at the PRS factory in Stevensville, MD. With an incredible selection of PRS instruments on display, it has become a destination event for players to pick their next PRS guitar or amplifier. Recognizing this, PRS built several limited edition instruments for the 2013 event.
2013 Experience 408 Semi-Hollow – 100 Piece Limited Run:
Specially appointed to commemorate the 7th annual Experience PRS event, the Experience PRS 2013 408 Semi-Hollow combines the proprietary PRS 408 pickup system with a semi-hollow body, giving these full-spectrum guitars the added resonance of a hollowbody with the sustain of a solidbody.

Experience PRS 2013 Private Stock Custom 22 – 30 Piece Limited Run:
The Experience PRS 2013 Private Stock Custom 22 has been specially appointed by the PRS Private Stock team to commemorate the 7th annual Experience PRS event. Several fundamental specifications have been left for personalization, including the choice of a Private Stock quilted or curly maple top (with matching electronics backplate), PRS tremolo or stoptail bridge (hybrid hardware), any standard size humbucking PRS pickups (with or without covers), and color.

Maple Neck Custom 24 Limited – 30 Piece "Small Batch Limited Release":
The versatile Custom 24 has always been a favorite among PRS artists and players. Featuring the classic combination of a maple top, mahogany back, dual humbuckers and 5-way blade switch, this limited offering changes things up with a figured maple neck and ebony fretboard. The maple neck is left unfinished, and is treated with a sealer for a smooth, natural feel.

Swamp Ash Custom 24 Limited – 3 Piece "Small Batch Limited Release":
The Custom 24 is the original PRS guitar – the guitar Paul took to his first tradeshow in 1985. A favorite among musicians, the Custom 24 has been updated through the years, while never losing its time-honored reliability and versatility. For this limited run, the Custom's maple top and mahogany back have been traded for a swamp ash body, giving these guitars a twangy, sweet, resonant tone.

P24 Trem Limited – 50 Piece "Small Batch Limited Release":
Piezo systems have long allowed guitarists the versatility of wielding both electric and acoustic guitar tones in one instrument. Now, the P24 Trem offers a 24-fret solidbody piezo-equipped guitar with tremolo for the first time, giving musicians a new a unique tool to add to their lineup. The P24 Trem has two output jacks, allowing guitarists to plug into their favorite electric or acoustic guitar amp or DI into a soundboard. By utilizing the separate blend control, the tone of the P24 Trem's pickups can also be combined with acoustic sounds through a single output. With a nearly infinite range of tones and the added versatility and reliability or PRS's proprietary tremolo bridge, the P24 Trem is a perfect "go-to" guitar for players of all kinds. www.prsguitars.com/p24trem_limited

Singlecut Trem Limited – 50 Piece "Small Batch Limited Release":
Originally released in 2003 with a thinner body, 25" scale length, Wide Fat neck, PRS patented tremolo, and two-control layout, the Singlecut Trem is the perfect PRS player's Singlecut. Blending the best of history and refinement, this fifty piece limited run has been updated with all the tweaks we've implemented in our Core manufacturing line through the last decade as well as with PRS Phase III locking tuners and 59/09 pickups.

Experience PRS is held each September at PRS Guitars' manufacturing facility in Stevensville, Maryland and brings together a unique combination of authorized PRS dealers and distributors, worldwide press, celebrated PRS artists, and PRS customers and enthusiasts for two days of fun, education, and appreciation. From its humble beginnings in 2007 with an attendance of around 800 people, the event is expected to attract close to 3,000 attendees this year from all over the globe.
About PRS Guitars:
Paul Reed Smith Guitars is a leading manufacturer of high quality instruments in Stevensville, Maryland and has provided some of the world's most renowned musicians with instruments since 1985. The PRS team of highly skilled craftspeople design and build a wide variety of musical instruments and gear for worldwide distribution, including electric, acoustic, and bass guitars as well as boutique-style guitar amplifiers. The PRS SE line of products complements the Maryland-made PRS line by offering highly approachable and more affordable electric and acoustic guitars and guitar amplifiers. Carlos Santana, Neal Schon, John McLaughlin, Linkin Park, Orianthi, Opeth, Zach Myers of Shinedown, Mark Tremonti of Creed and Alter Bridge, Ricky Skaggs, Cody Kilby, Martin Simpson, Tony McManus, Warren Haynes, and Derek Trucks are among the artists currently playing PRS instruments and/or amplifiers.
PRS Guitars Info: www.prsguitars.com