Press Release
Source: PRS Guitars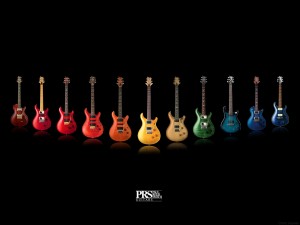 PRS Guitars announces the Artist Lineup for the 2013 EXPERIENCE PRS Open House Event, Stevensville, Maryland, August 15, 2013 – For the seventh year in a row, Maryland manufacturer PRS Guitars will be hosting a three-day open house event called Experience PRS.
This year's event focuses on product launches in the company's amplifier line as well as additions to the company's Core and Private Stock/Collection guitar lines.  Perhaps the most significant addition is the PRS "S2" Series of electric guitars which were introduced in the summer of 2013.
Considered one of the most significant launches in the company's history; the "S2" offers Maryland-made PRS guitars in the $1000 – $1500 price range.

 As in years past, a host of PRS recording, Signature and touring Artists and clinicians will be on hand at the event for demonstrations, clinics and concerts includin
 PRS Artists: Brad Whitford, Brent Mason, David Grissom, Davy Knowles, Emil Werstler, Gary Grainger, JJ Grey & Mofro, Lance Lopez, Martin Simpson, Nicky Moroch, Rhonda Smith, Simon McBride, SOJA, and Wyzard
PRS Clinicians: Mike Ault, Todd Bauchspies, Bryan Ewald, and Pat Wescott
In addition to the artist and clinician performances, Experience PRS attendees can try out any of the company's products, enjoy factory tours, hands-on interactives, get home recording tips from Apogee, hear the InTune Race to the Stage high school performers and can even participate on a Jam Stage contest where one winner gets to play on the Main Stage with the Paul Reed Smith Band.  Authorized PRS dealers and distributors will be on hand to facilitate sales.
Free public registration for this event is available through August 15th.  More information and registration details at: http://www.prsguitars.com/experience
About PRS Guitars:
Paul Reed Smith Guitars is a leading manufacturer of high quality instruments in Stevensville, Maryland and has provided some of the world's most renowned musicians with instruments since 1985. The PRS team of highly skilled craftspeople design and build a wide variety of musical instruments and gear for worldwide distribution, including electric, acoustic, and bass guitars as well as boutique-style guitar amplifiers. The PRS SE line of products compliments the Maryland-made PRS line by offering highly approachable and more affordable electric and acoustic guitars and guitar amplifiers. Carlos Santana, Neal Schon, John McLaughlin, Linkin Park, Orianthi, Opeth, Zach Myers of Shinedown, Mark Tremonti of Creed and Alter Bridge, Ricky Skaggs, Cody Kilby, Martin Simpson, Tony McManus, Warren Haynes, and Derek Trucks are among the artists currently playing PRS instruments and/or amplifiers.
PRS Guitars Info: www.prsguitars.com