By: Rob Cavuoto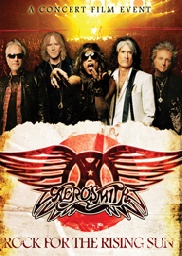 Rock for the Rising Sun is Aerosmith's first live video release in nine years and offers a unique portrayal of life on the road with Aerosmith combined with superb live performances, as the band toured Japan.
In March 2011, Japan was beset by a huge earthquake, a monstrous tsunami and the subsequent meltdown of the Fukushima nuclear plant.
In the autumn of 2011, despite advice to the contrary, Aerosmith brought their "Back On The Road" tour to Japan, a country with which they'd always had a special relationship.
The Japanese fans came out in droves and Aerosmith responded with some of the finest shows of their distinguished career.
This film follows the band on that tour combining full-length live tracks with behind the scenes footage, which is at times touching and emotional and at others humorous and insightful.
More than anything else it demonstrates the Japanese fans' love affair with Aerosmith and their music.
Aerosmith are truly one of the great rock acts of all time and this incredible concert film brings together tracks from across their storied career.
I was able to catch up with the Director, Casey Patrick Tebo, to talk about the making of this legendary DVD.
*****
Robert Cavuoto: Tell me how the Aerosmith's Rock for the Rising Sun DVD came to be and your relationship with the band?
Casey Tebo: It was never meant to be a formal release. As an Aerosmith fan, and a filmmaker who's worked with them for so many years, it was pretty exciting for me to be able to put this together and bring it to the fans.
I had met Steven one night at a show in Boston Garden either 2004 or 2005 when I did some video production work. He said "You're pretty good with that camera. Why don't you come on tour with me and film my life? Maybe we'll do something with it."
So I went on the road and filmed basically everything that he did and I still have all those tapes, but nothing ever came of it.
Steven and I got to become very close. I was, basically, living with him. He would get these hotel rooms on the road, and I would get like the assistant's room or the kid's room.
We became really close and he got to know me as a person and trust my artistic instincts. Then he and Joe started letting me do other things like directing their live shows for the screen.
And anytime they did a big awards show or something, I would just sort of come in and help out and just sort of make sure everything was up to snuff with the Aerosmith brand.
So Steven and Joe called me to go to South America and Japan. I didn't want to tour because I had a child but my wife said "Go ahead". This was a couple of months after the Fukushima disaster.
When we went down to South America, something very strange was going on. When I toured with these guys in the past, Steven and Joe did not get along because of one reason or another, or they're not speaking, or the band was mad at Steven, but when we went to South America everybody was getting along. They were all spending time together. The shows were over the top amazing.
We got to Paraguay, if you recall Steven got sick, fell in the bathroom, and smashed his face up. The press was like, "He's on drugs; the tour is over."
What the press didn't tell you was that everyone got sick there. So we postponed the show one day and when I tell you that next day in Paraguay and he put on probably the best Aerosmith show I've ever seen. As for the rest of the shows in South America, were equally amazing.
So we came home for 10 days, and we started getting these calls, "Don't pack your stuff yet. Things over there are really bad in Japan; people are getting radiation sickness.
A couple of days before we were supposed to leave, they're like the band wants to play for the Japanese fans.
I didn't have a big production for the trip. I was using the cameras that we shot the shows with for the screens.
So the film definitely had a little more of an organic feel. I feel it's not so big, and bright, and fast. There's a little bit more there.
Robert: I prefer watching concert videos that don't have all the fast cuts, I want to see what the band's doing.
Casey Tebo: When we got home, I said to Joe that I'm going to put a film together. I'm not going to not tell anybody, because we didn't want to start worrying about money and contracts.
So I put it together and they were in L.A. with Jack Douglas, recording Music from Another Dimension. I e-mailed Steven and Joe and said, "I need you to be at this theater at 9:00 p.m."
I flew out and played them the movie. They had no idea what they were getting ready to see. They were just really taken aback. I think because they are rock stars; people are always trying to get something from them. I literally just went out of my way to do something for them.
Jack Douglas who was also there said, "This is the band's love letter to the Japanese fans, and it's your [Casey] love letter to the band. The band has done a lot for me, so it was a way for me to thank them.
Here's, basically, your free movie and they absolutely loved it.
Robert: I really enjoyed the behind the scenes footage of what the band is like when they're hanging out or getting ready for the show. Do you have a lot more of that footage?
Casey Tebo: I do. I didn't really want to aim for making a documentary, per se. I wanted to make a concert film, since it had been about 10 years since these guys had done anything like that. U2, Stones and Rush put something out every 18 months.
The shows are so amazing. I wanted the fans to live what I live, being part of the band and being a part of the shows.
Robert: Was it difficult to marry the live performances with the behind the scenes footage?
Casey Tebo: It took me a while to really go through all that stuff and really try to get it through what I thought would match certain songs.
Obviously, I'm not going to put a trip to the Hiroshima Museum right before "Love in an Elevator." You know what I mean? It fit perfectly with "Livin' on the Edge."
Robert: You've become friends with all these guys. Tell me a little bit about when you're interacting them?
Casey Tebo: Well, they've come to know me over the years, so I think the trust factor is really, really there. That's probably the most important. I think when you're attempting to make a film, some of the greatest directors of all time, guys like Scorsese, had the luxury of working with Bob Di Niro, who's a dear friend of his, or a guy like DiCaprio.
They trust Scorsese because he's a genius. I have friends who work with Clint Eastwood, and they trust him. If you're coming into a documentary where you're getting to see people without makeup, and just hanging with their wives, and going to Disneyland. If I was a first-time guy that they didn't know, that never would have happened.
These guys have all sort of become family to me, and I think that our trust factor there is huge.
Robert: Tell me a little bit about your insights of each band member.
Casey Tebo: Steven is definitely the funniest to be with. He's the guy that will call me up when I'm in LA. We'll jump on motorcycles and ride down to get a hot dog. If I'm in the studio, I could sit and talk to Joe Perry for an hour, because I think one thing people don't see about Joe in the press or in interviews is how smart, well-read and intelligent he is just in the ways of the world.
The guy's depth of knowledge on just society, and people, and the things that go on in the world. Joe is definitely a tough nut to crack, but once you get in there, he's an amazing person to be around, philosophically, and just as a person to learn things from.
Brad is probably the most laid back. Joey and I get along really, really well. They're all really nice people to be around.
Robert: Tell me a little about the song selection on the DVD and the order that you put the songs in. It didn't flow exactly with their typical set list.
Casey Tebo: Definitely, it wasn't easy to do. It was more about bringing people to that tour with the camera. It wasn't chronological. We definitely went city by city. Some of the backstage stuff really dictated the song order.
For example, when Steven meets the mother and son who traveled nine hours to get to the show. The son said, "I Love you, Mom." How do you not go into "Mama Kin" right there?
Or when Steven is in the back alley at Disney dancing with characters in monkey suits. We go into "Monkey on My Back," which is one of my favorite scenes in the movie.
Robert: It was interesting to see Tom and Steven bickering about changing the set list right before the show to include "Hangman Jury," and Tommy doesn't want to do it because he was well rehearsed.
Casey Tebo: It's funny you bring that up; because I was kind of worried that Tom was going to not be happy about that. It almost makes it look like he was nervous Tom out of all the other guys in the band, is the most into film and art.
Tom called me and he was like, "I really loved the part where I didn't want to play "Hangman." If you listen to that audio of "Hangman Jury," there's a spot in there where they can definitely hear an error for 5-10 seconds. That's the beauty of it, because nowadays you can hear the fuckups. Nobody's fixing it in post-production.
It's rock and roll. You break a string or your pants are ripped, what are you supposed to do? Thank God, they let me leave it in there.