By: William Clark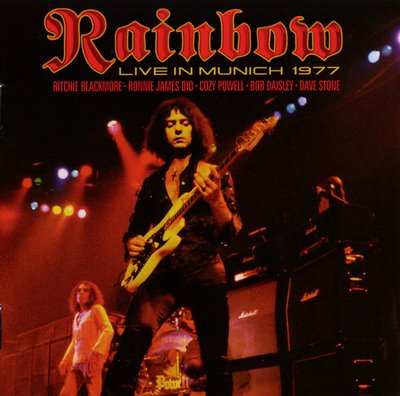 In one of the most controversial exitings in rock and roll history was guitarist Ritchie Blackmore's 1975 departure from Deep Purple.
For fans of this time period, this was the worst possible news they could hear.
The band was at one of its absolute highs, and had just released a string of incredibly successful, powerful, and not to mention revolutionary albums; all of which featured Ritchie as the mastermind behind each outing.
People were greatly concerned with not only of the future of Deep Purple, but the future of Ritchie Blackmore. What could he do that was as good, let alone better than his work with this iconic band?
Just as Ritchie's exiting was controversial, what he would go on to do with just as great.
Partnering up with a lead vocalist of a small rock group known as Elf, Ronnie James Dio and Ritchie would go on to form Rainbow, and immediately took the world by storm.
By the time you first set the needle on the band's self-titled debut album, and heard that first set of infectious guitar notes of "Man On The Silver Mountain", you knew what you were listening to was predetermined to become an instant classic.
Between Ritchie's elaborate playing style and Dio's equally dynamic vocal range, in their initial lineup Rainbow spawned a continuous line of hit records and tracks, such as "Run With The Wolf", "Stargazer", and "The Temple Of The King".
Despite how inconceivable it may seem, as good as they were in the studio, Rainbow were only better live onstage. Capturing this band purely in their element is the new live release from Eagle Rock Entertainment, Rainbow – Live In Munich 1977.
The title is self-explanatory; this new live album features the band performing some of their at-the-time greatest hits off of their first two records. Surprisingly, the anthemic, Long Live Rock N' Roll, didn't come out until the following year. However, the band pulls several tracks off this album , Live In Munich, which makes this an even more unique release.
Live In Munich 1977 is a standout live album that shows the band doing some expanded takes on such songs as "Mistreated" and "Catch The Rainbow", with some live renditions running nearly 20 minutes long; which, if you're already familiar with the band and their music, is no problem at all, in fact it only adds to the listening experience.
As any musician will tell you, a band feeds off of the energy given to them by a crowd, and when it comes to Live In Munich this is exactly the case. The entire lineup is absolutely on fire throughout all nine songs in the setlist, and sounds even better now that it's been remastered to the highest quality.
All in all, Rainbow – Live In Munich 1977, is a great live album, that captures Rainbow performing some of their most heavily praised songs with top notch execution.
For any established fan, this is a release that comes highly recommended, but newcomers may find the extended performances to be a bit too dragging and should become acquainted with the original albums first.
Original Release Date: April 30, 2013

Release Date: April 30, 2013

Number of Discs: 2

Label: Eagle Rock/Eagle Records
Tracks:
1) Introduction
2) Kill The King
3) Mistreated
4) Sixteenth Century Greensleeves
5) Catch The Rainbow
6) Long Live Rock N' Roll
7) Man On The Silver Mountain
8) Still I'm Sad
9) Do You Close Your Eyes