By: Vince Lewis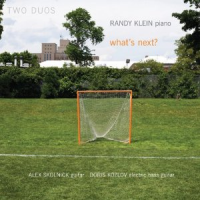 Pianist
Randy Klein
is an alumnus of Berklee College of Music.  He is an Emmy Award winner for
Free To Dance
(PBS Great Performances),
Beyond Tara – The extraordinary Life Of Hattie Mc Daniel
(American Movie Classics) and
Richard Wright – Black Boy
(PBS/BBC Production).
Klien has also enjoyed great success in Musical Theatre, and has released 11 recordings as a leader for his record label "Jazzheads."  Klein states that he hopes to continue his series of duo recordings for years to come.On this project Klein is joined on alternating tracks by bassist Boris Koslov and guitarist Alex Skolnick.
Koslov is Russian born, and has been with the Mingus Big Band for many years.  Skolnick is best known for his work with Testament and the Trans-Siberian Orchestra.  His reputation for technical prowess in the heavy metal genre is well deserved.
The opening tune is titled "Exalted Kingdom" and featured a tight unison statement of a Latin tinged melody.  Skolnick immediately shows that he is capable of a nice full traditional Jazz tone and phrasing.  Klein's note selection and soloing is a combination of Bill Evans and Ahmad Jamal.  He plays nice full chords underneath thoughtful single lines that flow effectively through the changes.Next up is the title tune "What's Next."
Kozlov provides the perfect voice to blend with Klein both as a support instrument and soloist.  Their natural interplay shows a commonality of musical background and approach that works wonderfully.  "Casa China" brings Skolnick back to share in a somewhat mysterious melodic statement and feel.
"Dear Charles Mingus" is a bass feature that I am sure has the departed legend smiling from above.  "No" is a playful tune with a somewhat fugal treatment and presentation.  Once again Skolnick serves as a perfect partner to Klein's musical intent.All of the compositions are Klein originals.  Other titles included are "Lark," "Where's My Glasses," "Tea for Three," "Inner Voice" and 'Return to Splendor."
Each tune is perfectly placed in the order of the presentation to guarantee a solid contrast throughout.  The melodies are all extremely well crafted and interesting.  Klein's chord progressions offer a modern approach while maintaining enough of the traditional thought processes to be logical and pleasing to the most hard line old school listener.
This is a truly fine recording performed by three excellent musicians.  It will be a welcome addition to the library of any Jazz fan.  It can be enjoyed as either relaxing background music, or analyzed and appreciated for its complexity.  That is a truly rare combination and a testament to the quality of the compositions.