By: Vince Lewis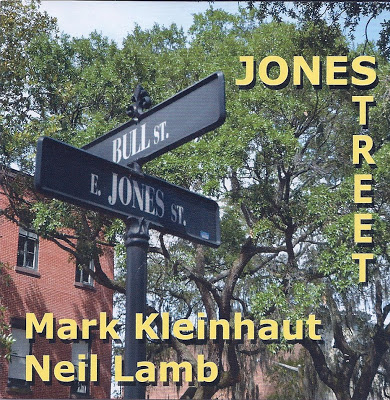 One of the joys of serving as a reviewer of Jazz CDS is the opportunity to hear new voices that come across my desk, and Jones Street, released by Mark Kleinhaut and Neil Lamb, made my day.  Some CDs bring with them pleasant musical surprises, and others offer the opposite.
Mark Kleinhaut and Neil Lamb are longtime friends who used to reside in Maine.  Kleinhaut has since relocated to Albany, NY, but they have kept in touch over the years.
When they both decided to vacation in the Savannah, Georgia, area in 2010, circumstances allowed them to get together for an informal jam session.  There was no real plan to release an album in the beginning.  Lamb is a guitarist / engineer and brought along some of his recording equipment just to document their reunion.  The results of the first impromptu session resulted in seven tracks on this release.  The last three were recorded the following year when they once again decided to meet up down South.
All of the titles are inspired by the beautiful city of Savannah and the surrounding area.  Having spent a little time there myself, I can appreciate their immediate affinity and affection for that part of the Country.  The opening tune is "City Market."  Lamb provides constantly shifting chord centers and bass lines as Kleinhaut solos fluently over them.  Each of the players has a traditional full and clean tone and fluid technical skill.  "Street Fair" has a pretty melodic line and interesting chord progression.
"Bull Street Scramble" is more free form in nature and gives each guitarist the opportunity to simply react to the other note-wise without much harmonic restriction.  "Trickster" has a very syncopated chord background and bass line underneath a highly punctuated melodic exploration.  It sort of develops into a Gypsy feel, but with more modern phrasing.
Lamb is featured on a pretty ballad titled "Savaan."  Other titles included are "Guitar Bar," "Up River," "Twilight Garden," "Tybee at Dawn" and "Ghost Tour."
Kleinhaut and Lamb make for some interesting music listening.  Sounding like a mix of Pat Metheny and Bill Frisell, their interaction creates enough energy and space for each to shine and create.  This is a very pleasant album to sit back and enjoy, and the spirit in which it was created has a lot to do with that.