By: Staff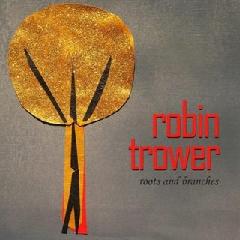 Robin Trower, one of the most justly-acclaimed of British Rock music's elder statesmen,  released his latest album entitled, Roots and Branches, on February 19th 2013.
On the new album, Roots & Branches, Robin has produced unique cover versions of some classic blues and R'N' B tracks including "Hound Dog", "The Thrill Has Gone"  & "Little Red Rooster".
Of the new album Robin says "I started off thinking I would do a complete album of covers, I wanted to get as far away from the originals as possible. I came up with half a dozen arrangements, which felt different enough, so I ended up writing some new songs as well. I have tried to make the new songs fit the mood of what I have done with the classics, so the album blends together"
The unassuming Robin Trower has, over the forty-plus years since his departure from Procol Harum, assembled an incredible body of work, from his commercial high water mark with the epochal Bridge of Sighs album in 1974, through to the brand new Roots & Branches. His music has never attempted to make concessions to commercial demands, and his improvisational skills have consistently re-set the bar in terms of blues-soaked inspiration and intensity. Always ready to credit the late Jimi Hendrix as one of his main influences, Trower remains one of the most talented musicians that the UK has ever produced.
Roots & Branches comes hard on the heels of recent Trower releases The Playful Heart,  What Lies Beneath, and Seven Moons, his 2008 collaboration with Jack Bruce, and offers yet more proof that his inspirational wellspring has far from run dry.
Robin Trower spent the early '60s playing guitar in various London based outfits, the most successful being The Paramounts. They specialized in covers, and issued several singles between 1963 and 1965. They were a favourite band of the Rolling Stones. In 1967 Trower received his big break when he joined Procol Harum, a gig he held on to until 1972.
After leaving Procol Harum, Trower embarked on his solo career and created the success that has made him a legend today. Spearheaded by his fluid and powerful guitar, all of his early albums share a tough, explosive style mixed with his trademark "soft psychedelia". This has made Robin Trower a force that will forever remain in Rock n' Roll history.
Trower released his solo debut, Twice Removed From Yesterday, in 1973. The album barely left a dent in the US charts, but that would change soon enough with his next release 1974's Bridge of Sighs. The album skyrocketed into the US top ten, peaking at number seven, and selling a million and a half copies. Bridge of sighs  still sells consistently worldwide some forty years later.
The '80s saw Trower expand his his blues-rock style, Starting with 20th Century Blues and culminating with 1987's slickly produced Passion. During the early '90s,Trower returned to Procol Harum for a brief reunion (1991's Prodigal Stranger), before backing ex-Roxy Music singer Bryan Ferry on a few releases (1993's Taxi and 1994's Mamouna, the latter earning Trower earned a co-producer credit).
The '90s also saw Robin consistently touring the USA with his power trio. Trower crossed into the new millennium with Go My Way, followed at regular intervals by consistently creative CDs Another Day's Blues, Living Out of Time, What Lies Beneath, and most recently, The Playful Heart.
In 2002, Trower returned to production, linking up with Bryan Ferry again, to work and play on Bryan's Frantic album, while polishing his skills providing music for movie releases such as Good Humour Man. There was also a continued touring assault both in the USA and UK/Europe
Robin Trower has persisted through the decades, his enduring power and intensified guitar workmanship stunning his faithful fans and influencing a generation of new players. Roots and Branches shows the creative heights that a veteran campaigner can achieve when his heart and soul are reflected in the music.