By: Staff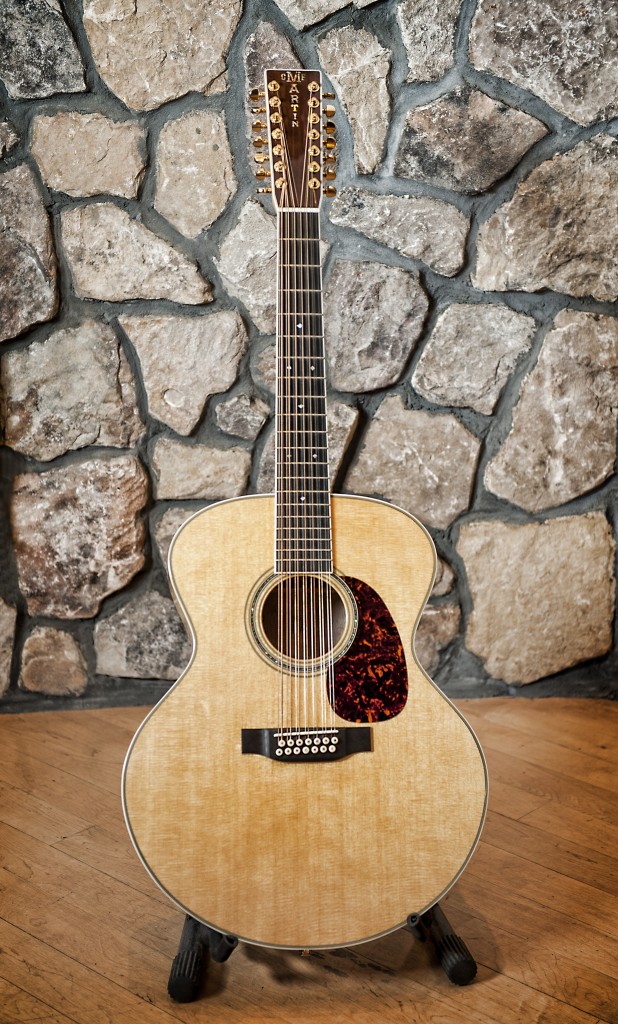 If you Google the question "Is there a 14-string guitar?", you are apt to get confused. Wiki.answers.com states emphatically, "there are no instruments that have 14 strings". There is also a posting about a homemade "handmade 14-string guitar" [it looked more like a mandolin] available on e-Bay a couple of years back.
That questionable confusion though can be put to rest thanks to a one-of-a-kind 14-string guitar the C.F. Martin & Company built for Scott Barber, owner of The Barber Shop Studios, located in Lake Hopatcong, N.J..
The one-and-only 14-string has a new-found home and is nicknamed, "Martin Catorce".
To their knowledge, Martin Guitar had never built a 14-string guitar previously and there is a good chance that "Martin Cartorce" may be the "last of the Mohegans". Designed by producer/musician Dennis D'Amico, the 14-string would not have been conceived without the relentless support from Martin Guitars' Dick Boak.
This was no easy task – there were modifications to be made on existing components. Once on the drawing board, it was turned over to the "Martin custom team" headed by Danny Brown at Martin Guitar's Nazareth, Pennsylvania, headquarters.
Some members of the "custom team" were not sure 14 strings would work at all and eight months of debate followed.
Up until last year, a 14 string guitar was more of an "urban musical legend" and considered "a cool-yet-is-it-worth-it idea". Could someone really build such "a Spruce Goose 14-string guitar" and make it fly?
The Martin Guitar Company's custom team finally won out and built the 14 string guitar by hand. They overcame obstacles and issues like the extra 40psi of tension on the neck, the saddle and the extra tension there, the width of the neck being playable and the not too wide, but accommodating the extra strings. The extra bracing on the interior of the body of the guitar was another hurdle. All of these components were a "guitar challenge in uncharted territory"
Martin Guitar persevered and although they may never make another 14-string guitar, "Martin Catorce" is, "an instrumental milestone they can be proud of".
Scott Barber has "Martin Catorce" proudly on display his Lake Hopatcong, New Jersey,  studios and he has been "strumming and noodle-ing" with it ever since.
When one asks about the existence of a 14 string, the "Martin Catorce" is the living one-of-a-kind proof" and wiki.answers.com just might have to re-answer the "no 14- string instrument" question.
 GALLERY