By: Robert Cavuoto
Hotel Diablo formed in early 2011, when vocalist Rick Stitch and guitarist Alex Grossi had just come off a grueling world tour with original Guns N' Roses drummer Steven Adler and his band, Adler's Appetite.
Upon returning home, Alex and Rick both departed the Adler camp in search of a fresh project and when they played a one-off gig in Hollywood with powerhouse rhythm section Mike Duda and Mike Dupke, everyone in the room had the same, excited feeling. The chemistry was undeniable!
Hotel Diablo's full length CD; The Return To Psycho, California, was produced by no other than guitarist, Gilby Clarke of Guns N' Roses fame. The CD is classic American rock in line with Aerosmith and Buckcherry. I spoke with guitarist Alex Grossi about his newest endeavor, Hotel Diablo, and the importance of being true to yourself and playing what you love!
******
Robert: Your new CD, The Return To Psycho, California is pure-driven rock and roll. Reminiscent of Aerosmith and Buckcherry, the music I grew up listen to and wanting to play guitar to.
Alex Grossi: Good songs never go out of style. Same thing with a Les Paul through a Marshall, it's really straight ahead. A lot of bands out here in LA are always chasing the trends. When I first moved out here in 2002, everyone wanted to be The White Stripes, or The Hives, or The Vines or The Strokes. They call them the "The" bands. Then new metal took over and everyone was trying to do that. Aerosmith, GNR, and even Buckcherry are classic American Rock. I like the fact that we're able to do that. I find that if you stay true to what you do, it always comes back around.
Robert: All the songs are really well-crafted. Tell me about the writing and recording process for The Return To Psycho, California.
Alex Grossi: The initial writing process started with Rick and me. We wrote demo on our home ProTools rig on an acoustic guitar and would send ideas back and forth. A couple of the heavier songs like "Taken" and "Wicked Lines" just kind of came together when the four of us were hanging out in the rehearsal studio.
As far as the recording process, it was different for each style of song. Essentially we sent the demos over to Gilby Clarke who produced the record, and he would make his notes and we would just go for it, you know. The great thing about Gilby was he's got that old school mentality as well. He's not gonna make everything perfect in ProTools. He's gonna record it as is and kind of capture the band's sound the way it was. It's got a little rawness to it, Gilby make suggestions for drum and bass patterns as well as the guitar and voicing. He was very hands-on with the whole thing.
Robert:  You covered "Wonderwall" by Oasis, and metalized it. How did you come to cover it?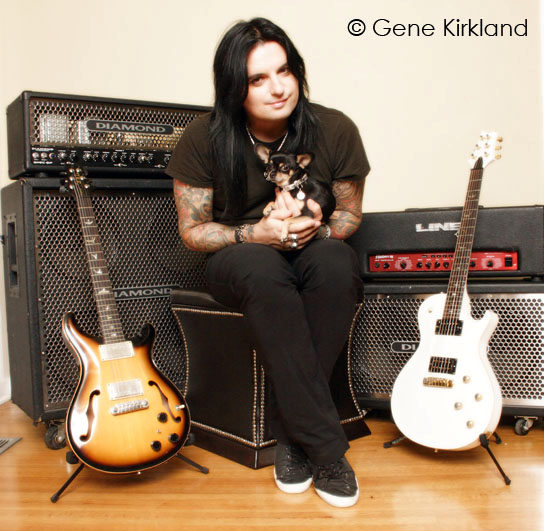 Alex Grossi: We've always been big Oasis fans, especially Rick. The original version is obviously in a much higher key. We tuned it down with the open E tuning. And Rick just owned it. You know that song is now about 20 years old, so I guess it's considered classic rock. Oasis is one of those bands in the 90s, even at the height of grunge and alternative music, and the whole stripped back deal of the 90s, Oasis were still rock stars. They still kind of carried that torch, even though they weren't rock stars like Poison or Motley Crue. I think we wanted to pay tribute to them. It was a natural decision to make.
Robert:  Is there any song that you are particularly proud of on the CD?
Alex Grossi:  I'm really proud of the riff on "Psycho, California" because it's so simple. It's only two or three chords. We were able build on that one, that sleazy riff in open A. I'm proud of that one and "Berry", as well.  I really think Rick's vocal performance on that one was stellar. I think he really hit the mark.
Robert: What was some of the gear that you used on the album?
Alex Grossi: My main guitar was a Paul Reed Smith single-cut, which I've been with them for about 15 years now. It's a white PRS single-cut with Tremonti pickups. I also used a lot of Gilby's guitars like his Zemaitis silver top guitars for overdubs. I used one of his Duesenbergs which is a hollow-bodied, Gretsch-type, a couple different Les Pauls, and a couple of different Marshalls.
The Zemaitis silver top was the one he used for GNR. I remember him telling me the main reason he used it was because Slash had the Gibson and the Marshall, so he felt he had to complement that with a Vox. I noticed when I was doing the overdubs, that I would do a couple of the rhythm tracks with the Les Paul through a Marshall or a Paul Reed Smith through a Marshall. And then overdub it to kind of add a different color which really brought the track to life. It was a different tonal timbre, if you will.
Robert: When you're working with Gilby, how do you not sound like Guns 'N Roses?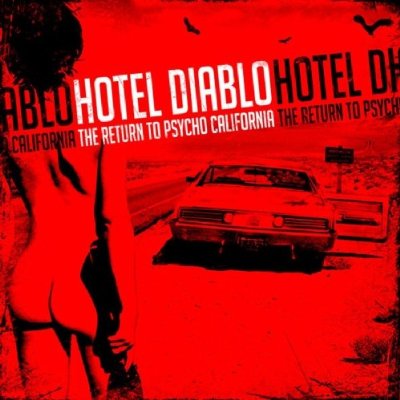 Alex Grossi: It's one of those things where we conscious about. We started writing together with Steven Adler, which is another GNR connection. But the stuff we did with Adler's Appetite was OK, but it really sounded like Appetite for Destruction outtakes.
So we did make a conscious effort to not sound like that. We wanted to nod or tip our hat to the old school, but also have a shot at something modern. Rick's voice is very modern. I think we sound more like Shinedown than GNR, to be honest. Their one of our big inputs.
Robert: The entire CD is very modern, it didn't sound like you guys were trying to recreate anything old.
Alex Grossi: Rick's really a product of the 90s. He's younger than all of us. So his main points of references are Nirvana, Soundgarden, and Alice in Chains. He's got that aspect in his influences, which brings a whole different thing to the table.
Robert: How difficult is it for new talent to get a signed to a label?
Alex Grossi: In our case, it happened organically. We put the record out on our own via iTunes and then 95.5 KLOS out here in Los Angeles started playing it which drew a lot of label attention. Then we got some shoutouts on Eddie Trunk's That Metal Show, so the label came to us and said we want to put it out. We already had our record out on iTunes. What we did with Entertainment One and Scarlet Records, we just licensed them a physical copy of it.
The industry is changing on a daily basis. Record labels aren't spending the money they used to because they're not making the money they used to make on CD sales. So it is tougher. The fact that we did it ourselves and worked with Gilby had a lot of marquee value attached to it. It made a big difference and we were very lucky with the support of Eddie Trunk and KLOS. But it still took a while to garner that interest. It took a lot of legwork on our own before they would get to the table.
Robert: You're involved with a lot of bands and projects. How important is it to work on multiple projects all at same time?
Alex Grossi: I think its super important because every project you do brings a different part to the table for you artistically. I think as an artist, it's good to stay creative and do different things because it keeps you on your toes. It helps you step up your game. Especially putting out a new album and not relying on old associations. So many guys rely on the band they were once in or an all-star band playing covers at the cash and grab. That's one thing we never wanted to do. We wanted it to stand on its own, and I think it's done that, which is very cool. We just did a radio show up in Idaho Falls last weekend and it was just 500 people there to see us. We didn't play any of the cover songs. We just played our record and the radio has been very supportive, so I'm definitely starting to see some returns on it.
Robert: Do you see a resurgence of hard rock and heavy metal?
Alex Grossi: It's funny when people ask that, I don't really think it ever went anywhere. I think the media stopped paying attention to it for a while. Here we are in 2013, and bands like Motley Crue, KISS, Guns N' Roses, and Metallica can still on out and fill arenas. And a lot of those 90s alternative bands like Nine Inch Nails, The Strokes, The Hives and The White Stripes disappeared. So I think the fact that in 2013 Motley Crue can still go out and sell places a lot. If you look at VH1 Classics, their highest-rated and longest running show is "That Metal Show." Metal fans are rabid. They play out here twice a year and every show is packed. They can't even fit all the guests in. It makes me happy to be part of it.
Robert: What are your touring plans for Hotel Diablo?
Alex Grossi: We've been offered some summer festivals and if it logistically works out, we're going to do then. Right now we just did a show in Idaho Falls. We also just did the House of Blues in Hollywood last weekend. It went really well. We just shot a video for the song "Psycho, California" with nine-time Emmy award winning director, Fabio Jafet, who's done Children of Bodom, Enrique Iglesias and Pit Bull. He's done all these great videos, and the video's just about done. I think the next live thing we're going to do is a video release party here in Hollywood in March. That's the main thing; we're just kind of working on local events. There have been offers for out-of-town stuff as well, but we just really want to get this video done and get everything in place for that.
Robert: How many guitars do you have and what's your prize guitar?
Alex Grossi: I have about a dozen guitars in my collection. My main prize guitar is a 1999 Paul Reed Smith Custom 24 that they made for me. It's a one-off in rainbow flake. It's the main guitar I play live. It's a standard Custom 24 with a wide-set neck and all that. It's got a certain resonance to it that the other ones don't have. It's done literally thousands of shows, so it's pretty beat up. If my house was burning down and I had to grab one guitar, that would be the one.

Robert: How do you bring your own style when playing with established band like Quiet Riot and Adler Appetite yet stay unique and shine?
Alex Grossi: Obviously with Quiet Riot and playing the GNR stuff, the songs are so iconic and such big hits, that you gotta play them note for note. That being said, your tone's important. I try and keep my tone pretty meat and potatoes, no matter what band I'm playing with. I always use a Paul Reed Smith.
I use a pedal board that's got some MXR and Line 6 effects on it. And because it's usually a fly-in day I have a couple of Marshalls. I always keep my setup the same so it sounds like me in whatever band I'm in. I think tone's a big one and I just think stylistically, paying tribute and being respectful of the old classic material, but also just throwing a little thing here and there that makes it your own.
Robert: Quiet Riot has a tremendous legacy in heavy metal. They're really one of the first bands to bring metal to mainstream radio. What's it like to work with a band with such a big history?
Alex Grossi: I've been in Quiet Riot now for almost a decade. I met Kevin Dubrow in 2003/2004 when he was on a solo tour, and he brought me in to play guitar. That ultimately led to me joining Quiet Riot. It was a tremendous honor. And you know Kevin was really like a big brother to me. He really mentored me and took me under his wing. And that guy knew his shit better than anybody. I mean you gotta remember this guy cut his teeth in a garage, singing next to Randy Rhoads. Those guys came up together.
For him to mentor me was really surreal. I really miss the guy every day and I just do my best to pay tribute and pay homage to the legacy he created. Like you said, Quiet Riot knocked the door down for all the Motley Crues, Ratts and Poisons. They were the first one to go number one and really bringing attention to that.