By: William Clark
Fourteen year old rising child prodigy, Matthew Davidson, has been making some major waves in the music world.
Getting his first taste of the guitar at the age of three, Matthew has been stunning the ears of multiple guitar enthusiasts and organizations across the country. He was named the recipient of the 2011 Robert Johnson Blues Foundation New Generation Award, and was also selected as the 2011 Kidd Kraddick Rock Camp Guitarist.
He's gone on to play at such prestigious venues as The Dallas House of Blues, The New Orleans Jazz Fest, and B.B. King's Blues Club in Memphis.
Matthew is now stepping out on his own, and recently released his debut EP, appropriately named Step Up. Drawing from such diverse influences as The Beatles and Stevie Ray Vaughan, to John Mayer and Maroon 5, as well as collaborating with legendary bassist Joe Osborn, Step Up is a terrific way to introduce listeners to Matthew's unique style of guitar playing.
I recently sat down with Matthew to talk about his new EP, his musical successes, and the future of his musical career.
******
William Clark: Who are some of your largest musical influences?
Matthew Davidson: Oh, man! Let's see, well, I kind of got started by listening to the old school music from the '60s and '70s, and that kind of stuff. Probably a lot of my influences are The Beatles, Chuck Berry, ZZ Top, Eric Clapton. But, also some newer artists, like John Mayer and Maroon 5.
William: When did you start performing in front of audiences?
Matthew: Really, I did a couple of shows by myself, you know, just like a little kid thing. My first professional performance was with my own band on June 25, 2010. That's kind of the debut of my band, and we've been doing that ever since.
William: What do you consider your first "big break"?
Matthew: I haven't really had that sort of "big break" that puts me into stardom, yet. But, something that was really cool was the chance to be on the Kidd Kraddick Rock Camp in 2011. Kidd Kraddick is a nationally affiliated radio show, and so that kind of got my name out there. So, I guess that was a pretty big opportunity.
William: Since then, you've gotten to play at such gigs as The New Orleans Jazz Fest and B.B. King's Blues Club in Memphis.
Matthew: Yeah! Well, the B.B. King Blues Club, that was kind of like a little jam I was at. It was during the IBC's in 2011, and it was after I had done my set at the Blues City Cafe on Beale Street. There was a jam going on at the blues club, so we walked across the street and got to jam for a while. The crowd was really into it, and we just had a good time. Got to jam with musicians from around the country. And the Jazz Fest, that was a huge honor to be selected to play there. We played there in May of 2012, and we were playing opposite of The Eagles at the same time! So, that was a great experience to soak it all in.
William: I know you brought this up earlier. You've been named the 2011 Kidd Kraddick Rock Camp Guitarist, as well as the recipient of the 2011 Robert Johnson Blues Foundation New Generation Award. How does it feel to have your playing acknowledged with such high accolades?
Matthew: It really feels good, because you put a lot of hard work into it, and to be recognized by the Johnson family, who are just a great and really influential blues family, to be recognized for my playing is a great honor. And then of course, having been complimented by the Kidd Kraddick cast, who have seen a lot of musicians before. So, it's feels good and it's a really big honor.
William: What was it like sitting down to make your 4-song EP, Step Up?
Matthew: Yeah, that was a very cool experience, because it was the first time I went into the studio with a mission to record a couple of songs and release it. So it was definitely something that I really never got done before. It was a lot of fun, I got Joe Osborn, who's a legendary bass player, to play on it. It was just a great experience overall to have something I can call my own out there.
William: What was it like working with Joe Osborn during those recording sessions?
Matthew: He's such a nice guy. You know, he won't brag about himself, but he's such a legendary player in the music world. And so to have his support and him voluntarily playing on the EP, and being like a guide and a producer was just a really cool experience. I look forward to when we do the next project.
William: Are there any particular artists you draw influence from throughout this EP?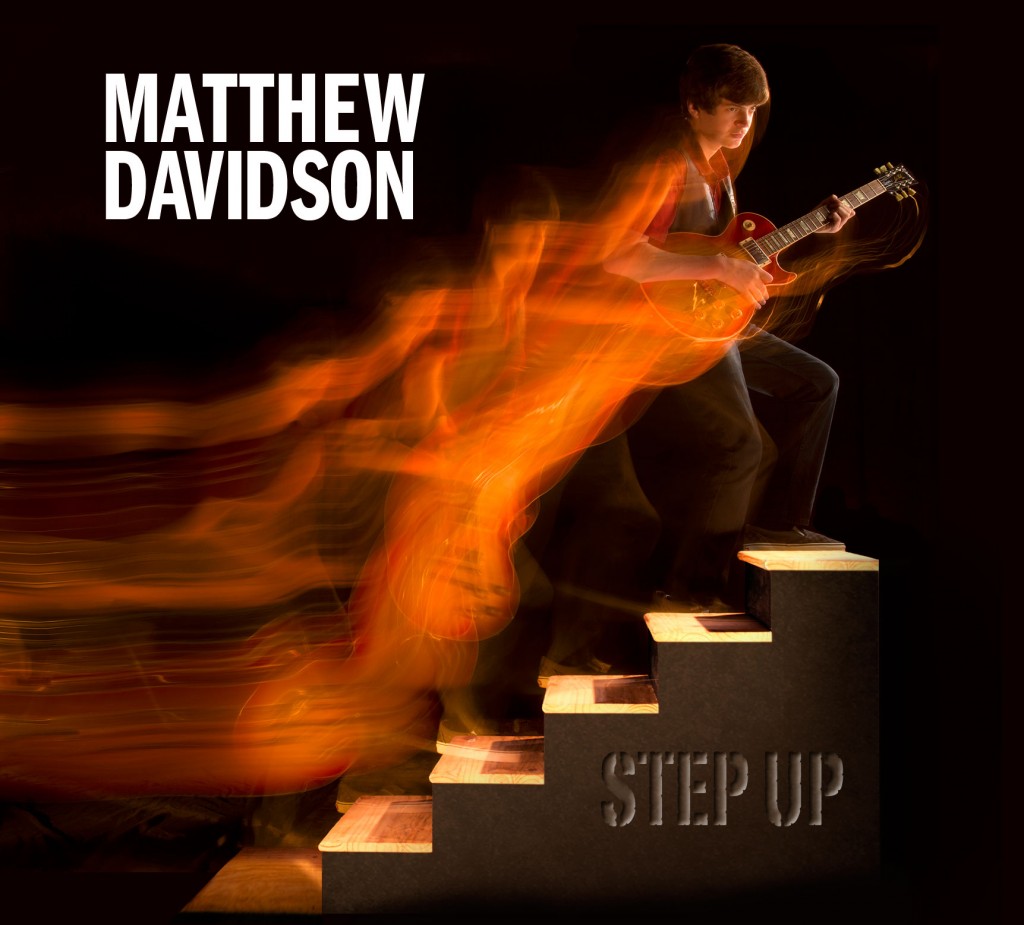 Matthew: You know, I kinda wanted to do something modern sounding, but that didn't abandon the roots. So, I would have to say probably The Beatles and Maroon 5 were the biggest. And also blues artists like Eric Clapton. But, the pop rock sound is what I really  drew towards during this EP.
William: Do you have any plans to record a full length studio album?
Matthew: Oh yeah, definitely. I don't know when that will be. We'll keep these EPs going for as long as we can. But yeah, definitely, one day we'll release a full length studio album with mostly original songs.