By: Vince Lewis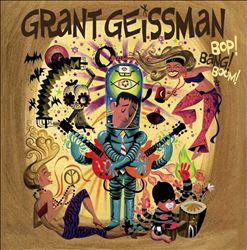 Grant Geissman's new album, Bop! Bang! Boom!,  is a perfect follow up to Geissman's most recent releases "Cool Man Cool" and "Say That."  From the fun artwork to the great music, this is truly a pleasure to experience both visually and musically.
Grant Geissman first took center stage with Chuck Mangione's band in 1978.  His solo on the hit "Feels So Good" can be hummed by the past few generations of aspiring Jazz guitarists upon command.  Geissman is a San Jose native with terrific drive as a player.  He is also a gifted composer, and has even co-authored the television theme for the CBS sitcom "Two and a Half Men."
Geissman credits his early guitar heroes such as Eric Clapton, Wes Montgomery, Kenny Burrell and B.B. King as his main influences.  He also was privileged to study with the late Dr. Ron Purcell at Cal State Northridge.  All of these solid and unique voices in Jazz Guitar have contributed to Geissman's unique and easily recognizable sound.
This recording showcases Geissman with several of the finest players of the genre today.  The list includes Brian Scanlon (saxophone), Emelio Palame (piano), Ray Brinker (drums), Kevin Axt and Trey Henry (acoustic bass), Alex Acuna and Brian Kilgore (percussion), Tom Ranier (piano), Doug Lacey (accordion), Greg Mathieson, Jim Cox and Mike Finnigan (Hammond B-3 organ), and Leland Sklar (electric bass).
The guest list also includes Albert Lee, Larry Carlton, Tom Scott and Van Dyke Parks.  All of the included material is comprised of Geissman originals.
The CD begins with a funky blues head titled "Boom."  The melody and the bridge section are stated in guitar and sax unison.  Geissman contributes a gutsy solo with a darker tone than I am accustomed to hearing in his past recordings.   "The Singularity" is an intricate melody that is played over a solid swing feel.  "Q Tip" has the '60s feel of the Howard Roberts quartet.  It is dedicated to the composer / arranger Quincy Jones and featured Tom Scott on saxophone.
"Un Poco Espanol" puts Geissman on nylon string guitar with Russell Ferrante on piano.  This tune has a very nice flowing melody line with Latin rhythms punctuated by castanets and cajon.
"Go To The Window" is a solid funk groove with Geissman on electric sitar.  The tune was inspired by a scene in the Beatles' movie "Help."
The next selection is a fine 5/4 composition titles "Good Morning, Mr. Phelps."  Those of us old enough to remember the 1960's TV Show , Mission Impossible, will appreciate the mood set by this track.
Other selections include "$25 Stella," "Texas Shuffle," "Samba En Menor," "Guitarism" and "Off The Grid."  Each tune is flawlessly performed, and the flow of the entire album is perfectly planned and directed.
Grant Geissman continues to be an interesting and solid fixture of Jazz guitar, and his work should be included in the collection of any fan of the genre.
Audio CD (July 17, 2012)
Original Release Date: 2012
Number of Discs: 1
Label: Open All Nite Entertainment/Futurism Records
Disc: 1
1. Boom!
2. The Singularity
3. Q Tip (for Quincy Jones) – with Tom Scott
4. Un Poco Espanol – with Russell Ferrante
5. Go to the Window
6. Good Morning, Mr. Phelps – with Russell Ferrante
Disc: 2
1. $25 Stella – with Van Dyke Parks and Doug Lacey
2. Texas Shuffle – with Albert Lee and Larry Carlton
3. Samba en Menor
4. Guitarism (for Ron Purcell)
5. Take Yer Time – with Chuck Lorre, Dennis C. Brown and Mike Finnigan
6. Off the Grid – with Tom Scott
---