By: Dr. Matt Warnock
Here's an interview we did with Eric Johnson in 2010….
If you're a guitarist, like the guitar, or have heard of the guitar, than you're probably excited for the Guitar Masters tour, which kicks off this October with dates throughout the Midwest and East Coast. Featuring guitar legend Eric Johnson, Fingerstyle guru Andy McKee and acoustic-guitar master Peppino D'Agostino, the tour is lining up to be the must see guitar event of the fall season, and possibly the entire year.
Eric Johnson recently sat down with Guitar International to give us his take on the tour, as well as discuss his long-time affection for the acoustic guitar and acoustic music. As well as digging into the upcoming tour, Johnson was also recently featured with the Les Paul trio at the Iridium in New York. Sharing his thoughts on that experience, Johnson also discusses Les Paul the man and musician, and what Les' music means to him.
So sit back and enjoy this candid, exclusive interview with Eric Johnson.
******
Matt Warnock: The Guitar Masters tour is set to launch in a few weeks. How did you become involved with the tour alongside Andy McKee and Peppino D'Agostino?
Eric Johnson: Every once in a while I go off and do these solo acoustic tours. We had just finished the new electric record about six months ago and I had a little bit of time on my hands. I felt like I wanted to kick up the acoustic thing again, and when I heard that Andy and Peppino were doing their thing together I thought it'd be cool to get the three of us out on the road. We got some interest from college venues, that sort of thing, so we decided to head on out and book a couple of short tours, which should be a lot of fun.
Click to Check Out the Eric Johnson Collection
at Amazon.com
Matt: Do you find that you adjust your playing, chord voicings, technique etc., when you play acoustic as compared to your electric playing?
Eric: Yeah, it's a totally different thing. I'm fingerpicking, and it's totally different songs. There are a few songs that come from my electric stuff that I'll interpret on the acoustic, but for the most part it's a totally separate repertoire.
Matt: So you won't use a pick at all on this tour?
Eric: Well, for some of the country stuff, yeah I'll break out a pick here and there, but a lot of the stuff is done with my fingers.
Matt: Because you're so well known for your electric playing do you ever feel any pressure from your management or fans to just play in that style, or have you gotten to a point in your career where you can do whatever you want in that regard?
Eric: I've never really felt that pressure. I feel the responsibility to just do the best I can with whatever music I'm playing in that moment. That's the kind of pressure I feel more than anything. It's a nice thing for me, I want to try and figure out a way to put the two together, acoustic and electric, sort of combine the two a bit more rather than keeping them separate. I like the challenge that juggling these two styles provides.
Matt: Will the three of you be jamming together at all, or is the tour going to be just three solo sets from each of you?
Eric: We'll do our solo thing and then we're planning on getting up at the end of the night for a group jam.
Matt: Have you guys had a chance to jam yet or are you saving that for opening night?
Eric: Yeah, we're planning on getting together for a couple of days before the tour starts to work that out. I think we'll end up doing one tune that we each bring to the table, and we'll back up each other on those tunes.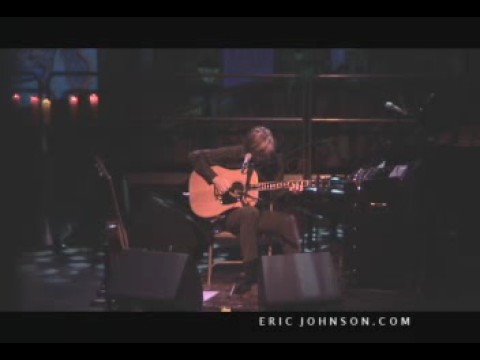 Matt: Andy McKee was quoted as saying that you are the reason that he began playing the guitar in the first place. What's it like being on tour with Andy, seeing how successful he has become and knowing that you were a big reason for him launching his career in the first place?
Eric: I'm really flattered. Andy is quite the player and he's obviously gone on to do his own thing and become very successful. I'm sure I was only one of many people that he listened to early on and drew inspiration from, but I'm still really flattered when someone of Andy's caliber says something like that.
Matt: What kind of acoustic guitar are you going to bring with you for this tour, or do you like to have multiple guitars on tour with you?
Eric: Right now I'm using Martin and PRS acoustic guitars. I'm working with both of them right now, just trying to figure out which one I like better and will end up using the most on this tour.
Matt: Do you go direct through the house or use an amp when you play acoustic?
Eric: I'm using a small amp and a small mic alongside it. We'll have to see when I get into each room how it all sounds, but for now I'm thinking the small amp, maybe a D.I. out from the amp to the house, and then a mic right in front of the guitar.
Matt: Are you experimenting with any effects when you play acoustic?
Eric: I've done a little experimenting with that stuff, but what I end up doing is just playing direct. I have tried out a few things, like compression pedals, so we'll see where that leads me in the future.
Matt: As you get ready for the tour, do you see yourself continuing to do more acoustic tours with Andy, Peppino or other acoustic players down the road?
Eric: Yeah, I would, because four or five years ago, on the last acoustic tour I did, we started to get more offers to play music halls and folk-festival kind of things. Completely different venues and audiences than I was used, so it really got me interested in pursuing that further. I would love to keep pursing this side of my playing. Things were going that way but I kind of put it aside and went back to the electric, but I'd like to get both of them going at the same time if I could.
Technically, the acoustic guitar is more challenging than the electric, so it's hard for me to just jump between the two. I would love to keep the acoustic thing simmering so that, on a few days' notice, I could just jump up and head out on an acoustic tour. It opens up a lot of interesting opportunities, and some songs just work better that way as well.
I could do an acoustic thing with upright bass and percussion, so not just solo acoustic stuff, but open other avenues as well. A few years ago I cut three songs for a new acoustic record, so I'm hoping to finish that acoustic record next year and get it out for people to hear. So, we'll see where this leads me, but I'm definitely trying to keep both sides of my playing going at this point.
Matt: You recently played at the Iridium for three nights with the Les Paul trio. What does Les' music mean to you and what was it like to play in his chair for those three nights?
Eric: It was such an honor and I hope to do it again sometime. We had talked about doing it again, and if so I'd like to do more of Les' tunes. I did one this last time, but if I went back it'd be great to work up a whole bunch of Les' tunes to play at the Iridium. It was wonderful.
It was tough playing in that club because it's so small and I was struggling to get a good sound. I brought in these 20 watt amps, and I'm used to way bigger rigs. It's kind of like a surfer on the big waves, then you ask him to surf a one-foot wave. [Laughs] But I'd like to do it again, and I know I can get a good sound in that room if I just work on it a bit.
To me, Les was kind of like the Jimi Hendrix of the '40s and '50s. He experimented and took so many chances. He didn't look at the guitar as a limitation. To him it was a possibility. He was also a sweet, wonderful man and a great entertainer. He told jokes and stories on stage. He knew that it's about showbiz to a certain extent.
You can't just go onstage and be introspective, looking at the floor the whole night, no matter how good a player you are. He went beyond that, and that's why he packed that place every night, because people were entertained. He was a great role model and someone I've definitely looked up to on a personal and professional level.