By: Jenn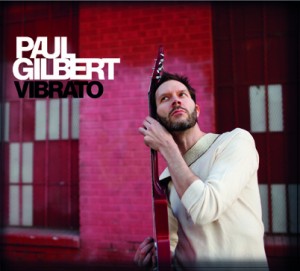 Vibrato is Paul Gilbert's 12th studio release, fresh to our ears in 2012. With 11 varied songs, this album clocks in at 67 minutes and change. This eagerly-anticipated gift is a treasure trove of notes. It is sure to offer something intriguing or pleasant to all listeners, especially established Paul Gilbert fans who are listening for his latest musical adventure, or what goal he may be working towards currently.
What surprises me the most, from repeat listenings, is how delightful all of the instrument parts are – how it isn't simply a good guitar album. The drums are spectacular, the bass tone is aggressive in all the right places, and the keyboard passages are sublime. Of course the guitar is great. Normally you'd pick this up as a fan of 'Paul Gilbert The Guitar Player'. Vibrato, mostly recorded live in the studio, or in front of an actual screaming rock n' roll live audience, is an album to listen to if you want to hear "Paul Gilbert And Friends".
'Vibrato' seems composed of many songs, rather then hundreds of riffs daisy-chained together as songs. The flow of ideas is very smooth and natural, without much jarring idea-shift. That gives the album a 'band' feel, with a lot of cohesion, versus an album composed solely for lead guitar to shine. On this disc, everyone has opportunities to strut. Because each instrument's part is complex in every song, it brings 'the whole' to our attention, versus 'parts of the whole'. The guitar seems to be 'another instrument' utilized to realize Gilbert's musical vision. Sometimes those tasty guitar lines are layered within some equally riveting keyboard part. The rich, sultry music is plenty racy for those who seek out that singular, specific element of Gilbert's playing style. If Guthrie Govan was playing half the parts in 'Rain And Thunder And Lightning' alone, listeners would label that 'shred'. That said, the guitar's voice remains inspiring and difficult: a lot of guitarists will surely complain that this album 'makes them want to quit', or 'practice another 1962 years to be half as good'.
Many songs on the album feature a jazz-flavored keyboard interlude, courtesy Emi Gilbert, where normally we'd expect to hear a guitar solo. It's a change of pace for our ears. 'Next to', rather then 'behind' these parts, listen to what fireworks drummer Thomas Lang is creating. A combination of an octave pedal (Foxrox Octron) used on the guitar, and Kelly LeMieux's bass guitar being played through a distorted amp, gives a throaty, aggressive growl to many songs. It has thickened up the sound of the guitar as well as brought some of the bass tone 'closer' to the listener. I love that low, growly, punchy sound.
Can an average rock listener without a PhD in music theory training 'get in to' this? Sure. Moments during this release are evocative of portions of Gilbert's back catalog, especially 2010's Fuzz Universe and 2008's Silence Followed By A Deafening Roar, but this release is not derivative of either. It retains characteristic style without stagnation. It's not so "rock and roll" as some of 2012's other releases (~ZZ Top's 'La Futura' or Black Country Communion's 'Afterglow') or as energized as some of Gilbert's previous studio and live works. It definitely seeks a niche, a more sophisticated listener who is looking for something with more quirk or 'hints of jazz' for their catalog. The album seems to have been custom-made for the live setting, with plenty of moments for each band member to flash brilliance and talent across the stage they'll share. 'Rain And Thunder And Lightning' will 'come to life' when played live, where the bass 'gets cranked' and the high end tends to be 'taken down a notch'. It ought to 'heavy up' nicely. Similarly, there are parts in 'Put It On The Char' that are incredibly heavy – some of Gilbert's best 'grab and hold' work to be found at the finale.
Two of the four 'vocal tunes' have passages that are not so much sung, as delivered nearly spoken-word. Title track 'Vibrato' reflects to 'The Second Loudest Guitar In The World' or 'Better Chords': again Gilbert sings the praises of the electric guitar. 'Bivalve Blues' moves forward, with very workable vocals: they'll translate most easily to any live setting. For those of you who are used to listening to Gilbert through live performance, it's a wonderful offering. The bluesy guitar smolders throughout. Plenty of Holdsworth / DiMeola 'fast runs' delight our ears, and contrast with the overall slow tempo.
There's no classical music present, which could be 'a first' for Gilbert's releases: all of which have featured one classical tune or passage in the past. Dave Brubeck's 'Blue Rondo A La Turk' serves in it's place. It takes a very creative mind to listen to a straight West Coast jazz tune and realize it will translate well to a 'blues rock' context with electric guitar serving one of the lead instrument roles. This rollicking interpretation has to be one of the crown jewels of the album. Gilbert's affectation with precipitation (from 'Will My Screen Door Stop Neptune' and 'Don't Rain On My Firewood') continues with 'Rain And Thunder And Lightning'. Listen for Lang's evocation of raindrops striking a windowpane with cymbal accents, or both Gilbert's clever use of cadences to bring to mind a gentle California summer storm. 'The Pronghorn' evokes a traveling herd on the prairie. It's dainty careful steps and a carefree, relaxed time are interspersed with playful jaunts, a searing guitar solo over a classic 'rock' progression, and a thundering stampede at the end.
The guitar-driven, keyboard-less live tunes at the end of the album seem to serve two purposes: they re-engage anyone who's lost their way, and they 'energize' the entire album. There's no need to be in a special mellow mood to 'dig it' – 'it's only rock and roll, and I like it'. The trio of rock tunes require no 'jazz level' sophistication to enjoy. They are a lasting testament to the fantastic live audio mixing by 'Ace' Baker. The interplay between Gilbert and second guitarist Tony Spinner in the final songs is pure aural delight. 'I Want To Be Loved' morphing in to the fast AC/DC instrumental morphing in to the blazing, inspired, intense guitar solo is a real surprise and the barn-burner of the album. Anyone who needs to hear Paul 'at speed' needs to check out 'the second half' of that tune to be assured of his prowess. As the grand finale, Gilbert reminds us of his power of engagement.
I don't know if this is a trend or not, but the CD arrived, packaged in a tri-fold cardboard sleeve with a plastic CD insert glued to one of the folds. There is no jewel case. Lyrics were posted online as a downloadable postscript, due to graphics design and printing deadlines. The printing, while crisp, is done with inks similar to many color catalogs. If you've touched anything even remotely oily, DO NOT pick this CD case up without washing your hands, or you will ruin the covers by 'fingerprinting' the covers and smearing the print. Due to that (uncased/unprotected art), the ready availability of high quality cover art online, and the lack of lyrics or liner notes, if all you need is new good tunes, I'd say this album is equally good when purchased as a digital download vs. a physical product.