By: Staff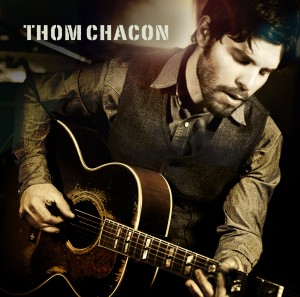 Thom Chacon, the Durango, Colorado, dark cowboy balladeer who has recently opened concerts for Los Lonely Boys, is set to release his second studio album Thom Chacon on Pie Records in early 2013.
The 12-song manifesto, filled with stories of gritty redemption, has the kind of inviting melodicism that will sweep listeners into his deeper meanings.
With an organic backdrop of acoustic guitar, harmonica, and Bob Dylan's rhythm section, Tony Garnier and George Receli, Thom Chacon, the album, is an Americana masterpiece.
Recorded live in an all analog format by producer Perry Margouleff, it delves into wild west mythology (Chacon's grandfather rode in the posse that went after Billy The Kid) but brings it up-to-date, blending a modern edge with the sort of unblinking grit and realism that originated with the likes of Woody Guthrie and Cisco Houston.
Sung in a voice somewhere between 1962 Dylan, 1982 John Prine and Ghost Of Tom Joad­-era Springsteen, Thom Chacon buoys his poetic verse and all-American sentiment with the kind of memorable characters you just can't shake.
Thom is a storyteller, and with this new self-titled work he digs deep through a well of intense and brutally honest themes. There's the defiant "Innocent Man," shouting his innocence ("you can all go to hell, I'm an innocent man") but having trouble being heard. In "American Dream," a man debates whether this dream has turned into a nightmare.
"In "Juarez Mexico," a local starves with his gal and knows he has to leave and get Texas-bound. In the mysterious "Chasing The Pain," the singer "from a distance," sings, "I hope you pull through."
But who is the object of his musings? In "Alcohol," the poor wretch of a character has "lost my friends and the money's all gone too/I'm sick, shivering, cold, and want nothing more than to spend time with you." The protagonist in "Ain't Gonna Take Us Alive" sings from a jail cell after a scene straight out of a Quentin Tarantino film ("tell my mother it ain't worth crying/I thought I'd be dead at 22").
Thom Chacon has literally traveled around the world playing his songs:  from the intimidating confines of Folsom Prison ("a life-changing experience") to Thailand to India.
Having wandered the world, winning over crowds that appreciate the ethos and honesty of his music, these new songs are now proudly presented on Thom Chacon.
Track Listing
1.) Innocent Man
2.) American Dream
3.) Juarez, Mexico
4.) A Life Beyond Here
5.) Chasing The Pain
6.) Alcohol
7.) Ain't Gonna Take Us Alive
8.) Big River
9.) Amy
10.) No More Trouble
11.) Bus Drivin' Blues
12.) Grant County Side