By: Staff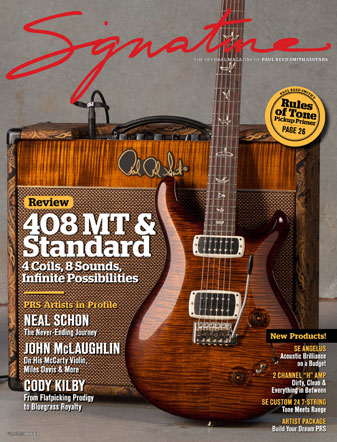 PRS Guitars announced the first ever digital edition of the prestigious Signature Magazine, the official magazine of Paul Reed Smith Guitars.  This premier digital version of Signature – featuring interviews with PRS artists including Neal Schon, Cody Kilby and legendary John McLaughlin – is available free and can be downloaded at the PRS Guitars website and through Guitar World magazine's iNewsstand in the iTunes store.
Signature Magazine incorporates stunning photography, detailed product reviews, artist testimonials, and more to provide PRS owners and enthusiasts with an in-depth look into the tone, quality, and craftsmanship of PRS instruments, including electric guitars, acoustic guitars, amplifiers, and accessories.  Also featured in the new magazine is an insightful article entitled "Rules of Tone." Based on an interview with Paul Reed Smith, PRS Guitars working founder and Managing General Partner, the article discusses pickup design, innovation, and inspiration and highlights some of PRS' newest, proprietary pickup models.
This edition marks a change in format from previous printed editions, welcoming a broader audience and providing a wider scope of content.  PRS Guitars Marketing Manager, Judy Schaefer, offers that, "Believing that the more information a consumer can have regarding their purchases, the better their experience will be, PRS' goal through Signature is to provide our fans with a direct channel of information regarding our instruments and our company. Signature's new digital format has allowed us to share all things PRS, including new product information, artist profiles, and customer testimonials, with more people than ever."
People interested in obtaining a copy of this magazine, should visit the company's website at www.PRSGuitars.com for more information.
Connect with PRS Guitars
About PRS Guitars:
Paul Reed Smith Guitars is a leading manufacturer of high quality instruments in Stevensville, Maryland and has provided some of the world's most renowned musicians with instruments since 1985. The PRS team of highly skilled craftspeople produces over 1,000 electric guitars each month, as well as acoustic guitars and amplifiers, for worldwide distribution. In the fall of 2011 PRS introduced import SE acoustic and amplifier lines to complement their import SE line of electric guitars. Carlos Santana, Neal Schon of Journey, John McLaughlin, Linkin Park, Orianthi, Opeth, Tim Mahoney of 311, Mark Tremonti of Creed and Alter Bridge, Ricky Skaggs, Cody Kilby, Martin Simpson, Tony McManus, Warren Haynes, and Derek Trucks are among the artists currently playing PRS instruments and/or amplifiers.