By: Rick Landers
Photography by: Joerg Kliewe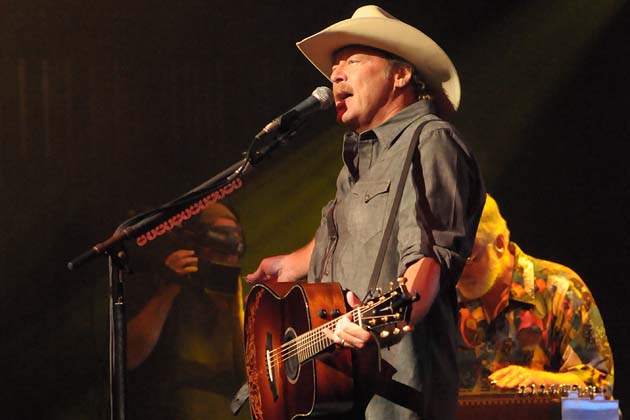 As expected, Alan Jackson's show at the Wolf Trap Foundation for the Performing Arts, Vienna, Virginia, on August 20, 2012, rocked the house, with fans singing along with lyrics that are by now hardwired into their Alan Jackson memory modes.
An hour prior to the show, a herd of tour buses were parked behind the venue's amphitheater, known as The Filene Center with Alan Jackson in bold lettering plastered along the sides, and two of those were in "load in" mode.
Before Jackson and his band grabbed the stage to thrill the crowd with a slug of his 35 #1 hits, country singer, Craig Campbell, pulled up to entertain with a fine set of hip country western songs, including his own hit, "Family Man".
Opening with a rockin' "Party for a Living", those in the open air venue who didn't know Campbell would soon be corralled by his easy going style and hip sense of fun.
On "1, 2, 3, 4", he got the crowd worked up into a call and response deal with him.  With Alan Jackson in the wings, you'd think no one could hold the crowd back, but Montgomery parked himself for twelve songs and there were smiles all around.
Still, it was Alan Jackson's long and lean country look, topped with hit after hit that fueled those up front, the folks on the lawn and everyone in between. Kicking off his show with "Gone Country", a 1994 #1 hit written by Bob McDill, about a triad of failing singers who all "went" country to succeed.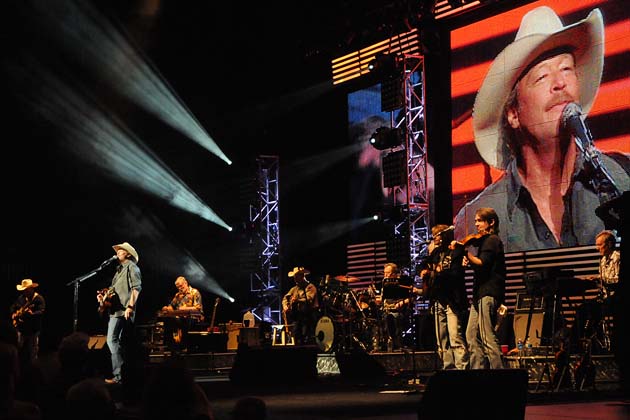 Jackson got the crowd all shook up with an old Eddie Cochran song, "Summertime Blues" that rocked and made them swoon when he crooned the utterly romantic, "Remember When". And there was a moment to reminisce when he sang a song written for his father, "Drive (For Daddy Gene)", that offered up heartfelt lyrics about Alan and his Dad driving around the countryside and on his father's boat, ending with him singing about letting his daughters drive his Jeep.
Other songs that filled the Virginia night air were: "Small Town Southern Man", "Little Bitty", "Livin' on Love" and others, with "Don't Rock the Jukebox" giving his fans a final hit to sing along on their way out to their cars, and leaving everyone with an amazing night to remember until the next time Jackson's in town.