By: Staff
"Every guitarist needs to know their blues history and where the blues are coming from. The Language of the Blues will teach you what you really need to know." – Joe Bonamassa
"What a great resource…as fascinating as it is informative. Debra's passion for the blues shines through." –Bonnie Raitt
"Finally one can understand the mechanics behind the overwhelming viscera of the Blues. Debra Devi's work is a true guide book to the soul." – Al Jourgensen (Ministry)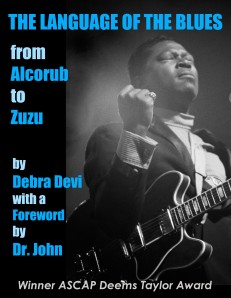 Joe Bonamassa, Bonnie Raitt, Ministry singer/guitarist Al Jourgensen and Muddy Waters guitarist Bob Margolin all love the award-winning new The Language of the Blues: From Alcorub to Zuzu, available now as an eBook and in print.
Whether you're into death metal, alternative rock, jazz or you actually play the blues, you'll agree with Conan show guitarist Jimmy Vivino: "This book is fascinating! Take it to the bathroom and don't come out until you're done reading it."
The book Reuters calls "one of the wittiest, bawdiest, most fascinating dictionaries ever" includes wild stories from author Debra Devi's in-depth interviews with such legendary guitarists as Robben Ford, Jimmie Vaughan, Bonnie Raitt, Hubert Sumlin, Robert Jr. Lockwood, Bob Margolin, Jody Williams and more.
Of special interest to guitar players are Devi's in-depth explorations of the African and criminal underworld origins of terms like "axe," "bottleneck," "gig," "funk," "jazz," "vibrato", "cross note" and "cross-Spanish" tunings—plus the incredible stories about major blues artists like Robert Johnson, Muddy Waters and Howling Wolf.
Devi also delivers astonishing definitions of unprintable words like "motherf*cker", "c*ck", and uncovers the origins of terms like "mojo" and "hoodoo," and the influence of voodoo on rock and roll.
Originally published in print by Billboard Books, The Language of the Blues won the ASCAP Deems Taylor award. The new edition published March 2012 by Guitar International includes over 40 color and BW photos, plus updates.
The author is an accomplished rock guitarist who fell in love with the blues after seeing Chicago blues guitarist Son "Bad Axe" Seals rip it up onstage with Koko Taylor. The Language of the Blues comes with a free download of Devi's critically acclaimed rock album, Get Free. She's a Fender Girl Rock Nation artist and the first female guitarist to record for Guitar World's Lick of the Day iPhone app.