By: Rick Landers
Photography by Joerg Kliewe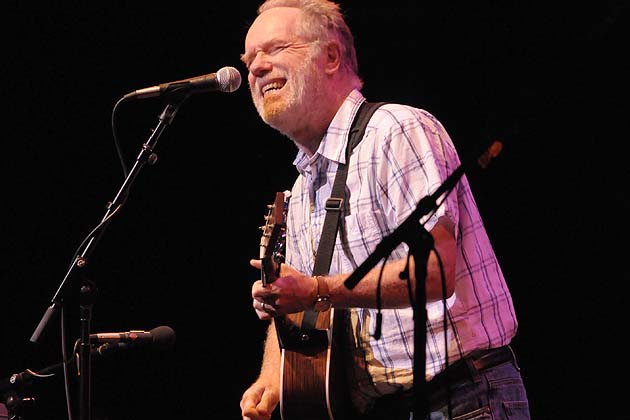 An evening of homespun humor, country ballads and a little bit of twist and shout rolled into Wolf Trap starting with an expressive set by Loudon Wainwright III, followed by  Mary Chapin Carpenter, both Grammy winning artists.
The Wolf Trap Foundation for the Performing Arts outdoor theater was serving up a "family style" buffet of American melodic pie this night .
Under the rafters, the audience found their seats, while fans hanging out on the lawn and under the stars, pulled open wine corks and cut a fair amount of cheese. (Thanks Loudon, for reminding us of the wonders of flatulent humor later this evening, during your poignant and funny ode to your family's dog).
A splendid breeze wafted through the open amphitheater offering a cool respite from the hot summer, when Wainwright took the stage, laid back in faded blue jeans and his Martin guitar, offered up personal tales peppered with wink and a nod humor and underlying truths.
What was most remarkable about Wainwright, was his ability to prove how one guy with a guitar has enough muscle to corral the attention of a couple of thousand people, make them laugh, tug at their heart strings and make them all feel like long lost friends.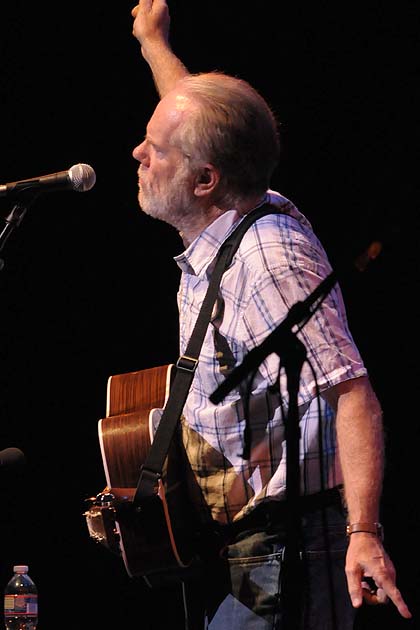 "All my material tonight will be about life and decay", he slyly dropped on us, setting up our expectations, with a wry smile.
Wainwright fans are familiar with his earlier twenty-four albums, but this night he steered his way to songs from his latest CD, Older Than My Old Man Now.  And when he mentioned it, he added, "…that's not on sale tonight".
In a vein reminiscent of Will Rogers, without the political bent, Wainwright's performance was a bit of "Oh, shucks" tied to tongue wagging antics, wit filled lyricism and hilarity.
After Loudon charmed the crowd, the evening was ripe for "local girl" Mary Chapin Carpenter to hit the stage with her spot on five-piece crew.  And the D.C. crowd welcomed her back with vigor. She strolled through cuts from her new album, Ashes and Roses, as well as served up her sought after hits, coveted by her fans.  She told us that her new album was about life and "tough things", "dark things" and sometimes about when "the sun comes out a little bit".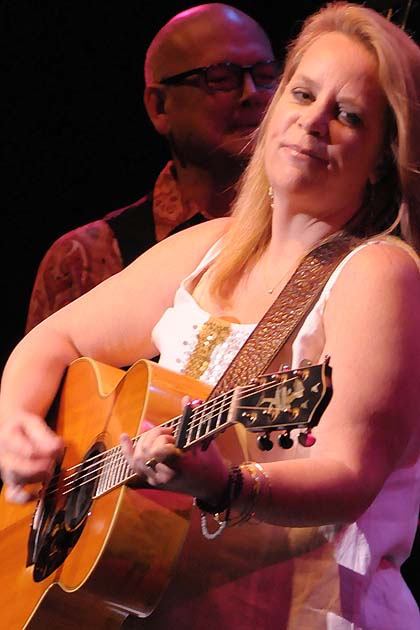 First up from her new release was "Chasing What's Already Gone" with its lyrical poetry about the bittersweet reminisces of times and relationships past, all wrapped up in an easy going melody, a perfect backdrop for her ruminations.  More songs from Ashes and Roses showed up including, "Transcendental Reunion", as well as those from earlier albums, like "The Way I Feel", off of The Age of Miracles.
But, the sparks flew, as would be expected, and the crowd lit up when her band unleashed the opening riffs of her hits, that included, "Shut Up and Kiss Me", "Passionate Kisses", "Down at the Twist and Shout" and others.
Armed with a fine five-piece ensemble made up of guitarist John Jennings, keyboardist Jon Carroll, drummer Vince Santoro, bassist Don Dixon, guitarist Jim Henry, Chapin moved with ease between her new emotional wrought songs and harder driving sassy excursions.
All the while, Mary switched guitars that included a jumbo acoustic, a dark burst parlor sized guitar, and a series of cool electrics, like her red and blue Rickenbackers and a yellow Parker Fly – all, apparently, in different tunings.
Chapin's emotional lyrics laid bare her heart, as well as her soul, conveying love's and life's disappointments, but with a resilient optimism and sense of purpose that would always move and drive her to a brand new day – a confession of faith in life's ever present promise.
Both Loudon and Mary have a talent for emotionally connecting with their fans in an easy going style, while presenting tales of human frailty, life's darker roads, and the smiles and sunshine that always rise up to warm our hearts.