By: Brad Conroy
Guitarist, composer, performer and producer Alex Walker is probably one of the most creative, hardest working and best musicians that you have never heard of. Although, this might not be the case for much longer as he is an extremely gifted player who is able to thrive within any musical situation.
Walker effortlessly moves between genres and is able to make his presence felt whether he is playing bass guitar with the modern rock band Family of the Year or the Avant-garde chamber group Electric Kompnay, led by guitar extraordinaire Kevin Gallagher, tearing up nasty guitar lines with his former New York band ALOKE, composing television sound tracks, or producing his own highly detailed and adventurous pop music that he allows to be downloaded for free through his long time compadre Brian Grosz's record label Lap Dance Academy.
Once on a path toward becoming a competition winning classical guitarist Walker holds both his B.M. and M.M. Degree from the Hartt School of Music where he studied with master pedagogue Richard Provost.
Straying a bit from this direction over the past few years he has been focused on his own unique and emergent style which fuses his knowledge of the classical guitar repertoire with elements from within the rock, hip-hop, jazz and soul idioms to name a few.
Walker is an intriguing figure to say the least whose music is not only inspiring but creative, clever, technical, catchy and he is dedicated to his art with what are no doubt a deep discipline and a burning fire.
Walker recently sat down with Guitar International to discuss his conservatory training, his new EP Tutti Mondi, playing bass for Primus, the classical guitar and more.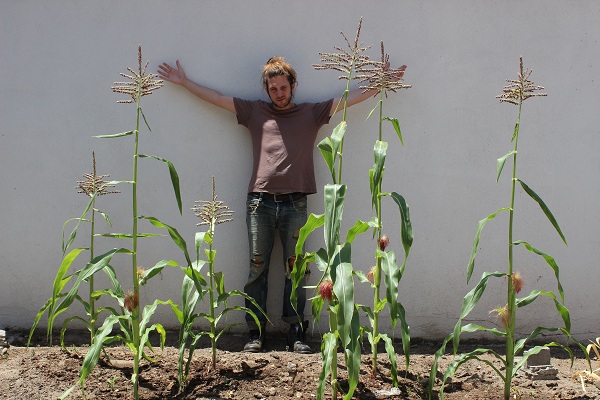 ******
Brad Conroy: How did you get started with the guitar?
Alex Walker: I had been playing music all along ya know, playing cello in the school orchestra, taking some piano lessons, admiring my father's stack of club-smelling bass gig bags that were always sittin' next to my mother's piano.
Always had it in my periphery.
But I definitely got bit by the bug in the spring of '92, when i found myself with dubs of Nevermind, Blood Sugar Sex Magik, Ritual de lo Habitual, and Reality of My Surroundings.
The guitar playing on those four records was so eye popping and dangerous and sexy that I knew that I first, needed to learn how to do that, and second, figure out how to write things like that myself.
It also opened my ears to all of those band's influences, Bad Brains, Zappa, Mingus, Flipper and the like.
Brad: How has completing two degrees in guitar performance helped your career?
Alex Walker: I can say that it has given me the tools and the experience to walk into any musical situation and lend a hand.
I can speak the language when I find myself in a room with other conservatory trained musicians, or I can speak the folk language with musicians who, maybe they didn't go to school for it and speak that music theory jargon, but they use their own cultivated language to express what they are after.
Being able to interpret what everyone are trying to get at. Ultimately, it is our ears that do the most important work.
So, being immersed in a conservatory setting for six years definitely refined my ears to hear the minutia, as well as the larger architecture of a song, piece etc.
It also made me develop a work ethic. I was a mess at 18. Somewhat talented, and I knew that this is what I wanted to do with my life, but organizationally speaking, I was all over the place.
School, and its sometime insane demands, taught me how to create order so that I could improve as rapidly as possible.
Brad: Can you tell us what your experience with music school was like?
Alex Walker: It was a very special time in my life. I went to the Hartt School, and studied with Richard Provost.
We definitely had a simpatico. I really surrendered myself and checked my ego at the door in order to get the most out of his lessons.
He really is one of the most superb teachers in the world.
His level of observation was at times uncanny.
For instance, making the most minor, subtle physical change in one's posture all of a sudden brings out this beautiful phrasing in their playing.
He definitely instilled in me a love for the guitar, as well as a love of teaching and passing down this artistic tradition. For that I'm eternally grateful.
School was also a place where I've forged life-long friendships and working relationships.
As a composer, I've written some pieces for the Alturas Duo, with whom we used to share all-nighters in the practice rooms, pushing each other to strive more, and to give each other honest critique of our playing.
Brad: What made you stray away from serious classical guitar playing?
Alex Walker: About 2005, I was still practicing heavy duty repertoire every day, teaching about 50 students a week, and playing solo classical guitar concerts at libraries, churches, wherever I could get a concert.
I was feeling a bit boxed in.
I wanted to tour, and play guitar societies around the world, but, having not won a major competition, which at the time seemed like the only way to jump start a career in classical music, I started to veer from that rigid lifestyle.
I didn't want to practice 40 hours a week just to play at an area library, and I was very interested in playing for my peers, not for the older demographic who keep up with the library calendar.
No disrespect to our elders, I am beyond grateful that I had people attend those concerts, but I wanted desperately to share my music with kids, and that just was not happening the way I was going about it.
I also wanted to inject what I had worked so feverishly on into the electric guitar, and give my electric guitar playing a new dimension, let it be informed by the contrapuntal, the exotic harmonies, the virtuosic lyricism that I had become well versed in.
But I do still play a lot of classical guitar pieces. I work on Bach suites, Albeniz's Suite
Espanola is a life long love of mine.
I had the pleasure to work on Sevilla and Cataluna with Manuel Barrueco at one of his summer master classes. That was a real treat.
He gave me some knowledge that I use everyday in my playing. I also sight read as much as possible, whatever I can get my hands on, to keep circulating that sound thru me in hopes that it will inform my own writing.
Brad: Can you tell us some of the ways you are able to make a living with your music?
Alex Walker: Performing, touring, whether it be as a side man or my own projects, writing music for television, which I have done steadily for a while now.
Sometimes it's more scoring, where you are writing/producing to picture, or, library type cues, where you are given a genre or reference tracks, and you produce two minute instrumentals that are in that vein.
Making your music available for sale online, while not so lucrative in this day and age, but I still find that there are people who genuinely support your work, and they will purchase your music even when they know they can get it for free somewhere.
In New York, I did a bit of busking in the subways, which proved lucrative, not so much of that out here in Los Angeles though.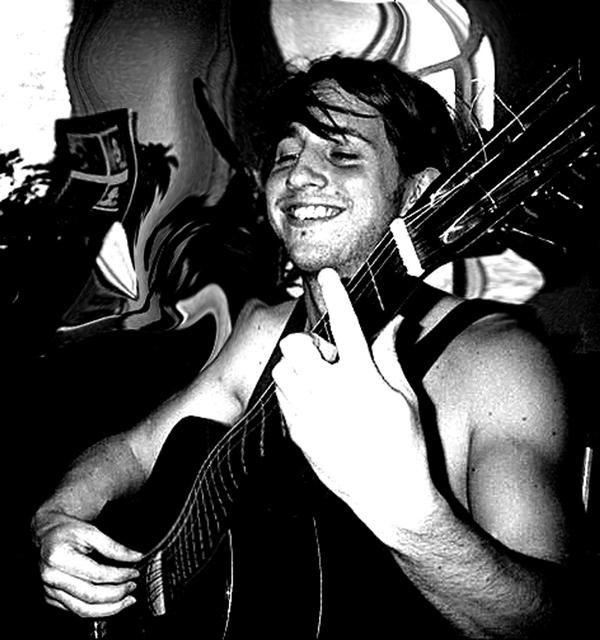 Brad: How is the music scene in LA compared to New York?
Alex Walker: I think that there is a scene in LA. New York always felt way too scattered and too much going on.
No solidarity. Everyone in it for themselves. Los Angeles has a more communal vibe, and, one thing I have encountered is that there is fair share of venues who don't charge cover a couple nights a week.
You can walk in, listen to five new bands, and walk out and not spend a dime.
Music for music's sake.
Also, and I think this is the clincher, LA has radio stations that people give a shit about.
It's a car culture out here, so there is an all day venue for local bands trying to claw their way.
New York hasn't had a good radio station that caters to local music since the '80s. It seems like people are generally more engaged in what is being made musically here than elsewhere.
It's really refreshing, and I've had a lot of fun so far immersing myself in it.
Brad: What advice can you give to those who want to make a career out of music?
Alex Walker: Strive to be the absolute best at what you do. You must work harder, longer, more intensely than anyone around you.
This has got to be one of the hardest things to do and sustain a career out of, but it is possible.
You must be completely dedicated. I know they say everyone needs a plan B, but as soon as you rely on your plan B, plan A is taken away.
It really is the truth. You must approach it with reckless abandon, and want to do it not for the illusion of riches and fame, but because the music, and the development of your own personal artistry means so much to you.
Also stay away from all the excesses. It's easy to say and not so easy to do, but substances can fuck you up royally.
You don't have to have a severe heroin addiction for your plans to become derailed.
There are opportunities that come about that you have no way of knowing where they will take you, but you must be alert and prepared to knock every last one of them out of the park.
Every missed opportunity is a major blow to your reputation and career.
Brad: What is Lap Dance Academy?
Alex Walker: Lapdance Academy is a web based record label founded by my dear friend Brian Grosz.
The idea behind it was to release music for free, with the mindset that, in this day and age of music piracy and people up in arms about getting their monies from their music and all of the drama that goes with that, we decided that we were more concerned with building an audience and getting the music into ears, than demanding monetization, and having people either dismissing your music entirely, or finding it somewhere for free anyway.
And where else can you go to a site and download the entire catalogue for free and not be breaking some law?
There are some stellar recordings on that site, I would urge everyone to go and check it out.
Brad: Can you tell us about Electric Kompany and how you got involved with that?
Alex Walker: In 2005 I answered a Craig's List ad for something that read, "Bassist Needed for Avant Pop Project" or something close to that.
I recognized the reply to email address as being for one Kevin R. Gallagher, classical guitarist extraordinaire. I had actually taken a few lessons with him maybe four years before.
So I audition on bass and he throws down a piece by composer Nick Didkovsky to sight read. Its got two voices going against each other, and, due to my guitar background, it came quite natural for me.
In short, Electric Kompany is a rock quartet that performs new works by composers. Kevin Gallagher on electric guitar, James Johnston on keyboards, Eric Poland on drums, and myself on electric bass.
We've been fortunate enough to participate in some amazing concerts and collaborations in the past with other new music contemporaries like Dutch composer Jacob TV, Bang On A Can's Mark Stewart, string quartet Ethel, American composer Marc Mellits, and the Cleveland Youth Orchestra.
Brad: Can you tell us about the creative and recording process behind your new album Tutti Mondi?
Alex Walker: On this first EP, I strived to make a four-song suite, that, even though each song was a separate thought, and each existing in their own world, I wanted to get my mix game together and try to sew them together thru the production and mix.
It's my own version of bedroom recording I guess, it all went down at the crib, with limited gear but unlimited time.
I mixed each of those tunes like 15 times, learning as I went, and really using it as an exercise in production.
I'm mildly impressed at what I ended up with, but satisfied enough to do another one.
Brad: What have been some of the highlights from your career so far?
Alex Walker: In no particular order, but I got to play bass with Primus last year.
It was a freak occurrence and I was just in the way when Les wanted to get a refreshment during their set.
Suddenly I was thrust on stage and being asked by Les which song I wanted to play.
It was surreal and a complete honor to play with them.  I've been learning their riffs since Seas of Cheese.
There's YouTube footage of that.
Another moment was going to Chicago with my old band ALOKE and making a record with Steve Albini.
For two weeks we locked ourselves in his studio and worked very closely with him.
With him having recorded some of my favorite records of all time, it was just an amazing experience to share with him our songs, and to see how he captured it.
Another highlight was from just last year, where the band I play bass in, Family of the Year, we went to perform at Vielle Charreux, which is this beautiful festival in France, it was set in the countryside and I just felt Europe. It enveloped me.
Between the wine, the fois gras, the smell of the crowd, the accent of the monitors guy during soundcheck, and the French applause, I became rooted firmly into the terra.
It was powerful. One other moment that has its own place in my memory is I was asked to be a guitar soloist with the Hartford Symphony Orchestra when they performed a suite from the Final Fantasy video game legacy.
During one section of the program, the orchestra goes into this kind of flamenco castanets violin fury that I could only imagine being some involved chase sequence.
So I come out, sit right up front next to the conductor and start hammering out these insane runs that I slaved over for the previous 3 weeks.
When I finish the section, I look out and literally it was like a couple thousand kids who were obviously huge fans of the game, dressed head to toe as their favorite character.
And they are giving me this nice big healthy applause, hootin' and hollerin'. It was awesome. They really enjoyed it.
I remember playing that game on Sega genesis back in the day. I had no idea what it had grown into.
Brad: Where do you see yourself in the next five years?
Alex Walker: I guess a continuation of what I've been doing all along. I've got a new performing project in the works, very early stages, but I have lots of ideas for it, its gonna be the cats pajamas…combining some revealing songwriting with adventurous guitar playing, topped off with cute, disarming, unbridled, brutality.
Something that I've been reaching for sometime, but I think Im getting it into focus.
But a real "gesamtkunstwerk", a complete idea, an aesthetic descripted from top to bottom. Really throwing in the kitchen sink and making sense out of all the influences.
In addition to that, a continuation of provocative guitar compositions, touring and performing, trying to be a healthy happy human, and visiting my friends around the world who put big smiles on my face.