By: William Clark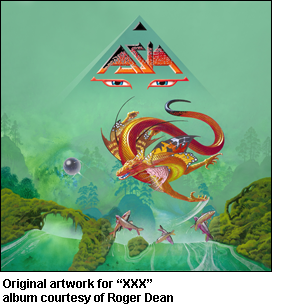 Asia is a progressive rock supergroup featuring an all-star progressive rock lineup of keyboardist Geoff Downes, formerly of Yes and the Buggles; guitarist Steve Howe, formerly of Yes and GTR; drummer Carl Palmer of Emerson, Lake and Palmer; and lead vocalist John Wetton, formerly of King Crimson.
This dynamic musical group first dominated the airwaves and album charts back in 1982 with their signature hits "Heat of the Moment" and "Only Time Will Tell," and yet after 30 years Asia is not only giving the world another powerful musical masterpiece, but they also somehow manage to continue to bring something new to the table and keep their songs sounding fresh and young.
Their new studio album, XXX (pronounced Triple X,), is an incredible compilation of hard rock, progressive rock, and a few modern influences that come together brilliantly to make this album a consistently thrilling Asia music hour.
Between the incredible lead vocals, classic synthesizers, a powerful bass and percussion backbone, and spine chilling vocal harmonies, it appears that the members of Asia haven't lost a single step; if anything, they've gained a few.
XXX marks the 30th Anniversary of Asia's debut album, and throughout these past 30 years and 13 studio albums, the members of Asia have been musically advancing, becoming only better and better at their craft.
I believe the creativity and the amount of talent that comes along with 30 years of musical experience is truly starting to come out in XXX, such as the combination of synthesizers and piano playing in "Bury Me In Willow" (which works surprisingly well), and the use of more expansive guitar effects in "Judas").
Somehow Asia has managed to maintain their classic sound throughout the entire album, which was the real surprise to this listener.
Those signature synthesizers that helped bring depth to Asia's earlier releases have returned to give this entire album a powerful yet not completely overwhelming 80's vibe.
The fact that John's voice sounds exactly as it did on the band's earlier efforts only contributes to the powerful '80s nostalgia this album flawlessly delivers, and it makes the musical experience for the listener that much more enjoyable. I personally enjoy the entire album from start to finish, but to me the tracks that really stand out are "Tomorrow the World," "Face on the Bridge" and "Judas."
Overall, I believe that XXX is an incredible album by Asia, which not only shows the band maintaining their classic 80's progressive rock sound, but after 30 years starting to musically advance and evolve into a greater band altogether.
I can easily say that there is more than enough material to make this album a great fit to your musical collection. And at the very least deserves a listen to.