By: Staff
Hard Rock is committed to recognizing and supporting emerging talent.  Never has this been more prevalent than with the announcement of 17 year-old Noah Benardout's residency for the month of July at Hard Rock Cafe Hollywood Blvd.
"Noah is an incredible talent that Hard Rock was lucky enough to discover last summer on the recommendation of famed rock photographer Robert Knight," said Eileen Mercolino, Brand Marketing Manager, Hard Rock Cafe Hollywood. "We are super excited for Noah's shows. He has already proved his value, selling out two previous shows here at the Hard Rock Hollywood Blvd and it was a natural choice for us to offer him a residency.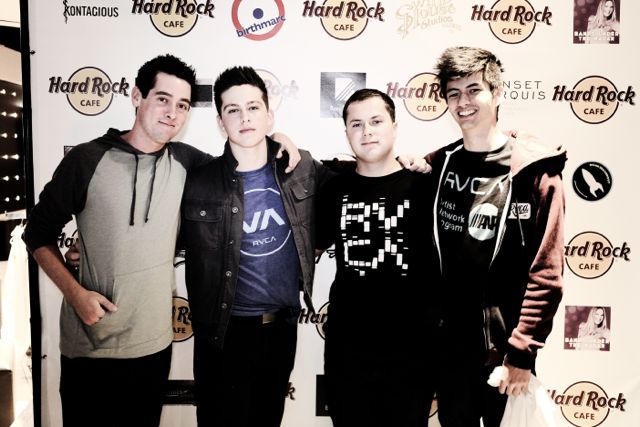 This time though, we are pulling out all the stops and Noah's July shows will be more of an event series that celebrate his talent, charities that he has chosen to endorse and other unique emerging artists that he has personally selected to support him ".
Noah Benardout's residency will begin on Friday, July 6, 2012, with an Independence Day theme and culminate on Friday, July 27, 2012 with a party in honor of Jimi Hendrix's 70th birthday.  Support acts for the series include Black Vinyl (July 6th), Haddon Cord (July 13th), Michael Lemmo (July 20th), Chronolung (July 27th) and Brotherhood of the Guitar (July 27th).
Noah Benardout's residency is sponsored in part by Fender, Guitar Center, Swinghouse, BandPage, Floyd's 99  Barbershop, Bands Under The Radar, Kings of A&R and the Sunset Marquis.
What:  Hard Rock Café Hollywood Blvd Hosts its July Residency Artist
NOAH BENARDOUT plus support
Friday, July 20, 2012
10:00 p.m.   Michael Lemmo
10:45 p.m.   Noah Benardout
Friday, July 27, 2012
10:00 p.m.   Chronolung
10:45 p.m.   Brotherhood of the Guitar
11:15 p.m.   Noah Benardout
Where: Hard Rock Cafe Hollywood Blvd
6801 Hollywood Blvd.
Hollywood, CA 90028
Admission: $10 Suggested donation
To benefit The Fender Music Foundation & the Jimi Hendrix Park Foundation
Visit www.hardrock.com/HollywoodBlvd  for additional details.
About Noah Benardout
Noah Benardout is a 17 year-old singer-songwriter from Sherman Oaks, CA. Born in London, but raised here in Southern California, his undeniable talent may be related to his famous great great uncle, Irving Berlin!  Noah is recognized as one of the best young guitarists in the world and a founding member artist of the Brotherhood of the Guitar endorsed by Fender Guitars and Guitar Center. Noah also plays piano and synth.  Noah's debut EP "What Will Be…Will Be Vol.1" was released last year and produced by Don Gehman (Mellencamp, Hootie & the Blowfish, Tracey Chapman).  Two songs from the four track EP were selected by Bands Under The Radar for their Best of 2011 compilation album.  In January of 2012, Kings of A&R (a top 10 trendsetting music blog) listed Noah as one of eight emerging artists to watch.  A prolific writer at such a young age, Noah continues to hone his craft with jaw-dropping performances, most recently at Hotel Café, NAMM, South By South West, the Whisky A-GoGo and Live at Sunset Marquis.  Noah is an endorsed artist for Guild Guitars, Fender, Korg Keyboards and JH Audio, and is working closely with the Fender Music Foundation for the promotion of music education to the under privileged.  In March 2012, Noah released "We Battle" specifically written for proceeds to go to the Foundation.  Even as an unsigned artist, through word of mouth, Noah's website has amassed over half a million dedicated hits in under a year. All his music is currently downloadable for free and to date his music has been downloaded 86,702 times! For further information, visit www.noahbenardout.com.
About Hard Rock International
With a total of 175 venues in 53 countries, including 139 cafes and 16 Hotels/Casinos, Hard Rock International is one of the world's most globally recognized brands. Beginning with an Eric Clapton guitar, Hard Rock owns the world's greatest collection of music memorabilia, which is displayed at its locations around the globe. Hard Rock is also known for its collectible fashion and music-related merchandise, Hard Rock Live performance venues and an award-winning website. In addition to the two flagship Seminole Hard Rock Hotels and Casinos in Tampa and Hollywood, Fla., Hard Rock Hotels/Casinos are located in Las Vegas, Biloxi, Orlando, Chicago, San Diego, Pattaya, Bali, Macau, Penang, Singapore, Punta Cana and Panama.  Additional hotel and casino projects planned to open in 2012 include Cancun and Vallarta; Riviera Maya in 2013; and Abu Dhabi in 2014.  Additional announced hotel and casino projects include Aruba, Hungary and Northfield Park.  Hard Rock International is owned by Seminole Hard Rock Entertainment, Inc. For further details on Hard Rock Hotels and Casinos, visit www.hardrockhotels.com.  For more information on Hard Rock International, visit www.hardrock.com.