By: Rob Cavuoto
Guitar God, Innovator, and Virtuoso – those are the first three things that come to mind when I think of Joe Satriani.
He is one of the most respected guitarist's in the world who has forged an amazing solo career selling more that 10 million CDs worldwide and has had played the world to sold out crowds with Greg Kihn, Mick Jagger, "G3" guitar extravaganza, and most recently Chickenfoot.
Now Joe's newest project is the releases of his critically-acclaimed live concert Satchurated: Live in Montreal on 3D Blu-ray, DVD and CD. Satchurated was recorded and filmed in front of a live audience during Satriani's "The Wormhole Tour," supporting his studio album Black Swans and Wormhole Wizards, at the Metropolis in Montreal, Canada on December 12, 2010.
I had the pleasure of speaking with Joe just before hitting the stage in Lake Tahoe for Chickenfoot's opening night of their US tour to talk about his new DVD and the gear he used for it.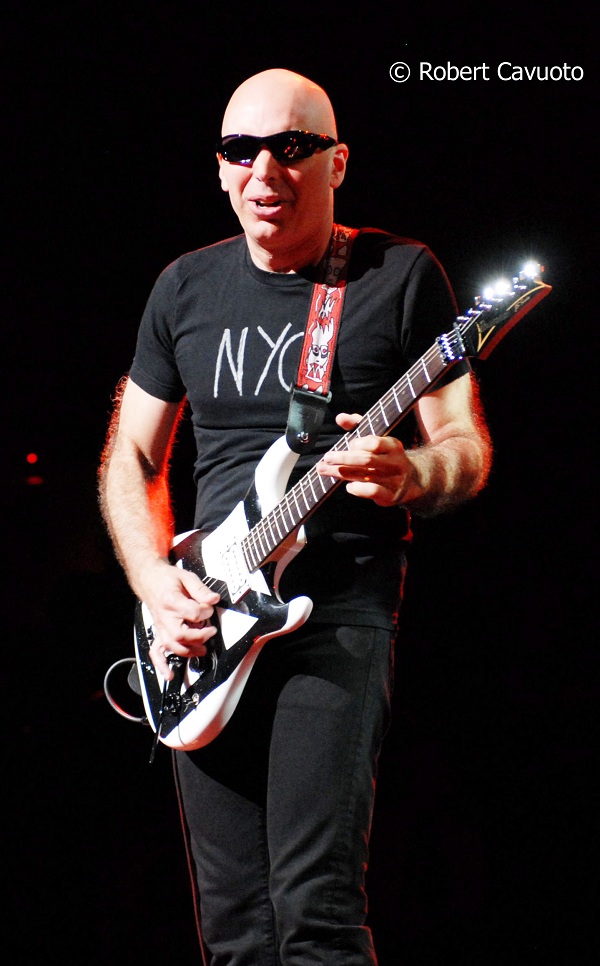 ******
Robert Cavuoto: Congrats on your new DVD Satchurated: Live in Montreal going to #3 on The Billboard DVD chart.
Joe Satriani: Thanks. We never expect something as crazy as this! It's a great little bonus.
Robert: I put the DVD on the big screen TV and felt like I was at the show. Is there any difference between the DVD version and the Blu-ray version?
Joe Satriani: Here's the crazy thing, the Blu-ray is actually a different video cut because it's actually filmed with different 3-D cameras. I don't know how many 3-D cameras they had, but they were in different places than the other cameras.
It's a subtlety, but I think the Blu-ray actually captured the better looking show just because of their angles. That version became the theatrical release. Both edits were equally painful for me to watch because I can't stand looking at myself.
I wanted to make sure that the hardcore fans really got to see everybody really playing, so we got rid of any special effects that were part of Live in Paris, and made sure it was more like a concert vérité.
Robert: Was it filmed over multiple nights in Montreal or was it all one straight show?
Joe Satriani: No, it was one show. It's funny, I've never been able to afford multiple shoots. It's always "make or break," show up and go with it.
Robert: Do you find it difficult to pick the set list knowing that it's going to be filmed for a theatrical release?
Joe Satriani: Yeah, it's tough. A performer that's been around for longer than three records is going to start playing fewer songs than they've released. There's always a good percentage of the audience that has never seen you before and you need to play your most popular material.
Also, they want to hear some new material because they may not know any of your previous albums. They might only know the newest ones. Then there are the people who have seen you maybe 20 times and they're getting sick of seeing you play "Satch Boogie" or something. We basically have to walk a thin line where we play some hits.
We play as much new material as the market can bear depending on how popular that new album is, and then we try to throw in obscure songs for those hardcore fans that have been waiting for us to play them for 10 or 20 years.
There are basically hundreds of songs. It's so daunting. There's always gonna be somebody in the audience who says, "How come you didn't play this or that?"
Robert: I know in the past you've polled your fans for insight on which songs to include in the set.
Joe Satriani: Yeah, we use our fans at Satriani.com as a great resource for picking songs. When you're sitting at your computer and you read 200 responses you may think the entire world is yelling.
In reality, when a band like ours goes out and tours, we're playing in front of half a million people in a few months, 200 responses is nothing. It really doesn't reflect the majority of the people that are gonna come and see you.
The real R&D is the show. When you're out there and you're playing a song, you've got to look at the audience and feel the vibe coming back. That will tell you whether it's worth playing some obscure song from your third album or not. It's got to work for the show. It's got to work with the band and it has to be something that makes the night exciting.
Robert: Do you have a lot of flexibility with changing the set list from city to city when you feel the need?
Joe Satriani: I like to keep the set list pretty tight and do the same songs just about every night. Since we're an instrumental band, we do have some freedoms in that we have songs with built-in areas of total freeform improvisation.
That's where we let loose, in those areas, rather than just keep calling up different songs every night, which I think makes it harder for front of house sound and certainly the LD. The light show, they've got to know what we're doing.
I'm always trying to get it right. When I start like a six-week tour, I make the decision: these are the 22 songs we're gonna do and it's my chance to do these better than I've ever done them before.
I guess that's why I like the repetitiveness of the show from our perspective, because it gives me a chance to really work on it.
Robert: Tell us a little bit about the gear you take out on the road, particularly for the Montreal show. What did you use?
Joe Satriani: There were two things that were pretty interesting, if you ever get a chance to go back and look at the DVD, you will see me looking down every once in a while at my neck.
That's because I made a point to play my new Ibanez 24-fret JS-2400 almost exclusively throughout the set. I still, at that point in the tour, wasn't completely comfortable playing on 24 frets.
I've played on a 22-fret guitar almost my entire career and I thought it would be a piece of cake, but believe it or not, it kind of threw me a little bit. Every once in a while I'd look down and go, "Is that what I think it is?" [Both Laugh].
That part was funny and I get a chuckle when I see myself sweating or playing something wrong once in a while. It's just kind of funny.
Robert: So just for the extra challenge, you said, "I'm being filmed and I'm gonna go out with a different guitar." [Both Laugh]
Joe Satriani: Yeah, but the guitars sound great and ergonomically they're so much more fun to play. They feel better.
For a couple of them, I had Sustainiac pickups put in. They really kind of set me free artistically on a few songs, like "Wind in the Trees" or the song "Why," where there's a lot of improvisation. "Andalusia" is another one where I do a lot of just crazy rippin' it up.
They were great. Those guitars were so much fun to have around for me to play. The other thing was, I had the final prototype for my Signature Marshall head. This March at the Frankfurt MusicMesse, we released my signature Marshall JVM-410 head. I think they call it JVM-410 JSH. It's a 100 watt head, 4 channels, 3 modes per channel, 4 noise gates, effects loop.
It's a beautiful sounding amp. I used it on the album Black Swans. I used it on the album Chickenfoot III, and I've been touring with it all the way through the making of Satchurated. I've been using it on the Chickenfoot tour. I used it last week for the Montrose tribute in San Francisco. It's so versatile.
For that I just used a different channel to dial up a real vintage sort of Montrose guitar sound and just stayed there for the night. For me, I love Marshall amps and it's hard sometimes to pick the one Marshall you want to walk out onstage with.
This particular 4 channel head has a lot of the history of Marshall that I really love: the clean amps, the slightly dirty, the modified slightly dirty and the complete overdriven. It gives me so much flexibility when I hit the stage.
What I noticed, even with Chickenfoot is you've got a song where you're kind of clean. The next song you're kind of dirty. The next song you're pretty dirty. The other song you've got to be completely overdriven.
What are you gonna do? You gonna bring out five amps or are you gonna have nothing but pedals, which never sound exactly the right way?
Eventually you say, "Wow, I wish I had an amp where I could get those five sounds in the course of one night," so I could just step on a channel, switch a button.
That's why you see a lot of those amps and pros using them. They have a job to do. We want to represent the music on the album for the fans as closely as we can. Amps like these make our lives so much more fun and it kind of set us free artistically.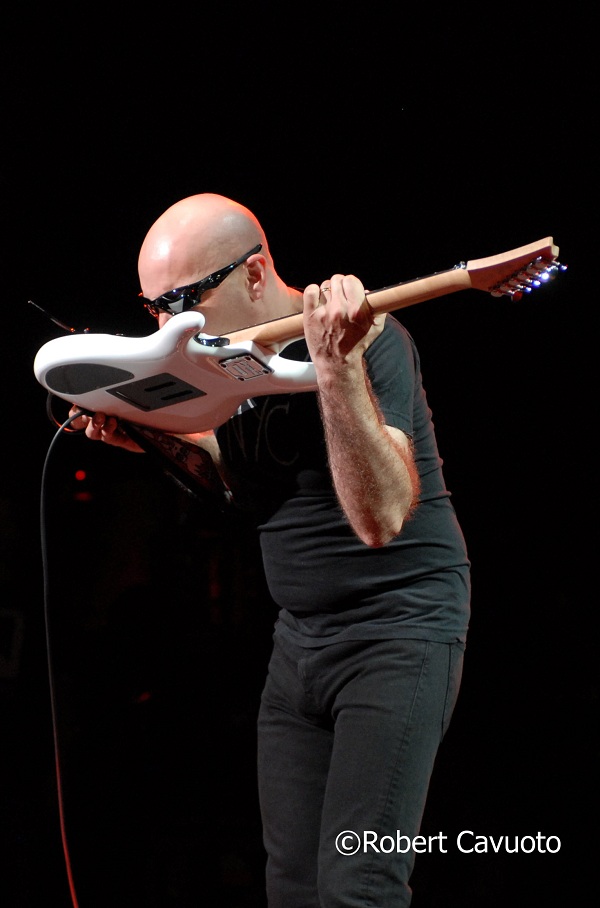 Robert: I love when you play with your teeth. What's your technique?
Joe Satriani: My dentist always tells me, "Stop playing with your teeth." I started doing that when I was 14 years old. I was a Hendrix fanatic. It was something I just thought was so funny, yet at the same time really cool.
There was a long period where I never did it. I'd go through periods where I'd give things up like that. I remember I gave up the Wah-Wah pedal for about five or six years until I recorded Surfing With the Alien. I remember bringing it back just because I'd given it up and I thought, now's the time to flip it around. Somewhere along the line, I think when I started with Chickenfoot, or maybe it was with the G3s because we were doing Hendrix songs. I could probably figure out a way to fake it. That would make my dentist happy.
When you go to play with your teeth, it obviously sounds like the technique is getting all messed up. It should have that anxiety sound to it. If I start playing with my pick, it will just sound like…what's the point?
Robert:  Guitarists are always out there talking about guitar tone and chasing tone. How important is tone to you compared to the other aspects of playing? Do you think people are getting lost in the marketing of products promising the best tone out there?
Joe Satriani: Well, here's the thing. The thing about tone is that when people talk about the best tone, they're really talking about homogenizing. In other words, when I worked in a guitar store, people were always chasing after the ultimate Stratocaster tone, the throaty tone of the neck pickup and everything.
What they're really doing is they're saying, by consensus, that tone on that album on that song IS the tone, and if you don't have that tone, you don't have good tone.
To me that's so un-artistic. It's the total opposite of the way I think of things.
Everything that Neil Young has played, that's amazing tone. He has never done that Stratocaster tone and thank god he hasn't.
I don't want to hear him sounding like Stevie Ray Vaughan. I want to hear him sound like Neil Young. Same thing with Jack White or Jeff Back.
Even if you look at Hendrix: Hendrix played with a thousand different tones. He never tried to have one sound. For those first three studio albums and live with the Band of Gypsies, that's an amazing amount of guitar tones that he put down.
He was never found chasing that one particular sound, the Les Paul through the Marshall, or the Stratocaster through the most fetished after, old, tweed Fender amp.
They have their place, but really we're trying to tell a story with the sound. I think it's better to come across with some unusual sounds. If you listen, through my career I've always changed my guitar sound, even some records. I go the other way.
I want to be the iconoclast with the guitar tone. I want to not use the big sound or sometimes I want nothing but big sound. It's all about the story I'm telling. It's not about self-promotion.
Robert: At what point in your career did you realize that your style was truly unique and that you were innovative with your sound?
Joe Satriani: I have never reached that conclusion. [Both Laughing] I think if anybody does, it's probably a dangerous ride. I'm forever chasing and trying to be better than I was yesterday.
I'm trying to develop gear that makes that transition from inspiration to reality as seamless as possible. Being restless artistically is for me, the most creative way to be.
Robert: When you were young and starting out, was there ever a band that you auditioned for who didn't hire for whatever reason?
Joe Satriani: I think the funniest one was a band called Guffuria. I kind of knew what they looked like and maybe heard a song or two. Obviously I didn't look the part. My hair wasn't that long and it certainly wasn't blonde. Everybody in the band kind of looked like rock and roll Adonis, LA style, mid-80s.
Here I was, an obscure instrumental guitar player. I got through the audition and they seemed to like what I was doing. I guess they figured they could spruce me up a little bit in my appearance. As we're packing up, I said, "You know I have a solo album?" and they were like, "Really? What's it sound like?" so I put on Not of This Earth, which was yet to be released.
I remember after I played it for them, there wasn't a whole lot of joy in the room. A few hours later I'm on the plane, and the bass player was also a Bay area resident, so we were sitting there on the plane and he said, "I'm sorry to say, but when you pulled out your solo record and played it for us, that sort of killed your gig." [Both Laughing]
I couldn't understand why. I said, "This is just some other side of what I can do. I thought maybe you guys would want to know that," and he said, "No, we want this. We want you to play this way. We don't want to know about anything else." I was like, okay, fine.
I remember sort of limping back home thinking, okay, that's really weird. I lost the audition for showing them a larger creative ability, but I never looked back.
Within a short period of time I did get into the Greg Kihn Band and play with them for a year. About two months after that I was in the studio recording Surfing with the Alien. Things turned out okay.
Robert: Do you have a preference of being in a solo artist versus being in band, what are some of the pros and cons?
Joe Satriani: I like both. I've got a big capacity to be involved with a lot of different bands. That part doesn't bother me at all. I don't really have any problem switching gears here and there. They're so different in the artistic payoff.
When I'm in Chickenfoot, I have so much less responsibility because I'm not the solo artist. Sam is really the guy holding the flag, leading guitar, so I get to take three steps back and hang with the rhythm section, which is a luxury I don't get when I'm the solo artist.
As a solo artist I'm out front and sort of fronting on the band musically as well as visually. That's a very different artistic payoff. It's a lot harder work.
When we go out and do a show, as you can tell from the DVD, two hours and 40 minutes of non-stop melody and solos. That really works my left hand like crazy. A Chickenfoot show is an hour less, a lot more festive and a lot more rhythm guitar playing.
It's a completely different thing. We're lifting people up in a very different way. The two of them complement each other for me.
Robert: What can we expect different from this Chickenfoot tour from this one with the first CD?
Joe Satriani: I think this tour really benefits so much from having two albums worth of material to play from. I think we have a much better show that flows the way you want a live show to flow.
We've got heavier songs and lighter songs to choose from, which makes the dynamics of the show really good. We've got a whole new light and projection and film background that's integrated into the show. I haven't actually seen it yet, so tonight I'm gonna be turning around going, "What's going on?"
I've been seeing all the footage that all of us had to; so that part of it is really exciting to know that we've got a bigger show.