Article and Photos by: Joerg Kliewe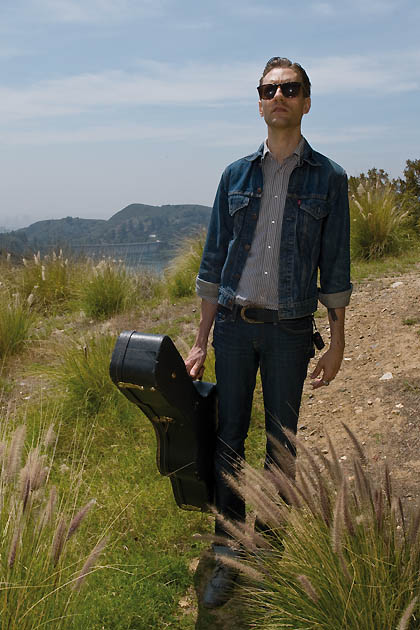 The music industry, as we knew it, barely exists anymore. There are very few major record companies left, record stores are vacant and the indie market has exploded. Despite the fact that it's getting harder and harder to make a buck in the profession, the natural drive to make music and bond with an audience remains strong.
Today, many working musicians find that they'd better be off releasing music on indie labels or marketing their music themselves; artists, like 34 year old Brett Detar from Los Angeles. Detar became a professional right after he finished high school. He joined the group, The Juliana Theory, as the front man. The group signed on with an independent label called Tooth and Nail and released a debut album, Understand This is a Dream in 1999 and in 2001, Music From Another Room (EP).
That same year, they hit the road on The Warp Tour, and signed with Sony/Epic that resulted in the release of their third album, Love. The album, produced by Jerry Harrison, became an instant success. An endless stream of non-stop touring with hundreds of dates plus more releases and collaborations with different labels were to follow.  In time, and after considerable success, it felt right to all members that Juliana Theory had run its course.
In 2010 Detar released his first solo album. Bird In The Tangle , a collection of tunes inspired by traditional folk and Americana music. And he's embarked on a career that includes composing music for television and cable networks, as well as film scores.
Guitar International's Joerg Kliewe met with Brett Detar for a photoshoot during a break in his recording schedule up in the Hollywood hills. During their talk Brett offered his perspectives and insights into what it means to be going it alone, as a solo performer.
Bird In The Tangle – Free Album Download Here
****** 
Joerg Kliewe: Brett, your music was brought to my attention via facebook. I must say that I find it remarkable that you're marketing yourself as a solo artist via social media channels and the internet only. And I find it quite unusual that you seem to give your music away for free. How did that come?
Brett Detar: Well, thank you, first of all. I guess the whole idea behind "giving away for free" – more or less – came from the fact, that first and foremost the most important thing to me right now was just that I wanted people to hear the music. And I wanted people to give it a chance. I guess I was kind of looking at it from the perspective of, you know what they always say, when you start a new business?
You're not expected to make money for the first couple of years. So, my whole thought process was: I'm starting a new business, I'm not gonna make any money for the first couple of years from it. I believe in the record and I want people to hear it. So, the best way for people to hear it is just to give it to them. I kinda thought that people are more willing to give something a chance if they don't have to pay for it, you know.
You might be like "Uhm, I don't know, if I wanna pay 14 dollars for this record or whatever, and I might hate it." But, if they'll get it for free and if they want to listen to it a couple of times they might end up liking it – or they might end up not liking it. My idea was to get it in peoples' hands, and hopefully people would end up liking it, or even loving it!
Joerg: But, beyond the mp3-download you do have hardcopies out too, even on vinyl, right?
Brett: Sure, I do have it on vinyl and I have it on CD. People who want to buy vinyl can pay for the album on vinyl. It's really high quality and that's kind of like the contrast. The free version is the free mp3-version and it's cool that the vinyl edition is extremely hand crafted – it's a really well done package. And then you have the CD which is somewhere in the middle. So, you kinda have every medium – maybe not cassette tape, although I know those are coming back apparently (Chuckles), but I haven't got into that yet.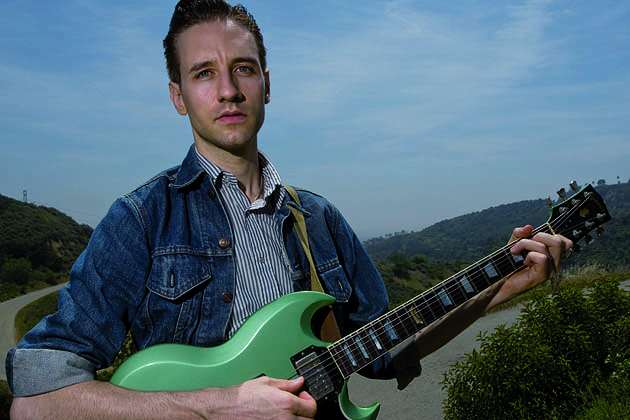 Joerg: Right now you're in the middle of recording a new album, that will be your second one as a solo artist? Do you feel happier working alone?  What happened to your band?
Brett: Well, I was in a band [The Juliana Theory] for years with my buddies that I grew up with in high school. We had a great time and saw the world together and put out a lot of records. We really enjoyed ourselves, but you know, you get to that point in your life where – we started the band when I was 18 years old  – you're making music with your band that you wouldn't necessarily listen to, not that kind of music you're into anymore. That's what really happened to us.
We didn't grow apart as friends, we just had different ideas of what we wanted to do artistically and musically. So, making records as a solo artist quote-unquote was nothing I ever really wanted to do in my life.
I never really thought of myself as a guy who does stuff on my own. I always thought of myself as a dude in a band. But now, to answer your question, there is definite plusses and minuses. In a sense, you can't delegate. So, you can't ask the bass player if he'll handle the website. Or ask the drummer if he'll reply to emails. Everything falls on me. In a sense I feel like it's more pressure, but also the reward is greater.
I guess, if anything, the biggest difference between having a band and not having a band is, especially if making records, that I'm really not even bouncing many ideas of almost anybody.
So, I'm pretty much writing everything myself and mostly producing it myself. That's good and bad. It could be nice to have outside ears more often, because sometimes I literally think I'm losing my mind – you know, producing a record on my own, that I wrote all the songs on and playing a lot of stuff on it. Sometimes I think that's a little crazy to do, without outside help. But, if you know what you want and if you're confident of what you want, I think you can get there –sort of. [Laughs]
Joerg: You live in Los Angeles, but your music to me sounds more as if it was played in Nashville. Would you define your musical roots and creative intension more Southern?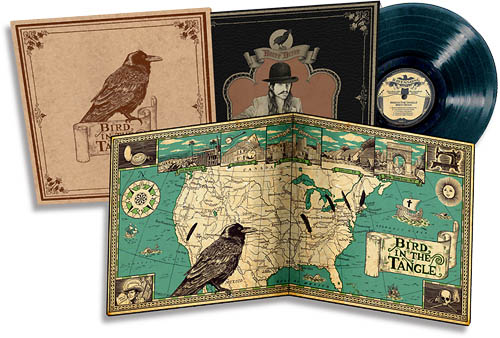 Brett: I definitely think that what I'm doing definitely feels more like it's from the South, in some way. But, at the same time there's a great history of folk and country music in  L.A. and in California. You think about obviously people like Gram Parsons, you think about Buck Owens and Merle Haggard and a bunch of guys like that in California and even, as slightly removed as it is, a lot of the "singing cowboy" stuff – like Gene Autry – is totally Hollywood and Los Angeles, in a way.
I kinda feel also, to take it back, I kind of look at this record is sort of like "me making my California record"! In the way that Neil Young had Zuma and he had On the Beach and a bunch of records that really kinda brought that folk, kinda Southern, "Nashvilly" thing, but had that California influence at the same time. I do think that, yes, overall the kind of music I make is not what somebody would typify as "that guy lives in Los Angeles".
It's not what you would normally think of, but I have always been a person who likes dichotomies and I think it's more fun to be a little bit of an outsider. A lot of my friends make pop music for a living and I'm the guy who plays the banjo! It's kinda of fun to be a little bit out of place. I think I enjoy that.
Joerg: Coming back to you playing the banjo. I noticed during the shoot that you seem to prefer vintage guitars, that, of course, matches the style of music you play. Are you a guitar nut? Do you collect?
Brett: I do collect guitars. I'd like to have a lot more than I have but as many musicians probably could completely relate to, I ended up selling a lot of good guitars that I buy because I run out of money, because I'm a career musician. So I've had a lot of good guitars, that I don't have anymore, that I still wish that I had.
Joerg: Happened to most of us…
Brett: I still have a few really nice guitars and hopefully, by the time I'm an old man, I could have a nice collection If I'm smart and don't go broke too many times.
Joerg: So, what interesting instruments are you currently using on your new album?
Brett: On this new record I've been using my Gibson L 48 It's a 1951. I use that for a lot of the finger picking kind of stuff because it has a really focused mid-range kind of sound. It's an arch top , so it doesn't have a lot of low end, but is has really nice kinda direct mid-range and it sounds really cool for finger picking. I also have a J-150 which is like Gibson's economy J-200.
The story I was told goes, that they quit making it 10 years ago, because it was too close to a J-200, but a lot less money. It was so close, that Gibson was losing too much money, simply because they made it too well! I've been using that a lot for the bigger, like strumming kinda things.
For electric stuff I have a '72 Telecaster Custom Deluxe, the one with the big headstock and the two humbuckers. I've been using that a decent amount and I have a vintage '67 SG that I actually use a lot and I know that this is technically almost cringe worthy to some guitar players, but I like it for clean tone! I know that's not what those people think: "SG and clean tone" don't really go together. But, I like it for that.
It's weird but it's sort of that thin kinda weird sound. I've been using that a surprising amount, and then just random guitars that my buddies have, that they let me borrow.
I don't have a good semi hollowbody yet. I need a 335 or something like that. I've been using other people's instead.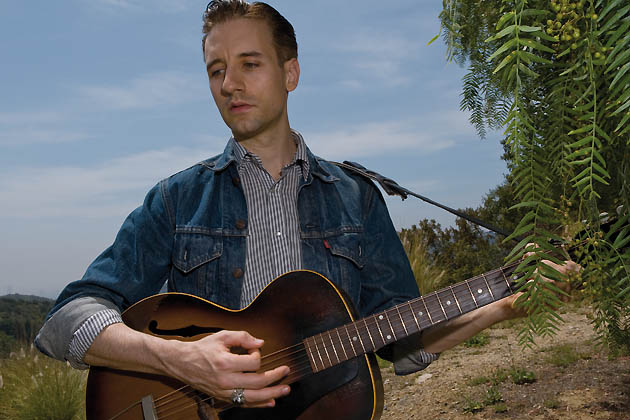 Joerg: What's gonna happen after you finish the record? Do you plan on any more touring?
Brett: I hope so! I love touring. It's kind of an amazing feeling to go on the road and end up in a different town every day and play. I went from high school to one semester of college and then straight to full time touring for ten years.
So, I started touring when I was 18 and a lot of my adult life was spent completely on the road. For the last few of years I haven't done a lot of touring. I have only done a little bit and it took me a long time to adjust to that. So, any time I can hit the road more often is always a good thing.
Joerg: Alright, we look forward to seeing you out there again pretty soon. Thanks for your time!