By: Rob Cavuoto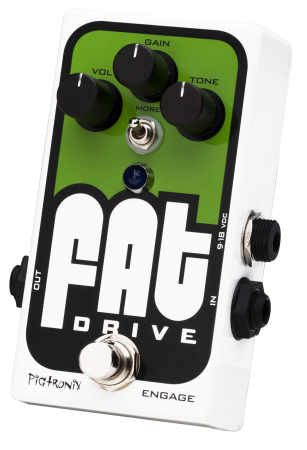 Since their inception in 2004, Pigtronix has pursued a conceptual approach to pedal design called F.A.T. – Futuristic Analog Tone. Pigtronix has distilled the essential soul of tube overdrive into the straightforward yet remarkably flexible design of the new FAT Drive.
With only three knobs (Volume, Gain & Tone) and a Hi-Lo toggle switch, you can get from that warm organic tube amp to that thick crushing overdrive with a flick of the switch. It's almost like having two pedals in one.
The essence of this pedal lies with its wide range of tonal textures. With everyone "chasing tones," I was able to achieve a variety of rich textures from the very bright on my favorite pop metal songs to darker more forbearing tones on Iron Maiden songs, without masking the natural sound of my guitar.
The pedal is also super quiet as well. Many nights I practice at low volumes and I never heard a hum or buzz. I actually didn't realize how quiet it was until I switched to another distortion pedal. The unit also comes with an AC adapter which is always sweet
Regardless of what guitar and amp combination you favor, the astounding full range gain structure of the FAT Drive pedal will make it your instant favorite "go-to" overdrive for rhythm and lead. Overall it's a great distortion pedal with solid construction. I feel the sweet spot of this pedal is with the 7'0s vibe of Ted Nugent thru a Fender Twin or early AC/DC.