By: Steven Williams
NAMM 2012, like most years, has failed to disappoint in unveiling new and exciting guitars and in my opinion Epiphone have produced this years must have guitar. It doesn't help my cause that I am a huge KISS fan but when you consider every aspect of it, the looks, its heritage and most importantly the way it sounds its right up there with the best of 'em.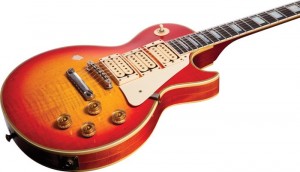 The Epiphone Ace Frehley Budokan Les Paul is based on the legendary KISS guitarist's Les Paul that he used in the four night sell out gigs in the Budokan theater in Tokyo, this is in-fact a record previously held by the Beatles, which is definitely worthy of a Signature guitar. Frehley joined a very impressive list of celebrity Les Paul players and is perhaps the most famous one who wears make-up! Epiphone have honoured the great man by reproducing the iconic guitar, but with a few new features.
Lets start by looking at what Epiphone have kept the same and the modifications they have made to the original. They have kept the same mahogany body with 3-piece maple cap and the '70s style 3-piece mahogany neck, which has an ebony 22-fret fingerboard in the classic SlimTaper 'C' style. To ensure that the Ace Frehley Budokan delivers the same powerful sounds as the original it is equipped with three DiMarzio pickups; at the bridge a DiMarzio Super Distortion and DiMarzio PAF style pickups at the neck and middle. All pickups are available for use, whereas, in Ace's original only the bridge pick-up was wired.
Continuing on the modifications Epiphone have introduced some hardware touches such as a stopbar tailpiece, Locktone Tune-o-matic bridge and the very attractive classic style Grover tuners. The guitar is finished in the original cherry sunburst and completed by minor details such as the mother of pearl inlays and the multi-binding on the top and back of the body.
When playing this guitar it really hits you that you are holding a genuine piece of history. The tones that are produced are as good as any I've played. This is high praise indeed considering its price tag, and I can honestly say it's better than guitars double its price. If you're a good player there are no limits in terms of Kiss replication, it is more than up to the task of reproducing the Budokan experience again.
The Epiphone Ace Frehley Budokan Les Paul also comes as part of a package including a stenciled custom hard case with the word 'Budokan' and a binder including a picture of Ace with his Les Paul. Perhaps the most important feature is its exclusivity with only 1,000 produced worldwide. The axe will inevitably appeal to Kiss fans, but will garner some attention from others, due to it being a solid and well-crafted guitar.
 ******