By: Courtney Grimes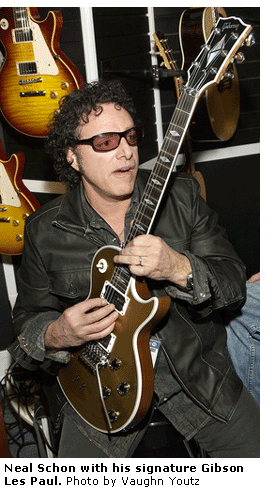 Rocker Neal Schon handles his Gibson as naturally as if it were attached to the end of his hands. Having picked up his first guitar at age five, Neal was considered a musical prodigy and by age 15, was on the road with guitar legend Carlos Santana. After touring for a year, Neal's musical direction was not meshing with his band mates, so he and fellow Santana alum Gregg Rolie began a new project — a band called Journey.
Journey's soar to success was slow in the beginning – the first three albums being largely instrumental, with a jazz-rock feel. But on the fourth album, Infinity (1978), front man Steve Perry was brought in to give the group a more commercial feel. Infinity sold over one million albums in a year.
As Journey continued to climb the musical ladder with albums like Evolution (1979), Captured (1981) and Frontiers (1983), Neal Schon was busy with other projects such as collaborations with keyboardist Jan Hammer (Untold Passion — 1981, Here to Stay -1983), and solo albums including Late Nite (1989), Beyond the Thunder (1995) and Piranha Blues (1999). These side projects forced Neal to quit and rejoin Journey several times over the course of his career with them.
Click to Visit the Journey Collection
at Amazon.com
Neal is currently back out on the road with Journey, and has released his latest solo album, i on u. He chatted from a tour date in Atlantic City about his time with Santana, hanging out with Les Paul, and what's coming up next.
******
Courtney Grimes: What was it like to be a 15-year-old on the road with Santana?
Neal Schon: It was a pretty amazing experience, very much an eye opener for me. We were pretty much traveling all over the world, playing in Africa, South America, all over Europe, experiencing the different audiences all over the world. The band was one of the biggest bands in the world at that time. I loved playing with Carlos and the rest of the guys.
Musically, they opened me up to many different types of music that I was unaware of at that point — Latin music, Cuban rhythms, African rhythms – the band was a melting pot of all different kinds of music. The most I got out of playing with Carlos was how melodic he was. He rubbed off on me definitely, and I think vice versa too, when we were playing together. I became much more of a melodic guitar player.
Courtney: Do you regret not having had the "normalities" of childhood?
Neal Schon: No, absolutely not. The only thing I didn't do when I was young was play sports. I was playing guitar and bettering what I wanted to do.
Courtney: What made you decide to leave Santana?
Neal Schon: It was kind of just falling apart at that point. There was a lot of tension in the band. Gregg and I were the only members left besides Michael. Carlos was wanting to play a certain kind of music and we wanted to play rock and continue with what we had done. And we weren't into Carlos's new direction. It was pretty much that nobody could agree on what they wanted to play.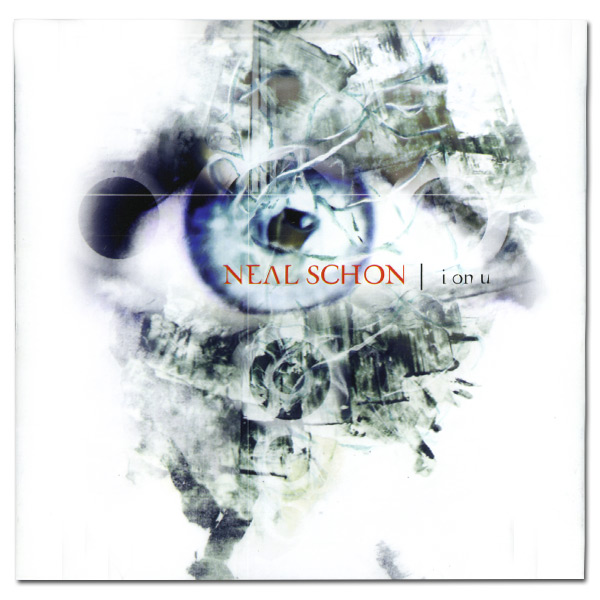 Courtney: Tell me about i on u.
Neal Schon: That is my record that I actually finished quite some time ago and didn't want to give it up to my label because they didn't do anything with my last album. I wasn't excited about giving it to them, so I decided to just hold on to it and see if the label buckled and they did.
I've been friends with Steve Vai for years and he took it. With all the solo records I've done for that other label, I had to be really careful about not making anything too heavy. So I'm looking forward to making a really heavy guitar record and looking forward to not having any restrictions.
Courtney: Tell me about your Signature Les Paul. What specifics did you want to have on it?
Neal Schon: It's an amazing guitar. The only thing that is the same about this guitar and any other Les Paul is the body shape. Everything else is completely different. There are a lot bigger cavities in the body which made it sound a lot different. It's got much more top end. There's a tight bottom end and top end. I used it on the last Journey record. I'm just lovin' it.
I've got six of them now and I know they're supposed to start knockin' 'em out here soon. I've been given the green light to redo some other guitars – about redoing the SG. I've got some great ideas to make it a bit thicker and adding a bit more bottom end to that guitar. And also the Les Paul Jr.
Also, I wanted to get rid of the heel in the back [on the Signature Les Paul], cause I play up higher on the neck, a lot more than some other guitar players do. So that is completely different about it. I wanted to have the Floyd Rose stuck deep in the body so the neck angle had to be changed a lot. I wanted one master tone knob and not two, and one master volume.
And I redid the placement of those knobs so they're easier to grab. It's user friendly for me. I made it the way I wanted it. I pretty much just took the guts of what I was using in my other guitars and stuck 'em into the Paul. The first time I showed it to Les, he gave me the thumbs up.
Courtney: I know you performed with Les Paul in New York a while back.
Neal Schon: It was awesome, I had a great time in New York. It was his 90th birthday party and we had a great time playing. He was a funny guy, and man he still had his wit about him. That's a night I won't soon forget.
Courtney: What did you think when you found out Journey was getting a star on the Walk of Fame?
Neal Schon: I didn't really think anything about it. I was like, "Oh…really." I guess I would have been more slayed by it if it had happened about a century ago. I think the coolest thing about the ceremony was seeing everybody who had been in Journey show up, and also the fans that had showed up from all over the world. That was a much bigger deal than looking at the star in the sidewalk.
Courtney: What are your plans for the upcoming year?
Neal Schon: I'm on tour right now with Journey. We're enjoying a very successful tour. We're playing by ourselves. It's a time to really show our fans where we came from, which we haven't done since 1978. We're playing all that guitar-oriented material and people are getting to see a lot more of what I'm about than just a hit song.
We're playing big places and it's real exciting about what we can do now. I mean we're playing a three hour show right now. We're giving out our new CD at the shows and it's a whole lot of music going on in the band. Our record is about to be released in the U.S. and it's #7 and #20 on Japan Charts and #70 in Germany.
So, we're playing throughout this year, probably through November. And then next summer I don't know if it's by ourselves or with another band. We have plans to go to Europe for some big festivals. So it's the first time we've been in Europe since 1978. I was just over there with my new band and realized that Journey was just huge over there.
So, who knows what will happen? Much like when we went to South America for the first time we had no idea what we'd be doing. But we had thousands of people. We played in Puerto Rico and sold out the coliseum there. We're interested in being a worldwide band. It's getting exciting.
We've got so many new, young fans. There's a whole new world of kids out there who dig our stuff. They're so open to everything — the rock stuff, the jam stuff, I see no end in sight to this band. It's all coming full circle.
******
[The above article appears courtesy of Gibson.com and is reprinted on Guitar International Magazine with permission. Copyright 2005, Courtney Grimes and Gibson Internet Group. All rights reserved.]