By: Arlene R. Weiss
Music auteur, legendary guitarist, singer, songwriter, producer, arranger, multi-instrumentalist, and award winning, esteemed film composer, Trevor Rabin's artistry is beyond transcendent.
Crafting sublime sonic canvasses of imagination and innovation through his illustrious and luminous work with Freedom's Children, Rabbitt, Yes, his solo career, and his motion picture scoring, throughout his life Rabin has also continually been involved with human rights issues, while often imparting great purpose, socially conscious issues, and idealism through the emotional and inspiring resolve of his music.
Both a creative and personal visionary who has never compromised, and always dares to break down boundaries, explore new horizons, and stand up for what is right, his music and his life reflect Rabin's great personal and artistic depth of moral integrity and character.
In the following interview, the very gracious and gifted Trevor Rabin talks about film scoring, songwriting, his career, guitars and more.
******
Film Scoring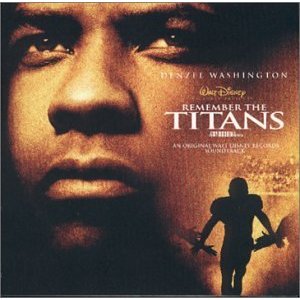 Arlene R. Weiss: You just finished the score for Director Renny Harlin's upcoming film, the March 2011 release Georgia, starring Andy Garcia, Rupert Friend, and Val Kilmer in a story involving an American journalist caught up in the war and intrigue between Russia and Georgia.
How did you become involved with this project, and how did you approach crafting the score to effectively convey the equally compelling plot and storyline of the film?
Trevor Rabin: I love working with Renny Harlin. He's a wonderful person, a great Director, and a pleasure to work with. The subject matter is a real work of passion for me. It's emotional, grave and chaotic. This is my third war film, along with The Great Raid and Flyboys.
Check Out the Trevor Rabin Collection
at Amazon.com
Arlene: You also scored the July 2010 release The Sorcerer's Apprentice, starring Nicolas Cage. What was your experience in composing the compelling score for this blockbuster film?
Trevor: I enjoyed the challenge of redoing Dukas's original composition, and having worked with Director Jon Turteltaub, twice before on the National Treasure films, I knew it would be a quality film.
Arlene: What are the steps and the creative process for you, in scoring a motion picture?
Trevor: I would say that defining the themes is the first and most defining aspect for me.
Arlene: Once you read a script, what inspirational spark do you draw from, and how do you create and define the emotions, atmosphere, narrative, dialogue, key scenes, story, and specific themes for the central characters, through music?
Trevor: I have to wait for the film to tell me what it needs. This can take watching rough cuts many times, and then evolving over time. Though sometimes it hits all at once, which is harder to digest and document.
Arlene: A Director trusts your artistic sensibilities and instincts to convey his or her cinematic vision, but you are an artist with your own distinctive vision as well. How do the two of you meet in the middle? Where you both see eye to eye and positively meld both of your concepts, ideas and presentation together, yet where your score serves the film. Where you still retain your own distinct creative voice and hallmark signature sound, that makes a score composed by you so transcendent and personal?
Trevor: Thankfully, having done a number of films at this point, there's an inherent trust involved. The conversation starts once I do the first draft of any given piece of music, hence the collaboration ultimately and naturally happens on my turf.
Compositional Approach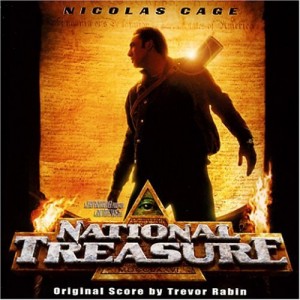 Arlene: Do you compose film scores on the guitar?
Trevor: I compose on paper, keyboards, or guitar, it changes.
Arlene: How integral an element is the guitar in coloring your orchestration and arrangements, and what guitars do you use to create different moods and textures on film scores?
Trevor: It depends on the film. For example on Con Air, Armageddon and some others, the guitar is used as a major support to the orchestra and leads the melody in the themes, all done on my Alvarez Signature Model, which has a wonderful majestic and sweeping timbre.
I often use a classical gut string for more romantic areas. I also, at times, go to a Dobro slide, which seems to work for sexy or even comedic situations.
Arlene: What recording and mixing process do you use when scoring films?
Trevor: It would be the same process for me whether I was doing film score work or a rock album. I've just finished an instrumental album, my new solo album that will be out soon, which I did in the same manner, basically utilizing a digital work station. However, on my new album, I used a lot of different amplifiers, and guitars, more so than I tend to do on scores, as the orchestra usually becomes the largest part of the palette.
The big change for me in the last ten years is that I'm mixing as I go. In the old days, I would pull everything down and start from scratch, as opposed to now, just touching up at the end.
Arlene: Growing up in Johannesburg, South Africa when Apartheid was at its height, you have always continually utilized music as such a positive force for hope, light, and change in making a difference for a better world, in your songs for Freedom's Children, Rabbitt, Yes, and your solo career, and your idealism shines through and elevates your uplifting, sublime, scores.
My two favorite scores of yours are Glory Road, and Remember The Titans, which President Obama regarded with so much esteem that he used it in his victory speech after he won the Presidential Election at Chicago's Grant Park.
Do you remember how you first found out about that, and what were your emotions on that special and profound day, upon finding out that the President held so much reverence for your score?
Trevor: It was a tremendous honor to hear my music used for President Obama's celebration in Chicago and Denver. I was told about it by a friend and fellow film composer Joel McNeely, who was at the Democratic National Convention event in Denver.
I'm still waiting for a thank you from Barack, but I guess he's a little busy. But seriously, it had a profound impact on me. I'm floored that you know of Freedom's Children!
Arlene: My favorite songs of yours, "I Can't Look Away," from your 1989 solo album of the same name, and "Lift Me Up" with Yes from 1991's Union, are imbued with this same sense of purpose, resolve, hope, and idealism. What sparked you to conceive and write these two impassioned, inspirational songs?
Trevor: "I Can't Look Away" took a while to write and it evolved over time. I must add that it was really a tremendous joy to perform live. "Lift Me Up" was never intended for Yes. I had very much written it as a solo piece. But Clive Davis called me, asking if I would write a piece for an ABWH album. I thought "Lift Me Up" would be suitable. Clive was encouraged with the song.
Consequently, it turned into a Yes album, Union. While I liked "Lift Me Up" and "Miracle of Life," I was disappointed with the album as a whole. But it did lead to the tour where Rick Wakeman and I met, and I had a blast working with him. We're still hoping to work again, soon.
Tone, Gear and in the Studio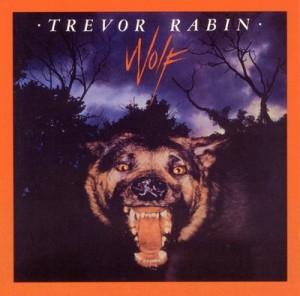 Arlene: How did you craft and achieve the stunning violin tones on guitar, on "Lift Me Up?"
Trevor: Really the answer is quite simple, spending a lot of time exploring. The success or failure of which is dependent on patience and judgment.
Arlene: What pedals and effects did you use, and what was your approach when playing that song?
Trevor: What I remember is that it was very loud in the studio. It was recorded in stereo, and a Lexicon Reverb was used and recorded, as opposed to adding at the mix. I also used an MXR Fuzz Box and an MXR Digital Delay. I approach the vibrato in a different way when going for this sound.
Arlene: In your rock music, that is not scoring for film, where your guitar playing is more at the forefront, how much of your songwriting is on guitar, and how much does your film and classical composing influence your complex guitar chord structure?
In particular on the guitar solos, fanfares, and suites for, "Lift Me Up," "Owner Of A Lonely Heart," "Love Will Find A Way," "Walls," "I Am Waiting," "Promises," and "I Can't Look Away?"
Trevor: I would say that in the rock area, I write more on guitar than I do when scoring for film. I believe that the influence of my family and classical music had more influence on my sense of harmony, melody, and counterpoint than any other thing. As generalized as this sounds.
Arlene: Don't you use a lot of compression for your unique guitar tones?
Trevor: Yes, quite often I compress the hell out of the guitar for effects. I'll also compress slightly to control the sound when needed. I sometimes manually compress the guitar sound by drawing in volume curves on the visual soundbite. This is time consuming however, but highly effective.
Arlene: Don't you also lessen your pick attack and increase your "singing sustain." How do you create this?
Trevor: Yes, this is very accurate. I think the control of this is helped by using an old Sharkfin pick, not the newer ones.
Arlene: Describe how you mic, mix down, and EQ your guitar to create such a beautiful array of sonic colors in your guitar playing?
Trevor: As well as many different micing techniques and configurations, I often DI the signal to have another option to work with. However, when I stumble on what I think is a great sound, I don't bother to add a DI.
When I got the sound for the solo on "Owner of a Lonely Heart" for example, I never added anything afterwards, as I thought it was fine as is. On other occasions, I can spend ages with EQ, mic placement, dimension, compression, etc., and then throw it away and start again. Ugh!
Signature and Favorite Guitars
Arlene: How did you and Tom Presley design your Alvarez Trevor Rabin Signature Model Guitar? You were just saying how much you use it for your film scoring.
Trevor: It's definitely my main guitar. Tom Presley is a true artist and he created a brilliant instrument. I was proud to put my name on it. We went through a lot of changes, and he came up with a gem. Thanks Tom.
Arlene: What's the story behind your main beloved Strat? How and when did you get that guitar?
Trevor: My main Strat, I bought in 1972. It was a red one, exactly like the Hank B. Marvins. Over the years it's been trashed by me, but I love it dearly. A friend of mine, Denis Joint, who ran a music store called Bothners, found it for me. I was very lucky.
It had been lying in the store for years and he sold it to me for 160 South African rand, one to one to the U.S. dollar at the time. Funny, at the time I was a little disappointed that it wasn't a '72 model. It's a '66, I think. Turned out fine I might add.
Arlene: Do you still use your Strat?
Trevor: All the time, but not as much as the Signature Model.
Arlene: You also painted the artwork on that Strat yourself. What was your inspiration to do that?
Trevor: Actually, I did a lot of it, and a friend of mine, Selwyn Schneider did some wonderful air brushing on it.
Arlene: What are some of your favorite guitars and stringed instruments, in your collection?
Trevor: I have dozens of guitars I love. A Gibson 400, an old Barney Kessel, an old Les Paul, a Chet Atkins, lots of Fenders. I have a Saz, a Balalaika, different types of mandolins, a Baritone Danelectro, an old Ludwig Banjo. I love my Dobros. I love my gut string Alvarez, I use it all the time. I love my Moon Acoustic, introduced to me, by my good friend Bryan Adams, great guitar. And on it goes, I love my guitars!
Arlene: Do you still have and use your Alvarez Yairi DY88 acoustic guitar that you use to play the lyrical, "Solly's Beard?"
Trevor: Oh yes, I love that too, but I prefer the Moon for steel string now.
Arlene: That song is such a lovely favorite with people every time you strum that live. How did the song come about?
Trevor: I wrote that almost without much thought. I had decided to play an acoustic solo on the Yes tours, and never got to writing it until the last minute. I wrote it a couple of days before the first show.
Strings, Amps and More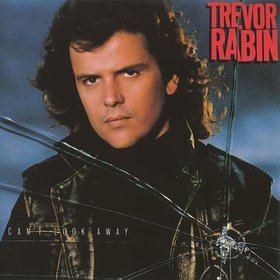 Arlene: What strings and gauge do you use?
Trevor: On the Moon and Semi Solids, it starts with .10s through to .46. On the Signature and the Strats, I go from .08 to .38.
Arlene: What amps and gear do you use?
Trevor: Mostly, I use an Ampeg 120-VT. Unfortunately, they don't make them anymore. Luckily I have a number of them. I also sometimes use a Rivera Venus 5, and very old 100W Marshalls. Also, I like an ancient Simms Watt 100 Super Lead, which left South Africa with me in 1978 and has been with me ever since, a good old boy. I call him the buffalo. Also, a bit of Line 6 stuff, great for DI.
Arlene: Didn't Bob Bradshaw design a MIDI switching & looping system for you, which you use to innovate your guitar playing's unique phrasing?
Trevor: Wow! Yes, I use an old Bradshaw rig. Bob's the best, I just love him. Bob Bradshaw is the guy if you're looking for a custom made rig. He's sensitive to the needs of the individual and a brilliant, great, and patient guy.
New Albums
Arlene: What about the record that you're currently working on with your Yes compatriots, Jon Anderson and Rick Wakeman?
Trevor: We haven't started yet. But Jon, Rick, and I are really itching to do it.
Arlene: How are things coming along with your new, greatly anticipated solo record?
Trevor: I'm very happy with my solo album. It should be out in the next couple of months. It's all instrumental, and I had a blast doing it.
Lou Molino III, is on drums. My son Ryan, plays drums on two tracks. He's brilliant, and he's very busy with his band, Grouplove. Also, he's busy songwriting and producing.
Arlene: I hear there's a lot of Dobro on the new album, which is my favorite instrument. What artistic direction and style of music is the focus of your new record?
Trevor: A lot of bluegrass, jazz, and a bit of, not sure what to call it!
Arlene: Your lead vocals are as exquisite as your guitar playing. Will you be singing on your new solo record?
Trevor: I will definitely be doing a vocal album next, and thanks.
Arlene: Will you be touring in support of your solo album, time and schedule permitting around your film scoring?
Trevor: I hope to. I played with Yes recently at The Greek Theater in L.A. and enjoyed it. So, time permitting, I hope so.
Influences and Producing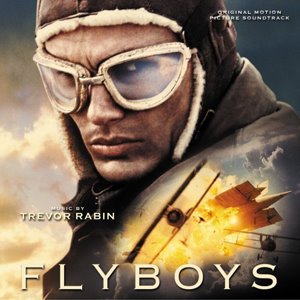 Arlene: Who are your main influences as a guitarist?
Trevor: Joe Pass, Barney Kessel, John McLaughlin. Strange for someone who plays rock mostly.
Arlene: What was your first guitar and what first inspired you to want to play?
Trevor: A Harmony semi-acoustic. I had a cheap acoustic before but I don't remember what it was. I wanted to play in my brother's band. He's a drummer and a violinist and highly musical. The piano wasn't loud enough so I started teaching myself guitar, and I actually joined one of my first bands The Other, when I was thirteen or fourteen.
Arlene: You're versed in many instruments, especially piano. How and when did you start playing the piano? What are some of your other favorites?
Trevor: I started piano when I was six. Pushed by my parents, I had two lessons a week and practiced an hour a day for twelve years, whether I liked it or not, as did my brother and sister. I started to play guitar, at around twelve.
Arlene: When did you get involved with producing, arranging, and engineering?
Trevor: I started Producing at around eighteen, and I started orchestral arranging at about twenty, doing string arrangements for pop records that I was producing. I always seem to remember dabbling in Engineering.
Arlene: Didn't you produce Manfred Mann's Earth Band? How did that project come about? What other artists have you Produced?
Trevor: Manfred just approached me in London years ago, and we've been close friends ever since. I produced Wild Horses, John Miles, Noel McCalla, and many others.
Arlene: How fulfilling do you find being the director so to speak, in music, of the artistic vision when in the role of Producer?
Trevor: I enjoy it a lot, but I also enjoy doing sessions where the responsibility is playing.
Arlene: What songwriters and film composers most influenced you?
Trevor: Bernard Herrmann, Jerry Goldsmith, Arnold Schoenberg, Aaron Copland, Dmitri Shostakovich, Paul Simon, John McLaughlin, and many more.
Arlene: You have composed so many stunning scores for so many amazing films and Directors. What are some of your especially fond creative experiences and memories, scoring films with so many auteurs?
Trevor: I mentioned Flyboys and The Great Raid earlier, which I am proud of. Also, Armageddon, Remember the Titans, National Treasure 1 and 2, Deep Blue Sea, Georgia. However, there are things on all the films that I am both happy and frustrated with. I'm also proud of the theme I wrote for the NBA.
Arlene: Are there any Directors that are on your dream list, of who you would like to one day collaborate with and score their films?
Trevor: Ken Russell!!
Arlene: What other creative projects as a solo artist, guitarist, singer, songwriter, producer, arranger, and film composer, do you hope to explore on your adventurous artistic path, to continuously evolve, and spread your wings, and keep growing as an artist?
Trevor: I've so enjoyed the film stuff, as every film has been an opportunity to do different areas of music, so I'll continue searching. I certainly intend to continue searching, as well, via rock music, although it's been a long time, and whatever hits me.
******
© Copyright September 23 and October 6, 2010 By Arlene R. Weiss-All Rights Reserved