By: Arlene R. Weiss
Last November, guitar virtuoso Joe Bonamassa joined forces with Glenn Hughes for a blistering jam at Guitar Center's King Of The Blues show in Los Angeles. Out of the creative fires of that performance rose the band Black Country Communion, who recently released their self-titled debut album.
Black Country Communion boasts four musical titans, five if you count producer Kevin Shirley. This musical dream team aligns the multi-talents of guitar slinger Bonamassa (who first gained acclaim for being part of the 1990's Bloodline), Hughes (of Deep Purple and Black Sabbath fame), drummer Jason Bonham (also of Led Zeppelin, making his father John proud), and Dream Theater's Derek Sherinian on keys. The band's name comes from the industrial region in the British Midlands that both Hughes and Bonham originally hail from.
For Bonamassa, Black Country Communion is a labor of love, where the guitarist also had the opportunity to shine in many creative areas. He co-wrote nine of the twelve tracks, shares lead vocals with Hughes on "Sista Jane" and "Too Late For The Sun", and sings lead vocals on both "The Revolution In Me" and on the epic, "Song Of Yesterday."
Bonamassa's extraordinary musicianship brings much to the colorful palette of this incendiary band. Lauded as a blues prodigy, who has shared the stage with Eric Clapton and B.B. King, his vast and varied musical tastes and styles are all over the map of Black Country Communion self-titled, debut album.
With Black Country Communion gearing up for their album's worldwide release, as well as Joe readying the release of his own new studio album, the veteran blues guitarist graciously sat down to discuss the heart, art, and soul, that is Black Country Communion.
******
Arlene R. Weiss: Black Country Communion is such a dynamic fusion of musical influences and backgrounds. What's the story behind how the band first came about?
Joe Bonamassa: It's simpler than you might think. Kevin and I have been making records together for five years. I've known Glenn for three years. He and I always talked about doing something together.
At a show I was doing for Guitar Center's King of The Blues competition last year, Kevin came to see the show and saw Glenn guest during my set. The whole idea was hatched in the foundation room that night.
Jason's name came up who played on my album You & Me, along with Derek Sherinian. I was like, if we can pull this off, it could be something very cool and fun. So here we are ten months later with an album, pretty extraordinary. Kevin deserves the bulk of the credit for organizing this.
Arlene: With four heavyweight artists involved, how did the four of you decide how much of a creative role and voice each of you would bring to the table?
Joe: I really look at the group as a five member ensemble, Glenn, Jason, Derek, Kevin and I. We all threw in our bits and bobs. It really was a collaborative effort through and through. I'm proud of my role in this sort of thing and I really had a blast recording this album.
Arlene: Did egos ever hint at hindering the creative process, or did things keep more of a supportive, camaraderie vibe?
Joe: Every artist and musician has an ego. Every person, doctor, lawyer, and pet shop owner has an ego, it's a human trait. Now, whether it gets the best of you to the detriment of the music, or it drives the music to a better place. That's the fundamental question.
We have five strong personalities and accomplished musicians here. It was a healthy back and forth. It happened really fast. The way I suspect bands like Zeppelin and The Faces worked back in the day.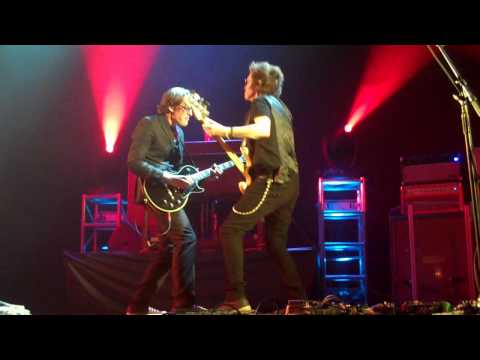 Arlene: You and Glenn trade verses on lead vocals on "Sista Jane" and the two of you pair up and take the top melody and the bottom harmony lead vocals on "Too Late For The Sun." How did those songs come about and why did you arrange them with the two of you sharing vocals?
Joe: At first I wasn't interested in singing anything on this album. I mean it's Glenn Hughes we are talking about here. But with Kevin and Glenn's urging I ended up singing two songs and traded with Glenn on two songs. Again, I had a blast doing it.
Arlene: Was that fun for you, collaborating with Glenn, who is such a vocal powerhouse?
Joe: Yes it was. It was two friends singing songs that we wrote together.
Arlene: "Sista Jane" reminds me a lot of and has somewhat of the same vocal arrangement and funky blues vibe of The Arc Angels. Was that intentional?
Joe: No, I know Chris Layton a little through touring and also through my tour manager, Warren. The Arc Angels are an awesome band and Chris is such a wonderful player and an even nicer person. We really thought through and brought more of the UK, other side of the pond influences on this record. More Earl Grey than Shiner Boch.
Arlene: "Down Again" seems influenced by Deep Purple. I definitely hear their sound and influence all over that, especially in your guitar playing. Were you going for that feel with that song?
Joe: That was a really cool writing session with Derek, Glenn, and I, at my rehearsal room in Burbank. I took the 12-6pm shift to rehearse my solo band for the tour and I did the late shift with Glenn and Derek. The end result was "Down Again." One of my favorites.
Arlene: Who are your influences as a songwriter?
Joe: I love the way Warren Haynes writes a song. I love the way Free wrote songs, and the way Jimmy Page took old blues and made it his own in the context of Led Zeppelin.
Arlene: Which do you usually write first music or lyrics?
Joe: I usually write lyrics first, or at least a chorus and a title.
Arlene: Do you compose on guitar or on other instruments?
Joe: For Black Country Communion I used a Gibson Les Paul to write.
Arlene: My favorite song on the album is "Song Of Yesterday." The song starts out with your understated singing and guitar playing and then builds and crescendos into a powerful rocker. You also incorporated a string section. How did you conceive of this beautiful arrangement?
Joe: I came up with the riff and the pre-chorus. Kevin Shirley did the rest, complete with the string arrangement and some of the lyrics as well. It came out really good. I'm very happy with my singing on that song as well.
Arlene: How influential was Kevin in shaping up and fleshing out, the songs to their fullest potential?
Joe: Big. He really focused the ideas. There were a ton flying around. He was the Ritalin to our collective ADD.
Arlene: How did you achieve the wah-wah effects on "Beggarman?" What pedals and effects did you use?
Joe: Jeorge Tripps from both Dunlop Manufacturing and Way Huge Electronics builds my wahs and FuzzFaces, and I use his Pork Loin and Aqua Puss as well. You can tell I'm a fan.
Arlene: The title track is something new that I haven't ever heard from you, with you being more of a blues player. On that song you really go for the heavy, speed metal sound. How did your playing on that materialize?
Joe: I'm a man of much mystery and musical intrigue, thanks. I love Iron Maiden, so I summoned my best Dave Murray and Adrian Smith impression for that solo and song.
Arlene: What guitars and gear did you use in the studio on this album?
Joe: Mostly my Gibson Joe Bonamassa Les Paul, a Steve Morse Y2K Music Man, and two Marshall half stacks, also a Silver Jubilee Marshall and a 1968 Marshall Super Bass. I kept it pretty basic.
Arlene: What strings do you use and their gauge?
Joe: I use Ernie Ball 11-52 Super Slinkys. I love the Ernie Ball Music Man people, they're fantastic to me, and Sterling builds a hell of a smoker. Check out Big Poppa smokers, killer.
Arlene: What current music artists inspire you and would you like to collaborate with, live and in the studio?
Joe: I love what Josh Homme does. I love System Of A Down. I really like artists like Mindy Smith, Opeth, Brad Paisley and Iron Maiden. You can see that my iPod is eclectic, as it is with everybody.
Arlene: Do you see a second "Black Country Communion" album in your future?
Joe: I would gladly do ten more albums with Black Country Communion, if the songs are good.
© Copyright September 1, 2010 By Arlene R. Weiss-All Rights Reserved