By: Dr. Matt Warnock
Welcome to Day 20 of GI's series, "30 Days to Building Better Guitar Technique: Volume 1," glad you're here. These exercises are designed to slowly build a solid technical foundation through short practice sessions done every day, for a 30 day period.
Check out all 30 exercises on the Better Technique Volume 1 Page
This is not a "get rich quick scheme" for guitar technique. Instead, these exercises are designed to deliver results in both the short and long term, while not eating up all of your practice time, leaving you with ample time to pursue other guitar interests.
So get out your axe, turn on your favorite metronome, pour your favorite hot beverage and get ready to Increase Your Guitar Technique in 30 Days!
******
The Exercise
Today we begin with a new basic pattern, which will then be varied in the coming 3 exercises. The pattern begins with the pinky this time, and works its way down to the first finger, 4-3-2-1.
All of the same technical aspects of the exercise from Day 1 apply to this new exercise.
Remember, go slow! The goal is not to rip through these exercises. The goal is to develop good, fundamentally sound muscle memory. This will allow you to play fast and not have to think about your technique as you'll already have trained your muscles to play correctly.
******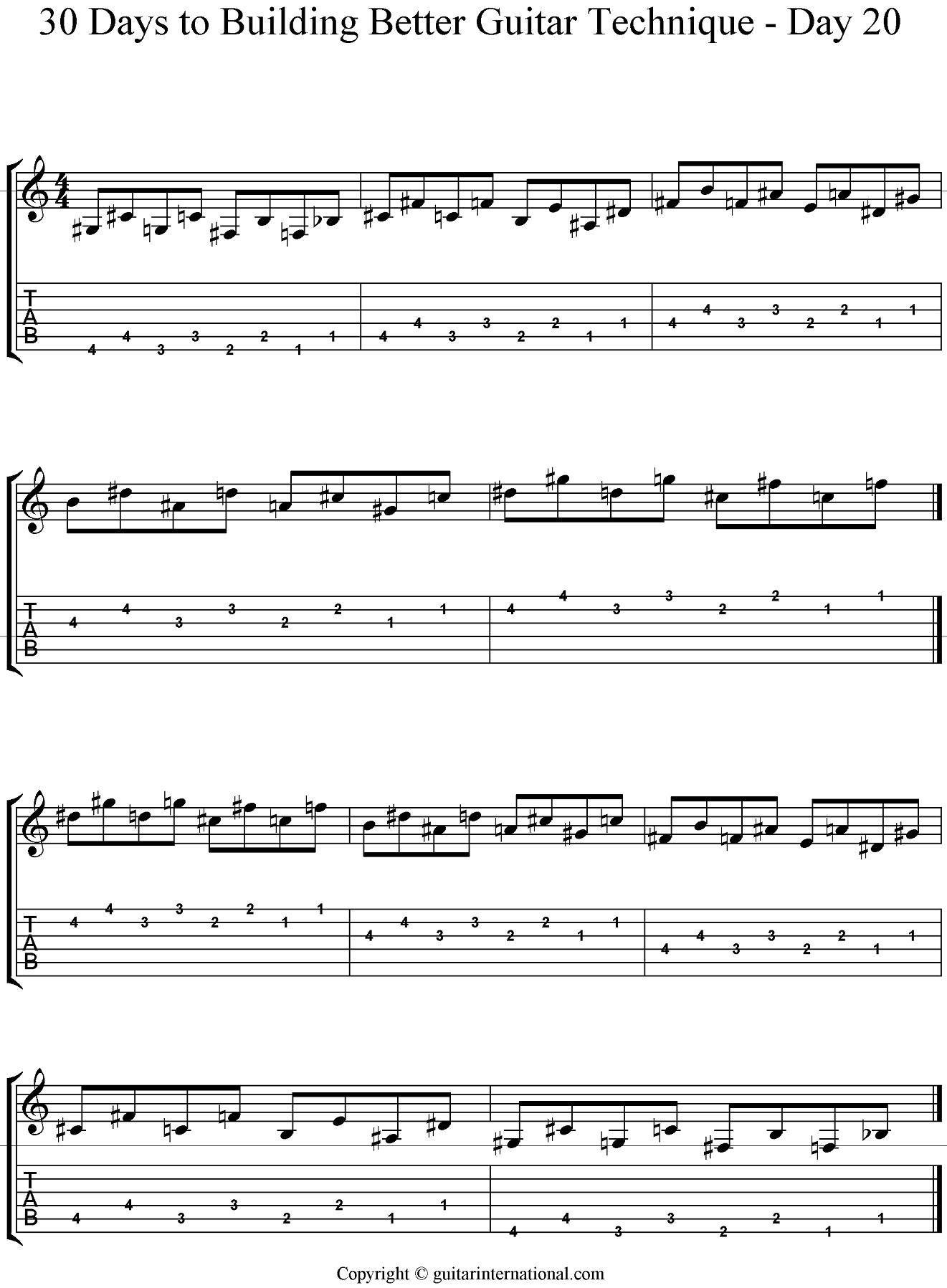 About the Author
Dr. Matthew Warnock is a jazz educator and performer in Manchester, UK. He owns and operates www.mattwarnockguitar, a free online resource for jazz guitarists and is on the faculty of the Leeds College of Music. You can connect with him on Facebook as well as sign up for his free weekly jazz newsletter, where you'll get free copies of his ebook "10 Essential ii-V-I Licks" and "5 Essential Jazz Scale Techniques" when you sign up.