By: Dr. Matt Warnock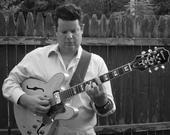 One of the newest blogs on the guitar block, Fretterverse, has been in my Google Reader almost since its inception. Maintaining a steady publishing schedule, most weekdays, the site offers guitarists and fans of the instrument opinion articles, artist profiles, free downloads, album and product reviews and lessons covering a variety of different styles and background. This varied approach to topics is one of the site's strongest points, and one of the reasons it has been getting so much attention in recent months.
Every blogger travels a different path between reading other sites and starting one of their own. For Josh, (the site's owner and main contributor), it was a personal journey that led to his decision to start the site. First and foremost, he states that he "loves the guitar," but he also "felt like I had something to say that other people might be interested in hearing my ramblings. Perhaps that's just my ego talking. Either way, I thought a blog would be a great way to get my thoughts out without trying to write a traditional book."
One of the reasons I find Fretterverse so appealing, is the willingness of Josh to express his opinion and take chances with edgy material and content from time to time. This is obviously something that Josh has thought about as he states one of the biggest challenges in running the site is "trying to maintain an original voice without falling into the typical trappings of a blogger."
Not to say that the site is going to offend people, but some articles (See the Guitar Heroes I Just Don't Get for a good example) do make readers rethink, or reassess, a certain artist, band or performance concept. This is something that is lacking from many other sites, guitar or otherwise, in the ever-growing blogosphere.
When it comes to building the site, Josh takes a hands-on, down to earth approach, noting that he has to "be prepared to work hard. If you want to be successful you need to be a good writer, a thought provoker, and you need to be consistent." This hard work shines through not only in the layout of the site (Josh is a full-time programmer with 15 years of experience and it shows in the site's design), but in the quality of content that Fretterverse features throughout the week.
He also puts a lot of effort into writing his articles. He approaches his writing with the same fervor and dedicated study one would give to their instrument, and he is aware of how important this is in developing a readership and connecting to his readers. Josh notes, "If a phenomenal player writes like a nine-year-old, he probably won't get much traffic, unless he's just doing videos."
Another reason for the site's early success is Josh's ability to find his niche and personalize the site: "You have to be original and find your own voice. If your site is just like 800 others out there, people won't feel compelled to visit your site. You need to find a corner of the guitar universe that you can call your own and work from there."
Besides being a strong writer, Josh also brings to the table many years of experience as a guitarist and student of the instrument. This is something he feels has helped him develop his reputation with readers and fellow guitarists. "I don't think guitar players would be able to relate to someone who isn't a guitarist, but blogs about guitar. There's just too much involved in the guitar universe, where players, styles, gear, music, and playing are too intrinsically tied together in player's minds."
Josh has also embraced new mediums to reach out to his fans and readers. Fretterverse has a Facebook fan page and like every other site on the planet has embraced Twitter, willingly or not. As Josh says jokingly, "at first I thought it was a useless technology. I was wrong. Twitter is pretty much a necessary evil for bloggers at this point, as it seems people are becoming less interested in long-form email correspondence and just want to shortcut communication. Personally I like email better, but I'm old."
As he settles into his position as one of the rising stars of the guitar blog realm, Josh has confidence that Fretterverse, and related sites, will be around for a long time. When asked if new platforms will replace the traditional blog sites Josh responds, "I don't think so, at least not yet. Video is already starting to run into roadblocks in terms of monetization, and I suspect they are going to try and figure that model out first before anything else replaces the current paradigm."
Though he doesn't have the budget or giant staff of a Guitar World or Premiere Guitar, Josh runs Fretterverse with the attitude and work ethic of any big-name publication, and has recently received a Guitar Blog Award for his efforts. If you haven't checked out the site yet, do yourself a favor and head on over. You won't be disappointed.