By: Brad Conroy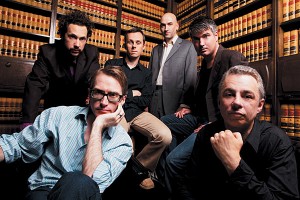 The Trashcan Sinatras originated in Scotland and have been releasing critically acclaimed albums on both sides of the Atlantic for the past twenty years. Easily one of the finest rock bands to emerge from the 1990's, and without a doubt one of the decade's most under appreciated bands; it's astonishing that with their talent and incredible song writing they haven't achieved the same commercial success as their contemporaries.
TCS draws from a wide range of sounds and emotions which makes their music instantly likeable. Their heavy use of pop harmonies has the ability to hook you in when you least expect it, and their crafty and intelligent lyrics keep you coming back. After listening to them for a short while you begin to notice all of the little things that make TCS incredible.
At times it's the way rhythm guitarist John Douglas is singing playful, and beautiful vocal harmonies in support of Frank Readers' crooning voice, or his rhythm guitar work as it helps lay the foundation of their sound. A real highlight and a major role in the TCS sound is lead guitarist Paul Livingston. Livingston plays an incredible role in defining the bands overall sound, and his parts can be subtle, but quite busy at the same time. Livingston's lead guitar parts are always perfectly placed and extremely fitting to each song.
After more than two decades of making music, and twenty years after their debut release, these guys from Glasgow are promoting their newest album, In the Music. Released on April 27th of this year, the band came State side once again this summer for a tour in support of their latest record.
The album features a collection of new songs filled with their signature melodies and harmonies. Recorded in New York City and Martha's Vineyard with producer Andy Chase (Ivy) and were joined in the studio by long-time friends, bassist Grant Wilson, keyboardist Stevie Mulhearn and guitarist Jody Stoddart. The band is really excited about their latest album and excited to be back on the road again and playing music that they love.
Guitarists John Douglas and Paul Livingston recently sat down with Guitar International Magazine to discuss the new album, being on the road, influences, gear, and so much more.
******
Brad Conroy: How does it feel to be back on the road?
Paul Livingston: It's awesome, we were locked out of our hotel room this morning, but we got through it. [Laughs] It's the little things like that make being on the road such an adventure. Plus we love playing live shows too.
John Douglas: It feels really great. We kicked it off in San Francisco and haven't played in a forum like that for a few months, so it feels great to be back. There's nothing like being on the road and playing shows, so we are feeling good.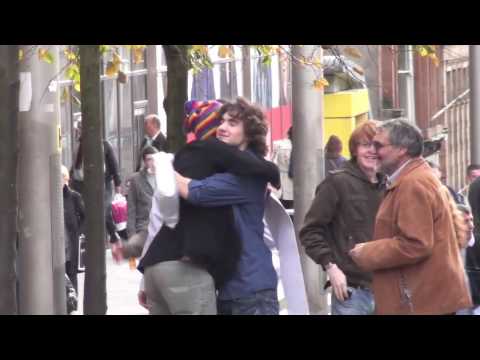 Brad: Tell us about the new album In the Music.
Paul: OK the new album, what did we do? We didn't learn any songs. We just kind of jammed for ages. We got really stoned and jammed over the same repetitive thing over and over, kind of like a garage band. Eventually something came about, it was just good fun to do, and we were really excited about what we were hearing and decided to finally record something.
The album came about organically, and it was a case where everyone involved happened to change things at the last minute. It was the easiest album we have ever made and I think we are all proud of it.
John: We want the record to make hips sway, toes tap, heads nod and hearts open. We think the themes are universal.
Brad: What was the recording process like?
Paul: We recorded the album in New York. We went into the studio with just the bare minimum in terms of song writing, orchestrations, and odds and ends. Recording this album was the most fun and easiest experience we've had as a band, and I think that definitely comes across when you hear it.
John: We went into the studio with quite a few ideas and songs that weren't completely finished and we jammed around a lot and recorded the band live. There's an element of chance and when we liked what we heard we went back and did overdubs on vocals and some of the more intricate guitar parts and orchestrations.
Brad: Seems like everyone is credited with the writing, can you tell us about the process?
Paul: There are some chords and lyrics and we just all jam over it until we find our individual part.
John: We had a bunch of songs that we have written and been playing for the past three years, no arrangements or anything. Just acoustic guitar and vocals and we would jam on them until they evolved and developed into what you hear on the album.
Brad: How did you get started out playing guitar?
Paul: There was this really cool teacher at school and he played guitar. He showed me how to play some Harry Chapman and Simon and Garfunkel songs. I was about eight years old when I began and I took lessons for many years. The teacher that I had thought it was important for his students to be in a band. It was like ten guitarists and we would play for old folks, friends, and it was great fun.
We would work on reading music, even though I don't make use of that anymore. He taught me all kinds of chords, songs, and it has really helped me to this day.
John: I didn't really start until late and I didn't get a guitar until I was 19. I come from Scotland but I was working at a restaurant in London. I would check out different gigs at night and spend all of my money on records. This eventually inspired me to buy a guitar. I quickly learned some chords and I became very interested in writing songs rather than becoming a guitar virtuoso.
In the beginning I kept writing songs around a few basic chord progressions. I tried to twist and turn the rhythms around in order to make each song sound a little different. Over the years my discovery of new chords and guitar tricks and constant desire to write songs has led to my style and sound.
Brad: Who were the guys that inspired you to play guitar?
Paul: Heavy metal; I was a little kid and I was really into bands like Judas Priest, Iron Maiden, Black Sabbath, Led Zeppelin, and Deep Purple. I was really into Robert Fripp, but as time went on I realized Heavy Metal just wasn't cool and I found Johnny Marr of The Smiths.
John: I used to stay up really late messing with a few chords and really put a lot of time in so I could get my fingers moving, but I was always inspired most by song writers.
Brad: What are you listening to currently?
Paul: I've gone back to the basics recently and have been listening to King Crimson, Black Sabbath, and Deep Purple. I listen to different music for different moods. If I just want to sit on my bed with headphones and reflect, I'll listen to something like the Smiths, but other moments call for rocking out to something like Van Halen. It all depends on my mood.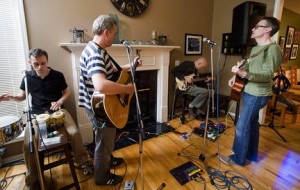 Brad: What kind of gear are you using now?
Paul: I don't even have an amp right now, except for my little Vox practice amp at home. A really good amp is just so expensive and I haven't really found one I want to commit to yet, and really all the amp has to do is amplify. My technique and effects are what I think really make my sound, so I usually just share and amp with one of the bands that we are playing with. Also, it's hard for me to travel with an amp because I usually have to fly in.
Currently I'm using a Fender Stratocaster, and quite a few pedals on my pedal board.
Way Huge Pork Loin overdrive
Electro Harmonix Holy Grail reverb
Artec Vintage Phaser
Boss TU2 tuner
Behringer RV6 reverb
TC Electronics Nova Delay
Boss Blues Driver overdrive
MXR Dynacomp compressor
Morley Classic Wah
John: I use a Boss multi effects processor, I'm not sure what the name is, but it's blue. [Laughs] I like the delay setting on there which I tend to use a lot and some chorus effects to fill my rhythm sounds out a bit.
Brad: Paul, you seem really dialed in on your tone, any advice?
Paul: I use the same tone all of the time on the amp, but I use quite a few pedals. I love pedals and electronic goodies. I love sitting around listening to the different sounds I can get. I really like the backwards sound effects, it adds such a cool sound and ambiance that we weren't able to create outside of the studio in the early days.
Brad: With such crafty song lyrics I get the impression that you guys read a lot.
John: Of course, always reading something. I really like poets like Yates, because you can really take away a lot from the masters to apply to your song writing. A lot of it has to do with Scottish people and our culture being really geared toward having a good education and knowing what the classics are.
Paul: I think that being well versed in literature really helps contribute to song writing.
Brad: How has the music industry changed in the past 20 years? Positive and Negative.
Paul: I don't know, I really don't feel like I've been involved in the music business for years. It used to be that you would have an album that the company was involved with making and then would distribute it, but it just seems so different now.
A positive aspect is that with modern software and home recording it is easy to self produce an album and get it out there via iTunes and the internet. It certainly has changed a lot since we began.
John: A few of the negative aspects are that there really isn't a place to go buy albums that isn't online, and the market for recording a full album of music is dying because of the iTunes downloading.
Brad: Do you think sites like Youtube, Facebook, and Myspace help get your music out there?
Paul: I think those websites are good fun and really beneficial in getting things out and about. I love going on Youtube and watching videos and I'm always amazed that I can find and watch almost anything that I'm looking for. Lately it has been a lot of Jeff Beck videos, that guy is so incredible and can recreate so many sounds.
John: I agree with Paul, those sites have become an incredible resource for bands and listeners a like. It makes me wonder about what we did before they existed. [Laughs]
Brad: You guys have been around for quiet a while now? How do you explain the bands longevity?
John: We've been around for quite a while even though our output doesn't reflect that, we only have five albums, but it always seems fresh and exciting. Usually it takes us two or three years to have enough songs to record an album, and then the recording process can take a while too, years even. We try to have something new every five years and we often don't realize where the time has gone.
Paul: We're all friends and I am not sure what else we would be doing if it wasn't for this band.
Brad: I think you guys sound incredible; catchy songs, vocal harmonies, crafty guitar playing, and you guys have a very loyal following, but why do you think the TCS never really "blew up"?
Paul: I don't know, there are a lot of factors in our lack of success. It is the kind of business where after you bring out your first album you have to match all of the efforts of the people that are behind you, and at that time for us we were very distrustful of the record companies and the business side of things.
So we said no to a lot of things that could have really helped our career; like doing a television show. It would've been nice to be really successful, but in retrospect I think that if we would have done them and had reasonable success in the 90's we probably wouldn't be together now. We aren't in this to make money, but to make music and communicate with our listeners.
Brad: What's next for Trashcan Sinatras?
John: We're going to finish the US tour and promote our new album, and next we will do a UK tour and Europe, and then we have been talking about doing an acoustic tour. Things are looking busy.
Paul: We're going to finish the tour, hopefully write more songs, and just keep on having fun with it.