By: Joerg Kliewe
"Doug Pettibone has played guitar with everyone. Well, maybe not everyone, but close to it. Give him a couple years. In fact, if you don't currently play guitar, go buy one, learn some chords, and wait." This is how Doug Pettibone's MySpace page starts.
Doug Pettibone happens to be one of America's most wanted session guitarists for Americana music. His collaboration with Lucinda Williams, producer legend Hal Willner and Marianne Faithull, is famous. But, he's also backed up such major artists as Mark Knopfler, Joan Baez, Tracy Chapman and Jewel.
I met Doug Pettibone at a Hollywood studio this summer, during a rehearsal for an upcoming tour with Latin music star Darco Rosa. Doug told us about the life of a session guitarist, his favorite guitars and his most recent collaboration with a jewel of England's rock pedigree, Marianne Faithfull.
"Check Out Joerg Kliewe's Book Getting There at Blurb.com"
******
Joerg Kliewe: Since we befriended each other on "MySpace" I was able to follow your activity stream pretty frequently. So, what have you been up to lately?
Doug Pettibone: See, the last few things I've done: I was with Lucinda Williams for the last eight years as her music director and guitar player. And then I did a bunch of projects with other artists, I toured with Ray LaMontagne and just most recently I did a tour with Marianne Faithfull.
We're preparing to do another record, I've been writing with her, working on some songs for the upcoming record that we're gonna record at the end of the year. And then I'm also working, right now, I've been on rehearsal with Draco Rosa, who is a fantastic Latin American artist. We are gonna tour South America next week.
Joerg: Sounds exciting…
Doug: Yeah, I've never been there before.
Joerg: Also sounds like many session guitarists must envy you.
Doug: (Laughs) I don't know…
Joerg: …I mean do you feel a lot of competition in the L.A. music scene?
Doug: I don't know as far as much competition, but there's a handful of guys that are always working, you know. I think I've been lucky enough to stay busy, since probably about '95 I've been constantly busy with different tours and recording sessions. I've been able to survive and I feel really fortunate to be able to play music for a living.
Joerg: Did your collaboration and friendship with Hal Willner help you a lot?
Doug: Oh yes, I met Hal on the Lucinda sessions and we kinda headed off and I worked on a few other projects with him. I did the Rogue's Gallery: Pirate Ballads, Sea Songs, and Chanteys record, I got to work with Sting, Van Dyke Parks, Richard Thompson and – quite a few people – I either sing on the record or play guitar.
Joerg: And Hal brought you and Marianne Faithfull together, right?
Doug: Yes, Hal recommended me for Marianne. He thought we'd hit it off and he was right. He also suggested that I start writing songs with her. Now we write together. Hal's been really instrumental in having hooking me up with different people and playing different sessions.
Joerg: You just told me, you were going to go on tour with Marianne as a duo. So, that seems to be quite a creative relationship between the two of you.
Doug: Oh yeah, she is such a cool and creative person. She was there when all the stuff was happening back in the days. She tells you stories about being at the club the first time that Hendrix showed up to town, Townshend and Clapton were there, kinda feeling like "Wooh, who's this guy?" She said it was pretty special, but there was hardly anybody in the club, just a few, a handful of people. It was such a tiny music scene that was going on, but it just exploded. People assume there were tons of people at these shows, but in fact it was just tiny.
Joerg: I read is this story that Hendrix didn't even own a guitar when he showed up in London for the first time and he had to be given one by Clapton's girl friends. (both laughing) So, what is your favorite gear at the moment?
Doug: I'm using a lot of James Trussart guitars. I really love them. What attracted me first was the visual – he is an artist. His guitars are beautifully crafted, original and they are metal, as you know. They are hollow, and I really like hollow electric guitars. The just have the overtones and sustain that I love. You get more out of them, I think. They just come alive when you plug them in. You're not sure what they're gonna do all the time but it's usually pretty cool!
Joerg: When I covered a Lucinda show in Seattle I saw you playing Gretsches only.
Doug: Yeah? I think I might have had a Trussart out there. I was asking what guitars should I bring? She said, "Bring whatever you want!" I've got a collection of about 75 guitars. So, I walked to my storage thinking 'what should I bring' and I ended up bringing probably 15 different guitars.
At one point I was collecting Gretsches and I think I had three '60s Duo Jets out there. One of my favorite guitars is a '63 Chet Atkins Nashville guitar that I just love. I used that on a lot of the Lucinda records. I also got an ES-335 from Gibson that's amazing, and I've been using that a lot too.
Joerg: So, you have an endorsement deal with James Trussart?
Doug: Yes, with Trussart, Gibson and Fender. I like Fenders too. You know, they all have different flavors and all the companies I have worked with seem to be really cool. You don't have to play their guitars exclusively. They have all been really cool about that. I want to use all the different colors, just don't want to stick to one.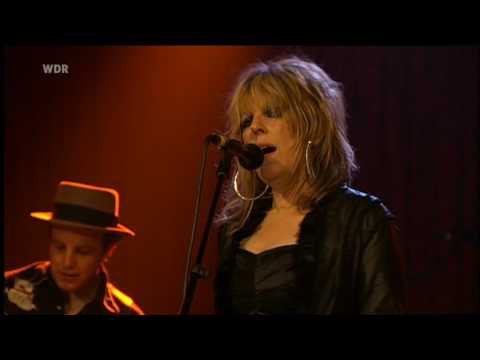 Joerg: How about amps?
Doug: Live I'm using an early Matchless Clubman 35 that I've been using for years and I love the way it really works well with pedals. It has kind of like a neutral tone on it and that one just works great with pedals. I've been using that one with a Matchless 2X12 cabinet and with that I also use a '62 Fender Princeton, a brown one.
I started of using that one as a monitor for the bass player on the other side of the stage. So, he could what I was doing, and it turns out that the front-of-the-house-guys were favoring that amp and the they'd mix in a little bit of the Matchless too. I also use a Reissue Fender Twin Blackface for my pedal steel.
Joerg: I didn't know you were playing pedal steel…
Doug: Oh yeah, I've been playing it for not that long, probably 10 years. It's like trying to fly a helicopter with so many things going on: legs, knees, foot pedals and the you have to play in tune with everybody on top of that [Chuckles] – I love pedal steel.
Joerg: You had released a solo album recently too. How do all your session activities go together with your solo projects?
Doug: We worked with all these great song writers for years. And I co-wrote stuff with some people, but I never really sat done and thought "let's do a solo career". I used to play at restaurants, just guitar and voice, for years back in the old days. Lucinda said, that she never really respected a song writer unless they wrote a song by themselves, do you know what I mean?
Everybody is co-writing all the time, like in Nashville everybody co-writes. But, Lucinda kind of inspired me to start writing, her and Ned Albright, who produced my record. He was really instrumental in getting me to write and helping me. So, I'm working on a new record right now. But I'm also working with some other artists writing, like Marianne. It's been really cool. She sends me out the lyrics and I trim them down and put music to them. So far everything is working great. It's a great combination.
******