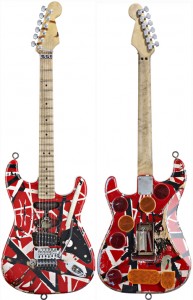 By: Mark Hooson
So you've seen the guitar of your dreams, but it has a nightmare price tag. What are your options? And should you spend more than you can afford to up-front?
There is an old saying which says: "You get what you pay for" and this couldn't be truer when buying a guitar. For most of us though, our bank balances don't often match our aspirations.
If you've got your eye on a guitar that is out of your price range, here is a look at your options.
Savings
The first, and arguably most sensible option available to you, is to save up for the guitar you really want.
A Gibson Les Paul doesn't come cheap, and it will probably take more than a piggy bank to make your savings stretch far enough.
One option is to open a savings account, and choosing the best one will mean you get the most interest back for the money you put in – effectively meaning you'll get that guitar sooner.
Put as much money in as you can afford to and don't be tempted to dip into your savings. When choosing an account, you should ask questions like: Do I need to put in a certain amount every month? Is the rate fixed or will it change? Is there a short term bonus?
With a bit of foresight and a lot of patience you'll be shredding on the guitar of your dreams in no time.
Finance
Some stores offer interest-free credit, which means you can go to the store today, leave with your new toy, and pay in monthly installments.
As some stores offer interest-free finance, it means you won't pay any more than the value of the guitar.
Often you'll have to pay a certain percentage up-front as a deposit, and you'll be expected to hand over your bank account details and proof of identification.
The best move is to shop around and ask the stores for details on their in-store finance plans. Ask what the rate of interest (if any) is, how much deposit is required and what information the store needs about you to approve the finance.
Finance could mean you can split the price of your dream guitar into small monthly installments, and still get the guitar as soon as you want it.
Credit Card
The risks of putting an expensive guitar like a PRS CE22 on a credit card are clear, but there are also benefits to using a credit card for expensive purchases.
Whether or not you use a credit card should really come down to your ability to pay.
You might not want to use purchase credit cards if you simply can't afford the guitar you've got your eye on. Instead, you should use it for security and the possible rewards you can get for it.
If, for example, you were to pay for a Simon and Patrick acoustic using a credit card, and the merchant you bought it from announced that it had gone bust before receive got the guitar, then the credit card company should reimburse you for the full amount.
The other reasons you might use a credit card, provided you can afford the guitar, are things like cashback on purchases, or reward points you can spend in other stores.
But remember!
It's easy to kid yourself into thinking you can afford a guitar once you've fallen in love with it, so before you start signing up for finance, or reaching for the plastic; here are some things to think about:
1. Ask yourself if you really need to spend so much on a guitar. Sure, if you pay for a Gibson J200 you'll get a great guitar that will last you a long time – but perhaps you should try the cheaper Epiphone EJ200 if you think you're the sort of person who will want a new guitar two years later.
2. Can you get a good deal on a used guitar? People tend to want to buy new, but if we take the J200 example, a two-year-old model will already have been broken in and will sound better for its age. That being said, you need to make sure it's in good enough condition before you hand over the cash.
3. Shop around! This is the fun part of buying a new guitar, don't just go to one store and accept their price, and don't just get stuck on one particular guitar and shy away from trying something different. This is the best way to make the most of your money.
[Mark Hooson is a financial writer for Moneysupermarket.com and would like a Gibson J200, but settled for an Epiphone EJ200 to keep his finances in tune.]