By: Hugh Ochoa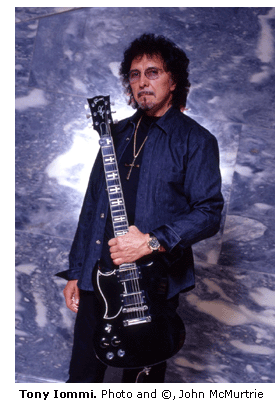 Enough said, unless you've been stranded on a desert island for the past thirty-five years.
Frank Anthony Iommi, Terence Michael Butler, William Ward and John Michael Osbourne get together in 1967 and form a band called the Polka Tulk Blues Band.
Shortly after, the guys changed the name to just Polka Tulk and then to Earth, riding the blues circuit until they were booked at a club with another group that had the same name.
The hunt for a new name began.
Around this time, Butler watched an old Boris Karloff movie called Black Sabbath. The title was creepy and ominous, with a gloom and doom feel to it that fit the band's heavier style that was beginning to evolve.
Enter Black Sabbath.
Unlike the spirit of the '60s that was synonymous with "flower power", peace, love and hippies, the band's sound came from some netherworld. Their hometown surroundings were harsh and their futures bleak, inspiring feelings of futility and angst.
From this backdrop of foreboding, the music of Black Sabbath reflected a haunting specter of frightening realities.
Followers of death rock, Goth, and metal have crowned Black Sabbath as the godfathers of heavy metal. Their music encompasses the score of many heavy metal fans' inner soundtrack.
Check out a local music shop's musician want ads and you'll always see "Black Sabbath" listed as a style or influence of the type of music new bands want to play.
Check Out the Black Sabbath
Collection at Amazon.com
Tony Iommi was born and raised in the industrial town of Birmingham, England. It was there that he suffered a horrible accident in a sheet metal factory that nearly ended his guitar playing career.
Iommi cut the tips off the two middle fingers of his right hand, the hand that frets the guitar strings for a lefty. He hung up his guitar.
However, good fortune hit when a friend turned him on to jazz great, Django Reinhardt. A legendary guitarist who had lost the use of two fingers in a fire. Inspired, Tony grabbed his guitar, and persevered.
He experimented by melting plastic and molding it into various shapes, then attaching them to what was left of his finger tips. Like Reinhardt, he began to play, making the most of what he had, emphasizing the fingers that were still fully functional.
He down tuned his strings to make bending easier. This change led to a very unique style and sound that would become the essence of Black Sabbath. Coupled with the growing trend to use bigger and louder amplifiers, as well as distortion, Iommi's riffs began to rule the rock-guitar world.
All the pieces fell into place, and Black Sabbath became a huge success with power chord hits like "Iron Man", "War Pigs", "Black Sabbath" and "Paranoid."
Iommi is the only Black Sabbath member that has never left the band, although he had a brief stint with Jethro Tull in '69. As well, Tony's the only member that's played on every Sabbath recording.
Black Sabbath recently launched its 2005 tour with its original line up. Tony's been back in the studio recording a solo record, Fused, with plans to tour in support of the record after the Sabbath tour finishes up.
Amidst rumors about Ozzy Osbourne's health and vocal abilities, and the decision to no longer headline Ozzfest, I spoke briefly with the very gentlemanly Tony Iommi about Fused and the future of Black Sabbath.
******
Hugh Ochoa: What motivated you to record your new solo album, Fused?
Tony Iommi: I just felt like I wanted to do another solo album. Basically, under Sabbath, we never seem to get anything rolling. I'm just fed up with waiting around to get anything off the ground.
I thought I was due for another solo record, and I wanted to do an album with just one singer on it because my last album, back in 2000, had ten different singers. I wanted to do an album with a proper band. Just a drummer, a bass player and a singer that I can tune with.
Hugh: How would you describe the musical style of Fused?
Tony Iommi: It's a rock album, a heavy rock album. Glenn Hughes is singing, Kenny Aronoff is on drums and I'm on guitar. I think it's quite a strong album.
Hugh: Are you currently touring for it?
Tony Iommi: No, I'm touring with Sabbath at the moment.
Hugh: There have been rumors that Black Sabbath may never tour again.
Tony Iommi: I haven't heard that. The only thing I've heard is that we're not going to do Ozzfest because I think we've over-done that. We did it last year and a couple or three years before that.
I think that if we do any more shows with Sabbath it'll be occasional ones like, maybe one Ozzfest date. But I think they'll be indoor shows if we do any more.
Hugh: With Ozzy still singing?
Tony Iommi: Yeah , Ozzy is still singing for Sabbath.
Hugh: I know it's been a long time, but I think it's on some people's mind. What changed that helped you guys decide to put your differences aside and work together? What did it take?
Tony Iommi: Time, probably. That was a long time ago. We've been back together now for ten years. You just have to bury the hatchet and sort of get on with it.
Hugh: Is it true that you used to light Bill Ward on fire? You once set his beard ablaze?
Tony Iommi: Yes. [Laughs]
Hugh: Any talk about a studio album with the original line-up?
Tony Iommi: We've been talking about it for years and we talked about it again at the beginning of this tour. But, who knows. I don't know. It's probably faded away I should think by now, though we really want to do one.
Certainly, Bill and I talk about it a lot because we'd like to do one. But whether it'll happen or not, I can't really say.
Hugh: It's interesting that you say that, because it's usually Bill that's missing from the reunion tours and a lot of incarnations of Sabbath.
Tony Iommi: He wasn't on the first one because it wasn't going to be a reunion. The first one wasn't a reunion. We just got together with Ozzy to do some shows on the Ozzfest tour, which was just playing some Sabbath stuff for a short set, you know. It wasn't really a full reunion. But the next tour after that was a full reunion with Bill.
Hugh: Do you think that Ozzy's health problems will affect the current tour?
Tony Iommi: No, because we've only got two more to do, but it did affect us. We had to cancel about four shows. Which is really sad to do, but what can you do when he says, "I can't sing?"
He sees a doctor and they say, "You have to cancel the show". Or, "You're not going to be able to sing." The problem was we were doing two shows in a row on some of those dates, which we don't normally do.
We haven't done that with Ozzy in years anyway. He usually does one show on, one off, one on, one off, but on this tour there were a couple of double nights. We tried and it didn't work.
Hugh: Have you considered using another singer to fill in?
Tony Iommi: No.
Hugh: So when the Sabbath tour is done, do you plan to tour to promote your new album?
Tony Iommi: Yes. That's the plan. We'll finish here soon, and once I get back to England, I'll have a bit of a break then start getting ready to do some of my own stuff.
Hugh: You now have your own Gibson SG signature guitar. That has to be pretty exciting.
Tony Iommi: Yes. We did that a few years ago now, an Iommi guitar. Gibson also did an Iommi pickup which they've never done before. They've never done anybody else's pickup. I was really impressed with them wanting to do that. It's gone over very well.
Hugh: Does the Iommi guitar come in a right-handed model, or is that a special order?
Tony Iommi: No, [Laughs] it does come in a right-handed model.
Hugh: It's funny that you have a humbucker as your signature pickup. I have a picture of your original '60s SG and it clearly has P90 single coils in it.
Tony Iommi: Yeah, the original one did, but I sort of moved on from that set up. The problem with that was, it picked up so much sound and sometimes made a horrendous racket of noise and interference.
That's why I went into designing a pickup for me that would sort of be the same thing, but not feedback so much, not pick up all the interference. I had to do that myself in the early days because nobody was interested in doing it.
I basically bought a guitar company in England, and got them to make me my own guitar. Then the guys in the factory that worked for me, I got them to start working on pickups and that's what we did. We went through the trial and error of trying different windings until one came up that I liked.
When I eventually got rid of the company, I went back to Gibson. Gibson wanted to make it, wanted to copy it. So that's what we did. I went into Gibson and we worked again on another form of my original pickup.
Hugh: Are they passive or active?
Tony Iommi: You mean with a preamp and all that? No, they're just regular pickups.
Hugh: Are you still using Laney amplifiers?
Tony Iommi: Yeah, I still got mine. Again, those are signature models so I use them all the time.
Hugh: After all these years, does your signature tone come naturally to you or do you still work hard at getting good tones?
Tony Iommi: I took a long time working on it. Years and years. I've never been totally satisfied with it. I always keep trying. Even now, on stage some nights it doesn't sound quite right. It's the building or the stage or whatever. But ninety-percent of the time I'm happy with it.
Hugh: What's the mood among all the members of the band?
Tony Iommi: Oh yeah, fine. We've been on this tour for four months and it's coming to an end and everybody's tired. Certainly Ozzy's tired. I think we're all ready for a little break.
It gets a bit strenuous you know. I mean we started off in Europe, we did a month there. Toured all around Europe. Then we came to the States and did three months here. I think we're ready for a bit of a break, but, yeah, everyone's getting on very well.
Hugh: With Ozzy's rumored health problems and the lack of interest in head-lining the Ozzfest shows, what do you think is the future of Black Sabbath?
Tony Iommi: It's a question that's always asked and it's a question that's difficult to answer because with Black Sabbath you never know what's going to happen.
We never know if we're going to tour, we never know if we're going to make an album. We never seem to know much. We weren't intending to tour this year to be honest. I intended to tour with my own project as we speak.
I was going to be out there, but then the Sabbath tour came up with Ozzfest, since that's my main band, we decided to do that.
It was very quick. It was like, "Are we gonna do it? Should we do it? Yes. OK." So we did it. But this time last year, I never knew we were going to be doing it, if you know what I mean. There's never a plan with Sabbath. We sort of take things on the there-and-then.