By: Dr. Matt Warnock
Photo Credit: Mamta Popat, Tucson AZ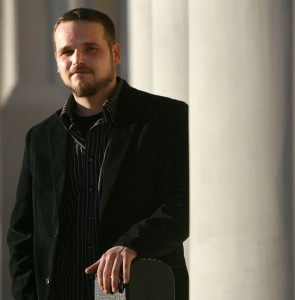 The concert classical-guitarist seems to be a dying breed of musician these days. Yes, there are plenty of performers out there who maintain busy touring schedules, and who are releasing albums of new material yearly, or even bi-yearly in some cases. But, the number of classical guitarists who make a living solely on their touring income, without having to take a teaching position or teaching privately, is dwindling. Every year it seems that more and more players have to supplement their touring income with other employment, not because their art lacks merit, but because live music of all genres is facing stiffer competition for the minds and ears of the concert going public.
Though pursuing a career as a professional classical guitarist in today's modern era seems like a daunting task, to say the least, that hasn't frightened away young players from pursuing their dream of touring the globe. Guitar in hand, these young lions are out there everyday, perfecting their crafts in the practice room, writing, arranging and recording new material, and winning over the hearts of listeners worldwide with their unwavering passion for their craft.
One of the names that has risen to the top of this list of young virtuoso guitarists in recent years is D.C. based Matt Palmer. Possessing enough technique for three guitarists, as well as a heightened sense of musicality and emotion, Palmer has been turning heads as he criss-crosses the nation's concert halls. A full-time performer, Palmer has recently released his debut album, Un Tiempo Fue Italica Famosa to great praise from critics and fans alike. The album is a reflection of Palmer's current touring program and is a showcase for his dazzling chops, gripping emotional approach and his diverse musical tastes.
Matt Palmer recently sat down with Guitar International to discuss the recording process of his latest album, why he chose the pieces he did, and the trials and tribulations of his first year out on the road as a concert classical-guitarist.
******
Matt Warnock: One of the unique things about the album, especially since it's your debut album, is that you did all the recording and mixing yourself. How did you approach that process and how did it turn out for you, being your first self-recording project?
Matt Palmer: On the technical side, I ended up using a stereo pair of Neumann KM 184′s
. I got a lot of depth out of those mics and they seemed to provide an accurate representation of my guitar tone, at least compared to other, similar mics that I tried out. For the recording itself, I went the laptop route. I got an audio interface, a MOTU MK3
, the new version. Routed that into an Apple computer with some good memory, and that's all the hardware and software I used.

The Motu interface came with free software, which was basically a stripped down version of Digital Performer
called Audio Desk. I didn't really need all the bells and whistles that come with Digital Performer. I basically needed to be able to record stereo tracks, which came with the software, so I was lucky, I didn't have to purchase a separate program.
As far as the experience is concerned, I've had absolutely no training in this sort of thing so I was learning as I went. That was probably the biggest hurdle during the whole process, that lack of self-recording experience. One of the biggest problems I faced early on was just figuring out where and how to properly place the mics. Since I was using two mics, it was really important to find good placement and direction for them so that I could get a solid sound down on the recording. Of course, the first thing I did was point them both at the soundhole, which was a huge mistake. [Laughs] It was all bass. With experimentation and some info I pulled from the internet, I ended up pointed one at the bridge and one at around the twelfth fret.
Check out GI's Review of Un Tiempo Fue Italica Famosa
I was basically right in the furnace, because the mics were about a foot from the guitar. Because they were so close I really had to worry about string noise, fret noise, nail noise, there's no way to avoid that with the mics a foot away from your hands. We all tend to ignore that stuff in our playing, because with the distance that a stage provides a lot of that noise is lost by the time the notes reach the audience. That's not the case in a recording situation.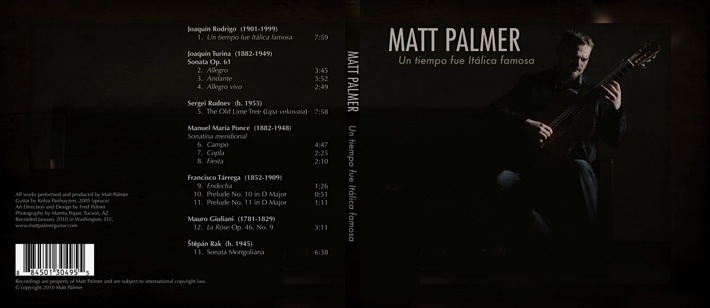 Matt W: Did those noises ever cause you to go back and alter your technique, or fingerings, because it wasn't apparent in the practice room, but once you got the piece on tape those sounds really jumped out and you had to adjust your approach to the piece?
Matt Palmer: Definitely. A couple of the pieces on there, such as "Sonata Mongoliana," with all of the rasgueados and the tremolo-rasgueados, there's a lot of noise that can be produced there. Because of the extra noise that those techniques produce, I ended up moving the mics back about four or five inches, but you can't really tell in the quality of the sound on the recording, except that those extra noises don't stand out so much. I also had to play quieter and really focus on my plant. I had to make sure my nails were in really good shape when I went to record, just to avoid all of those little noises that can creep into my playing when recording.
I also learned that I can't move once the red light goes on. For the longest time, when I was doing some early experimental recordings, I kept finding this popping sound in every track. I thought it was a digital pop, something that was happening in the hardware or software. Then I realized it was my guitar support. The suction cups were slightly moving, because I was moving, and it was causing that noise to be heard in the recording.
I could also hear the acoustic differences that would occur when I would move a bit. I would find this wash coming through in the middle of a track, because I had moved a bit back and forth, so I learned to sit still.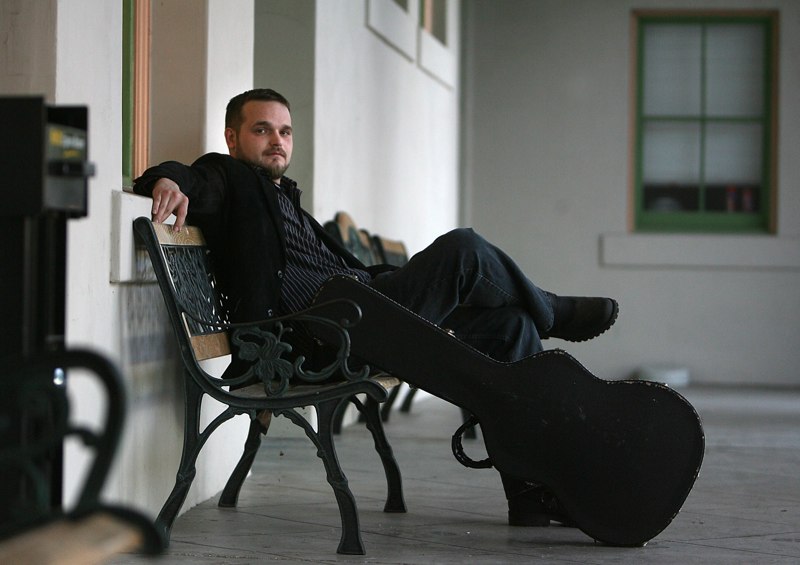 Matt W: Because you've had a long career already, especially for someone as young as yourself, you have a long repertoire list that you've built up over the years. When it came time to record the album, how did you pick and choose which tracks you would include and which you would leave out?
Matt Palmer: Those pieces are really what I was playing at the time. I'm sure I could've picked a theme, like Spanish music or something, but the album is basically a concert, what people would see me play in a concert. That was the idea behind the album. Just record the pieces that I'm playing in concert right now.
Matt W: Because these pieces are incredibly demanding from a technical standpoint, you really have to make sure your chops are in order when performing and recording them. What do you do in your daily routine to get your chops ready to record and perform these pieces in public?
Matt Palmer: I think I have a pretty standard practice routine and for me, I think scales are the most important thing for me to practice. I don't know if this is the same for everyone, but I find that if I work on a lot of scales, that everything seems to come together for me. I start with practicing scales at a manageable tempo, then I add bursts into the scales to build up that initial burst of speed that's in a lot of the pieces I do. Then I just let it fly and try to push my max tempo just a little higher then it was yesterday.
Check out GI's "Artist Profile" of Matt Palmer
I also practice different combinations of right hand fingers to build dexterity, such as i-m, a-m alteration and a-m-i for the really fast stuff. I also have a standard routine to practice arpeggios. I also like to practice a lot of rasqueados, which helps build speed and strength in the fingers, but it's not so great for the nails, most of the time I tape up my nails so that they don't get shredded when I practice. The most important thing with the program that I'm playing right now is building stamina. I really push my fingers until I feel them burn a bit in order to build the stamina I need to get through a piece like the Rak.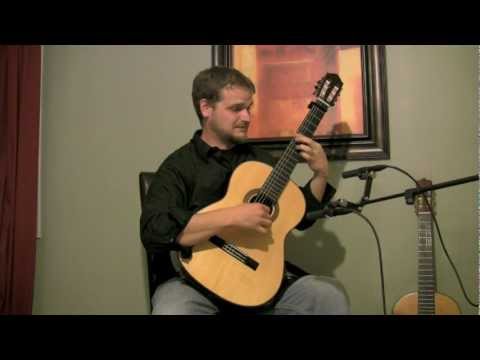 Matt W: Do you also practice pieces or mostly just the technical aspects of your playing?
Matt Palmer: I do practice pieces but not as much as the other stuff. Of course, if I'm working out a new piece then I have to put more time into it because I haven't really developed that solid muscle-memory that can carry me through a concert. If I've been playing a piece for two years I'm not going to forget it onstage, even with the extra distractions that come from playing in public. If I've got that muscle memory worked out, and my chops are in good shape, I can just focus on the music and not worry about losing the form or anything like that.
Matt W: You're finishing up your Doctorate from the University of Arizona, but with this album and the concert tours you're doing, you've started to make that transition from being a student to a full-time professional performer. What has that transition been like and has it been what you were expecting when you were a student?
Matt Palmer: Well, let's see. [Laughs] So far it's kind of been what I was expecting. I knew that school was kind of a shelter for a lot of musicians, and a much needed shelter. If you have a scholarship or a TA you have income that allows you to study and practice. When you get away from that you start to feel that sense of urgency to kick off your professional career.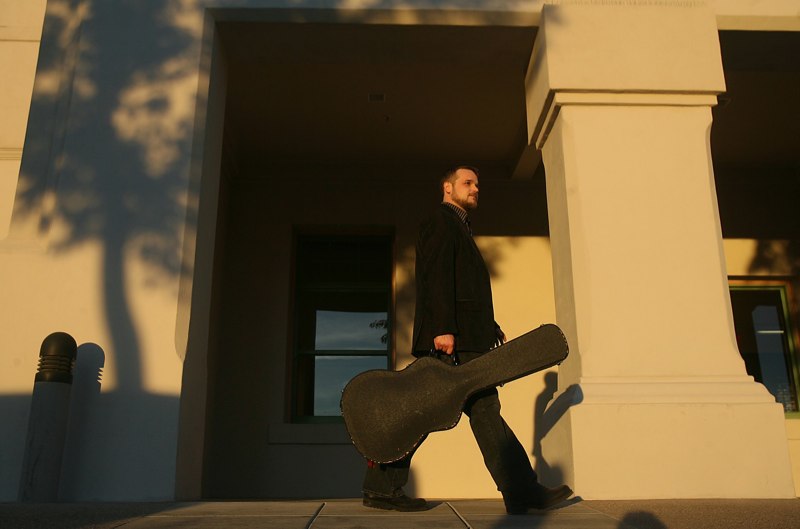 That's kind of what pushed me into doing a record in my first year away from school, as well as getting my method book published, which will come out later this year. I started to realize that if I didn't have these materials, which every professional has, that I wouldn't be labeled as qualified as the next guy who's written a method book and recorded five albums.
I have to keep in mind that I'm still coming out of the gate and that in my first year as a professional I'm not going to book forty concerts, which is also a good thing, because if I had fifty concerts on the books right out of school I probably wouldn't have been able to record my first album. I had to learn all the software and hardware and put the time in to really make it a worthwhile project. If I had been on the road all the time I wouldn't have been able to get that album done, so it's been a good thing for me, to have some free time to work on these important, career building projects.
Matt W: Do you have any interest in pursuing a full-time teaching gig at this point in your career?
Matt Palmer: I do like to teach, I love to teach, but at the moment I don't want to jump right in to a university system and do that. I've really had this desire to perform and make recordings, not to say you can't do that and teach at a university, but it would be more difficult for me to kick off a performing career with a day job.
Having said that, if a position opened up that I really liked of course I would take it, but it's not something that I'm pursuing at the moment. Plus, I still have to finish my Doctorate, so I've got a lot on my plate at the moment. [Laughs]