Guitar International is very honored and pleased to announce that Tish Ciravolo, a pioneer in the musical instrument industry, has joined Guitar International's Board of Advisors. Tish is the President and founder of Daisy Rock Guitars, a company that developed a growing niche market for girl and women guitarists, by designing guitars that were aesthetically and ergonomically more geared toward young girls and women musicians.
Tish established Daisy Rock Guitars in 2000 and in a ten year span she and her crew have expanded the company's reach to over 25 countries. The DR line-up includes both acoustic and electric guitars with such names as the Star, the Pixie, the Rock Candy series and more.
And she rocks! Her group, sASSaffrASS, relies on her bass work on both covers, like the Runaways' "Cherry Bomb", and original material. She say, "I'm kind of over the 'getting a record deal thing', and it's more fun than ever before."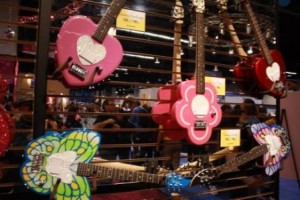 Tish Ciravolo has also authored several guitar instructional books including: Girl's Guitar Method Book 1, Girl's Guitar Method 2, Girl's Bass Method Book 1, and Girl's Guitar Method Complete, published by Alfred Publishing.
Along with Tish's Guitar International column, Women Rock, her role as a member of GI's Board of Advisors will be to offer us guidance and insights into the our site's coverage with respect to girls and women to ensure our magazine reaches and contributes to the needs of all guitarists.
Tish Ciravolo/Daisy Rock on MSNBC