By: Josh Sager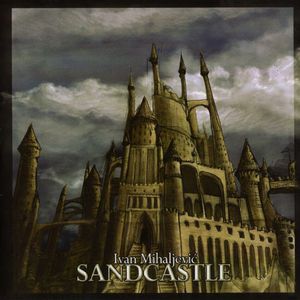 Croatian guitarist Ivan Mihaljević officially hits the international guitar scene with the release of his CD Sandcastle. Joined by band mates Majkl Jagunic (bass) and Craig Devine (drums), Sandcastle is a solid collection of guitar rock that will send many guitarists back to the woodshed to reprioritize their practicing.
Right from the get-go, the opening song "Sandcastle" displays a wide range of exciting guitar techniques. Super fast alternate-picking lines and sweep arpeggios are played perfectly to the point of causing listeners to ask "How does he do that?" Mihaljević's influences are quite apparent throughout the album – Petrucci, Vai, Gilbert – they are all there in Mihaljević's playing.
Don't get me wrong, these influences do not overpower his own voice as he is both tasteful and shreddy in appropriate places, which is not an easy task for most players who possess his level of chops. Also of note is Mihaljević's very nice vibrato. An extremely important technique in developing a unique voice on the instrument and something that is sometimes overlooked by rock-metal guitar players.
What I like most about the album is that, even though there are a lot of moments of pure shred, the technical side of things is not completely overdone. Mihaljević certainly has a feel for when to shred, and more importantly, when to lay back on a vocal-style melody line that helps to set up the blistering runs to come. This dichotomy can be heard on the track "Distant World," which features a great acoustic line during the verse, while also showcasing the guitarist's powerful singing voice.
Lyrically, "The Road to Nowhere" stands out as being the most personal track on the album, though a tad predictable in places. Also the two-part "Questions in My Mind" is a little weak compared to the rest of the album, mostly for the lyrical content, but this is nitpicking. For a 14-song CD, Mihaljević packs a lot in, and perhaps shaving off those two songs, keeping the CD to twelve songs, would have made for a tighter package in my opinion.
The one thing that I think Mihaljević is uniquely qualified to explore in future albums would be to mix in more "native" stylistic influence in the songs, perhaps even bringing some folk culture from Croatian music into the mix to infuse some diversity. There are a lot of shredders out there, but not many who could explore that unique fusion of shred and Croatian folk music. The idea of mixing Croatian folk music with shred-guitar is something I could definitely get into.
Overall I think Sandcastle is a solid effort with lots of possibilities. Shred lovers will not be disappointed, and band mates Majkl and Craig do an excellent job of keeping the songs clean, tight, and grooving.
Ivan Mihaljevic Homepage
Sandcastle on CD Baby