By: Brad Conroy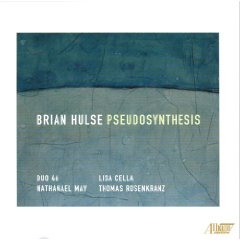 Brian Hulse's album Pseudosynthesis is a collection of original compositions for solo piano, guitar and violin duo, flute and piano duo, and small chamber ensemble. On this album there are moments of singing melody, flamenco rhythms, discontinuities, syncopated rhythms, virtuosity; borrowing both form the classical tradition and twentieth century, making this music some of the most interesting and fresh twenty-first century chamber music recently recorded.
"If the music on this record is for anything, besides simply being for itself, it is for remembering the quirky, the impure, the rogue, and the ambulant of music. It is for a vision of music as a theater of sound-sensation in which what happens is not determined in advance and not bound by neat categories; where nothing is fully blended or fully authentic." (Hulse)
The album opens with an extended work for solo piano composed for and performed by Nathaneal May. "Pinch" has a wide range of dynamic possibility and must be a hard piece to perform because there are so many different moods conveyed within just one work. May performs the music with incredible precision and his dynamics bring to life the moods and feelings of boldness, resoluteness, echoing, playfulness, dancing, sensuousness, confidence, and reflectivity.
"Seastone" is an original work that was commissioned by Duo 46, which is Matt Gould on Guitar and Beth Llana Schneider-Gould on violin. This is a real highlight on the album. "Seastone" is a five movement work and Duo 46 perform it with incredible tone, and rhythmic accuracy. There is a "whiff' of Mediterranean sound and a feeling of quirkiness, stuttering rhythms, and a very effective modernized flamenco guitar sound in the third movement. Duo 46 performs this piece, which sounds like a handful, with precision, grace, ease, and passion. Hulse has composed a really special piece with "Seastone".
Brian Hulse's album Pseudosynthesis is a unique and fresh blending of all that classical and modern music has to offer. The compositions capture so many different moods and it will surely excite, sadden, and conjure up many images in the listener's imagination. This album contains wonderful performances by incredible musicians, and the music will inspire and elevate any fan of modern classical music.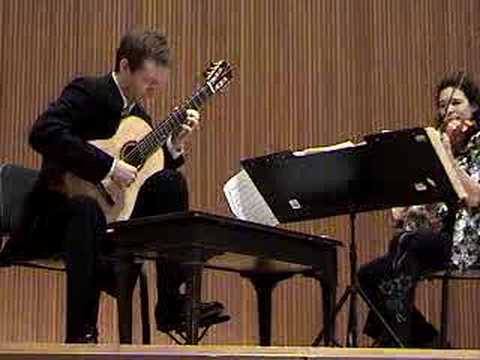 Links
Brian Hulse: Pseudosynthesis on Amazon