By: Dr. Matt Warnock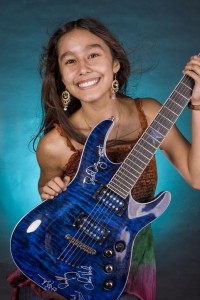 Desiree Bassett's accomplishments place her in a select group of modern guitarists. She's performed with Sammy Hagar, the Marshall Tucker Band, with members of the Allman Brothers Band and at the 2006 and 2007 NAMM shows with rock band Living Color. She was named Talent America's "Best Musician" in 2005, has recorded two albums as a bandleader, played countless gigs on both coasts and is sponsored by Peavey, Schecter Guitar Research and Taylor Guitars, among others. While this may sound impressive enough as it is, what makes these accomplishments even more remarkable is that she just recently celebrated her seventeenth birthday.
Born in 1992, Bassett was already singing along with her favorite songs by the age of two and began to learn the guitar a year later when she was only three years old. Ditching her half-size guitar at the age of five, Bassett picked up a full-sized instrument and hasn't looked back since. After studying with her father, a guitarist and also the young guitarist's manager, Bassett enrolled in private lessons at the University of Connecticut at the age of nine. A self-described ear player, Bassett has continued to study the theoretical side of music, and hopes to continue to do so next year when she plans to continue her musical studies at the college level.
Guitar wunderkind Desiree Bassett recently sat down with Guitar International Magazine to talk about her early influences, the complications of being a professional musician while still in high school and her musical future.
***
Matt Warnock: You started playing the guitar at a very young age, who were some of your early influences as far as the guitar is concerned?
Desiree Bassett: Well, the biggest musical influence so far has been my dad, he's been great, and a real supporter of my music. As far as guitarists it's pretty much been the standard players that everyone gets into, like Jimi Hendrix, Joe Satriani and Dickey Betts from the Allman Brothers.
Matt: You've taken some classes and lessons at the University of Connecticut, where you live, how has that formal study helped your playing?
Desiree: It's been very helpful in regards to learning how to read music, understand theory, that sort of thing. I learn a lot by ear, just taking ideas off of records and figuring them out that way, so the classes have helped me learn the fundamentals of why those ideas work and sound good.
Matt: Now that you're getting to the end of your high-school career do you have plans to go onto college and study music, or do you want to get an agent and go that route instead?
Desiree: Yes, I applied to the Berklee College of Music and just had my audition and entrance interview there over the weekend. After being there and checking out the school, Berklee is definitely my first choice for Colleges, but I'm going to apply to other schools because it's always good to have options and we never know what will happen down the road.
Matt: A school like Berklee teaches a wide range of musical styles, such as rock, jazz and blues, have you been checking out other genres besides rock in your practicing and listening lately?
Desiree: I mainly like the hard-rock stuff, but it's not just rock 'n' roll that I'm studying. I like to check out a bunch of different types of music, it helps open things up on the guitar for me and I'm finding that I like a lot of different music, beyond hard-rock.
I'm interested in a little bit of jazz and I've taken courses at my high-school on classical guitar. I like some metal, but not as much as hard-rock. I listen to it when the mood catches me, but not all the time. The blues has also had an influence on my playing and I've been checking out blues guitarists as well.
Matt: You also play acoustic guitar, can you talk about that side of your playing?
Desiree: I'll pick up the acoustic when the moment strikes me, usually for a more mellow song. I wrote all of the songs for my first CD on my electric guitar, but I've been using the acoustic guitar much more lately to write the material for my next record. Sometimes the songs will then get transferred to the electric, but not always, so it's become a writing tool, as well as a second color that I can use in my playing.
Matt: Do you experiment with finger-picking on the acoustic, or stick to a pick for the most part?
Desiree: I do use finger-picking on the acoustic, but most of the time I use a pick on both guitars.
Matt: The songs that you have on your website, and on your albums, are a mixture of instrumentals and vocal tracks. Do you prefer doing one or the other?
Desiree: I'm mainly an instrumental player, mostly because of the influence that Satriani had on me, but at the same time I realize that people connect to songs that have lyrics, sometimes more so than instrumentals. I look at that as an important factor when deciding what songs I want to play and write.
I find inspiration from situations that happen in my life, about things going on in the world or in nature, then apply that influence to whatever song I'm working on, instrumental or vocal. I think if I can connect to the song then that will help other people connect to my music as well. For my next album it'll be about half vocals and half instrumentals. We didn't plan it that way it's just how it worked out.
Matt: Sometimes it's easy to forget that you're still in high-school, when you're talking about your next album. What has been the reaction of your friends and classmates to your success?
Desiree: In elementary school I used to play for my class at the end of the school year, kind of like a pre-summer class party, and people thought it was cool that I could play the guitar. It wasn't until later on, in the seventh or eighth grade, when I was being featured in magazines and winning contests that people really started to notice me.
All of a sudden a bunch of people wanted to be my friend, and some of my classmates wanted my autograph, which was a bit weird at first. But, when I'm at school I just try and be a normal kid and do normal kid things, if I can.
Matt: It seems like it would be easy to have all of this attention go to your head, especially at a young age, do you have to be aware of the attention you get and how it affects you personally?
Desiree: Not really. I'm the kind of person that doesn't like to brag about themselves, I'm naturally humble, which really helps me deal with all of the attention I've been getting with my music. I have a tendency to be shy around people, I'm very quiet sometimes, but when I get on stage all of that shyness seems to float away and it's like a whole different world.
Matt: Speaking of being on stage, it seems like these days artists are under a microscope more than they've ever been, especially with YouTube, Myspace and the blogosphere. Do you have to be extra careful about your image, especially because of your age, so that you don't have to deal with the negative effects that the internet can have, deserved or not?
Desiree: Definitely. It's a little bit difficult because there's the side of my life that's the professional musician, but I'm only seventeen and still have at least a few teenage months left in me before I turn eighteen. Laughs.
I think it's OK to put some personal stuff out on the internet, like on Facebook and MySpace, but I have to be careful about what I post and say on the internet because I know that it can be taken out of context, which could come back to haunt me later in my career. It's just something that all musicians have to deal with these days.
Matt: With all of the musical things you're doing are you still able to find time to be a teenager and do all the things that typical teenagers do?
Desiree: I can still do that stuff, but not as often as I would like to. It's hard with all of the school work I have to do, on top of the studio stuff I've been doing lately, and my performances. It's definitely a sacrifice because I have to do a lot of things every week and there's only so much time, but I love doing it and it's totally worth it.
Matt: People who have a lot of success at an early age, whether they're actors, musicians or athletes, will often burn out because of the pressures they have to deal with. Have you had to be conscious of this and if so how do you avoid feeling any musical burnout?
Desiree: I've never really had to think about it. I know there are a lot of complications that come from trying to balance being a musician and being a teenager, but it hasn't gotten to the point where I ever thought about giving it up or that it wasn't worth it. I just love playing guitar and hopefully I'll be able to make my career doing so.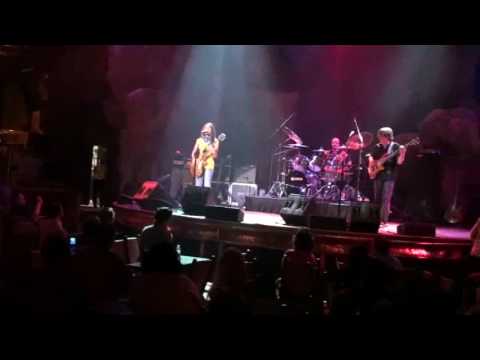 ***
Links
Desiree Bassett: Power & Force Vol 2 on Amazon