Gibson Guitar, the world's premier musical instrument company and leader in music technology announced a selection of ultimate gift giving guitars for this holiday season. Whether you're a metal-head and your favorite musician makes an axe scream like Zakk Wylde or someone who wants a more refined instrument like the Les Paul Standard or Studio guitar or maybe you like swingin' grooves of the Cherry Poppin' Daddies and Gibson USA's Zoot Suit SG guitar, Gibson has designed guitars that are each timeless and with an abundance of character. Some of the offerings this holiday season include:
Adding a splash of color to the Gibson electric guitar family, the new SG Zoot Suit embodies the excitement of jazz "zoot" style. Featuring a slick body made of multiple birch wood laminate pieces, each died a different color, bonded and finished with two coats of satin lacquer to form one naturally flawless block of wood, the Zoot Suit will ignite any performance.A favorite of The Cherry Poppin' Daddies' Steve Perry, this new model comes in five pinstripe color combinations which highlight Gibson's traditional rounded profile and legendary 496R and 500T pickups.
******
Raise the dead with the Zakk Wylde Graveyard Disciple guitar by Epiphone. Combining killer sound with a striking, coffin-shaped body of solid Mahogany, a neck of hard maple with a smooth satin finish, the Graveyard Disciple is perfect for hard rock or metal. Customized by Five-Time Most Valuable Metal Guitarist, Zakk Wylde, this unique model is just dying to be played and includes a customized, Coffin™ hard case.
Designed with and approved by Gibson legend Zakk Wylde and Gibson USA, The Buzzsaw, features BFG appointments, a 50´s profile neck, Book matched Maple Top, Chambered body, super hot EMG 85 and 81 model pickups, jumbo frets designed specifically to meet Zakk´s demanding playing style and looks that have this guitar screamin' before you even plug it into a monster sized, city-leveling stack.
******
The Gibson Acoustic Songwriter Deluxe Standard is designed with superior levels of guitar features and benefits to acoustic players around the world. The guitar has a clean even-grained AAA-grade solid Sitka spruce top with elegant abalone rosette, and finished in an antiqued natural lacquer that gives this instrument a striking golden-toned hue.
It also bears a gorgeous sculpted modern Dove-style pickguard created by the division's master luthier. The Songwriter Deluxe Standard delivers a higher level of performance and tone. The performance and studio needs of today's professional players is also addressed by the addition of Fishman's Aura Ellipse Pickup system which reproduces the natural sound. Many other exclusive features make this Gibson Acoustic an innovative, legendary model from the division in Bozeman, Montana. Gibson Acoustic also produces the Songwriter Deluxe Studio, Songwriter Deluxe Custom and the famous Gibson Hummingbird.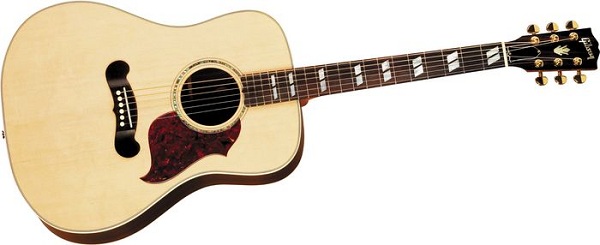 ******
The Epiphone Tony Iommi Signature G-400 Electric Guitar is what you want for hardcore, heavy hitting sound. Classic SG attitude is enhanced with mother-of-pearl cross fingerboard inlays, black chrome hardware, and a matching black finish on the solid mahogany body. The slim-tapered mahogany neck is fast and the Gibson USA Tony Iommi pickups put out the firepower required for maximum destruction. The Locktone Tune-O-Matic bridge and stopbar tailpiece add sustain and make string changing easier.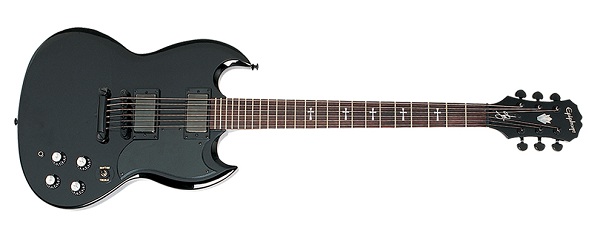 A true classic, Gibson's first solid body guitar remains the standard for the music industry. Since 1952, the Les Paul Standard has shaped the sound of popular music and become known as an icon in its own right. The Les Paul custom continues to provide the rich, versatile tone it is famous for, lending itself to all styles of music.
The 2008 Standard's alterations have refined this proven classic to make it more playable than ever. An enlarged neck tenon and a new asymmetrical profile enhance comfort for the player and custom-made gold plated Bourns potentiometers add clarity and power to the sound. Additionally, locking Grover tuners improve gear ration 18:1 and the addition of the Plek computer-controlled set-up works to eliminate buzz and enhance overall experience playing the Les Paul.
Available in a dozen colors, the classic is a powerful addition to any musician's collection. Les Paul's Studio guitar, another classic from Gibson USA, sings with simplicity, combining tremendous performance with a classic look. Including a carved maple top, solid mahogany back and genuine Gibson humbucker pickups, the Les Paul Studio is one of Gibson's best-selling instruments.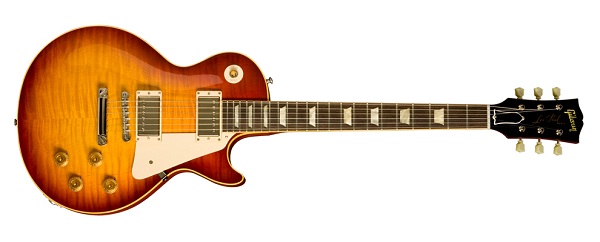 ******
The Gibson Les Paul Axcess by Gibson Custom carries all of the elegant styling, fluid body lines and rocking attitude of a classic Les Paul Standard from the golden era of the late 1950s. Upon closer examination, however, you will find many substantial modifications made in the name of maximum playability and versatility.
Everything about this Les Paul has been designed to make it a player's guitar. From the easy access to its upper range to the comfortable belly scarf to the Floyd Rose vibrato, the Gibson Custom Les Paul Axcess Standard was designed to give optimum performance.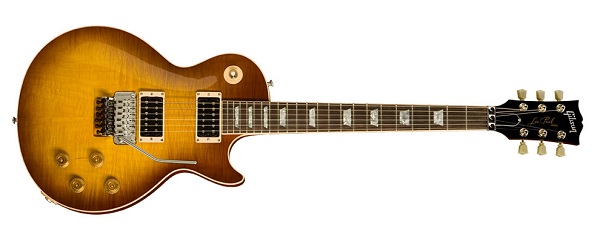 Epiphone revives the prestige of its 1930s guitars with the new Masterbilt Acoustic Series. These new flat-top guitars feature all solid wood construction and a distinctive 1930s-style "offset notch" peghead shape with historic Epiphone script logo and mother-of-pearl stickpin inlay. It is the ultimate acoustic guitar for the musician looking for quality, performance and value.